Are Awnings Expensive? With 4 Examples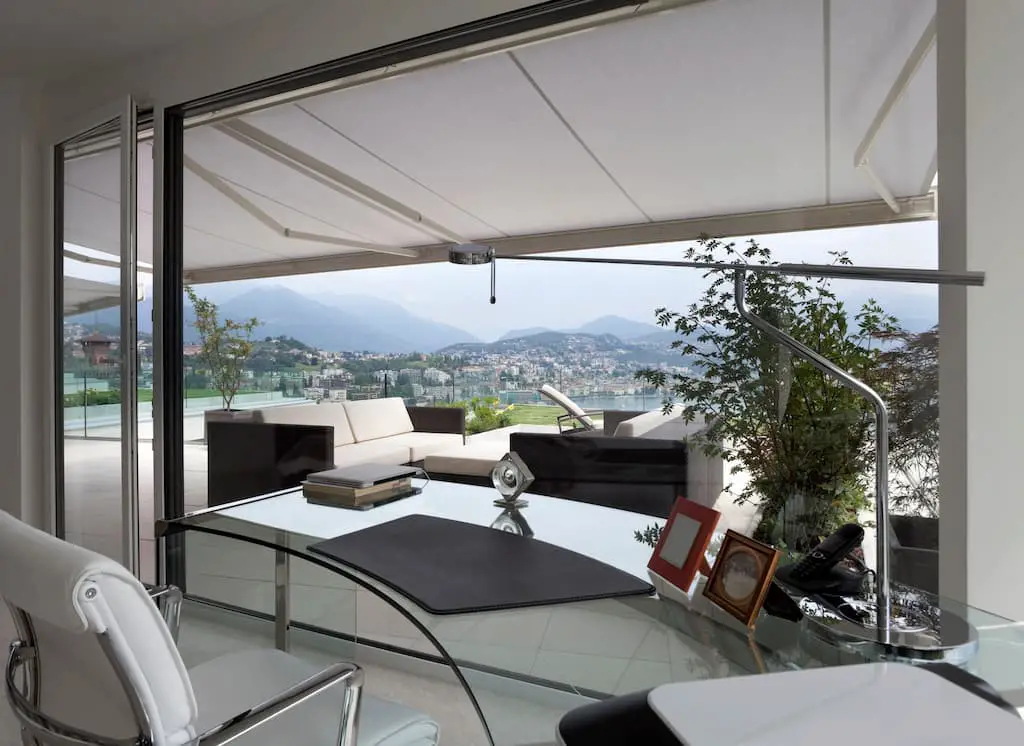 If there's one thing I've learned during my time working with home improvement groups, it's that shopping for goods is difficult. This is doubly true when you're talking about awnings, and when you are unsure of whether a new awning is in your budget.
Are awnings expensive? It all depends on the type of awning you want for your home or garden. Motorized awnings tend to be the priciest, followed by retractable ones. If you are on a budget, stationary awnings and portable awnings tend to offer a better price.
Understanding what kind of awnings are available and what you can get within your budget is important. This guide is here to make sure that you get the most bang for your buck—and still get to enjoy the shade an awning provides. 
Are Awnings Expensive?
Awnings can vary greatly in price depending on their type, the material they're made from, the place you get them from, as well as the price of installation. To better help you understand whether or not you can afford an awning, let's talk about each popular type.
For the most part, awnings that actually become permanently installed on your home or patio will cost at least $750 to $1000. That makes them a fairly pricey home improvement add-on compared to most other options.
Should I Hire Someone To Install My Awnings?
The general consensus is that it's best to leave awning installation to the professionals—unless it's a portable awning or a drop-down awning. Proper installation may require drilling holes into your home's walls in order to secure them, and may also require special equipment.
If you are considering getting a motorized awning, professional installation is almost certainly a necessity. Working around that complex machinery isn't a good idea, since a single installation mistake can render your entire awning useless.
Do Awning Price Quotes Come With Installation Fees Included?
This can vary from company to company. Some awning makers, such as Sunsetter, will include their installation fees as part of their awning quotes. If you're buying an awning from a wholesale store, chances are that you will not have the installation costs included with your quote.
When in doubt, it's better to ask first than feel sorry about it later.
Motorized Awnings
Motorized awnings are considered to be the "kings of convenience." These awnings are installed on the side of your house and can be retracted (or expanded) with the mere push of a button.
Aside from that basic definition, it's important to know a little more about these kinds of awnings:
They are typically made of metal (plus canvas) and have many moving parts. As a result, this drives up their price immensely in both the installation and purchasing departments. Some awnings can also have acrylic or vinyl shades.
You will most likely need to hire a professional to install them. This is not a DIY job by any means.
They can last decades, if properly maintained. Though they're pricey, it's often an investment that's well-spent. They are often considered to be the sturdiest.
They can also come with a remote control or "smart tech" for an additional fee. This isn't a mandatory part of the purchase, though.
How Much Do Motorized Awnings Cost?
If you're looking to get these awnings, be prepared to shell out a serious amount of money. A single motorized awning can cost anywhere from $3,000 to $17,000 to install. The actual price depends on the model and installation fees, which can vary from place to place.
A good example can be this from Advaning Motorized awnings range from 12 to 18 feet in width. Their prices range from around $1,400 to $3,500 apiece. If you want to get a remote control-toting option, you might see an additional $800 price uptick.
Some awning companies also added new technology to make their awnings "smart home-friendly." This can include having functions that make the awning automatically close when winds reach speeds higher than 30 miles per hour. This can increase the price of the awning by an additional $1,000 or more.
This doesn't include the money you'd need to hire someone to install it. That can range from $1,000 to $4,000 depending on who you hire.
Manual Retractable Awnings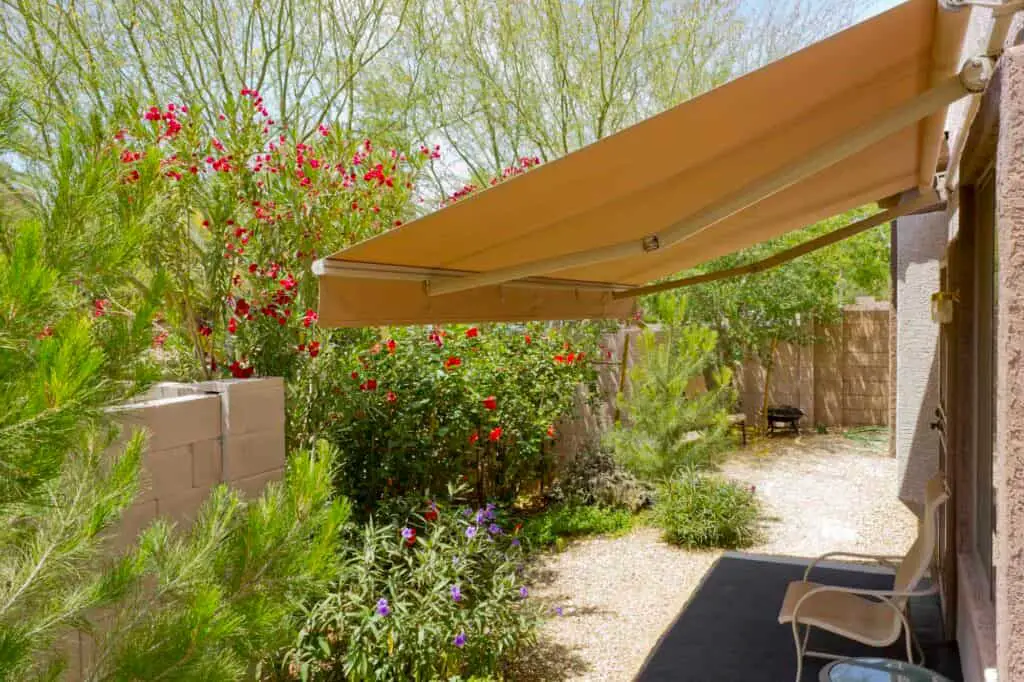 Love the idea of being able to pul the awning back when it's not in use? I don't blame you. That's why manual retractable awnings are so popular. These allow you to pull them back, but do not have the motorized component that does it instantly.
There are two main types of manual retractable awnings: lateral arm awnings and drop-down awnings. Here's what you need to know:
Lateral arm awnings have "arms" that pop open the awning. When not in use, the arms are bent down to fold the awning up. These are the type of awnings you see that jut out from the side of a house or patio
Drop-down awnings are propped up by pillars, and drop down in order to give people shade. In many ways, this is more of a "shade screen" than anything else, since they tend to act as partitions between the deck and your back yard. They work by being "roll up" cloths similar to window shades.
Lateral arm awnings have a more traditional awning shape. Drop-down awnings, on the other hand, have a more modern appeal and are often spotted at resorts due to their stylish look.
Both types can be made of canvas, but require metal parts in order to keep them sturdy. So, they're basically motorized awnings without the motor. Shades can also be made of vinyl and acrylic.
They can be attached to the side of a house, or to a patio. This makes them more versatile for garden-loving designs. Depending on the awning's design, it can be possible to install a manually retractable awning on your own.
How Much Do Manual Retractable Awnings Cost?
This all depends on the awning that you choose to get. Lateral-arm awnings can range from $1,500 to $6,000 to install depending on the make and the installation costs. Drop-down awnings can be far cheaper, with some being as little as $300
If you are worried about installation costs, going with a drop-down awning might be a good choice. Most of the time, you can install those on your own.
Stationary Awnings
Stationary awnings are exactly what they sound like. They're awnings that are installed into the side of your house and are not built to be moved around. They are one of the more old fashioned accents a house can have, but when done right, they're very stylish.
Like with other forms of awnings, there are some things you need to know about these before you buy them:
They can be made entirely of metal or have canvas or vinyl accents. Since they're entirely fixed, fully metal awnings aren't that rare. That being said, most people still prefer canvas.
They often have to be custom-made to fit the windows or area that they'll be installed in. The same can be said of many types of awnings, but this is one of the bigger issues that drives up their price.
Most people need to have them professionally installed. This can be a hassle or a price point problem.
They can also be a liability in a storm. High winds can cause the awnings to break, which in turn, can potentially harm windows. It's not uncommon to hear of stationary awnings snapping in two during major storms, especially if they jut out from the home's walls.
They are low-maintenance, though. If you were worried about your awnings requiring a lot of care, you're in luck. This is a "set and forget" deal in most cases. If your awning's fabric starts to fade, a quick clean will be enough to make things right.
For the most part, they are durable. You can expect a stationary awning to last anywhere from 15 to 20 years if it's metal. If it's canvas, you will have to replace the fabric once every five to 10 years.
How Much Do Stationary Awnings Cost?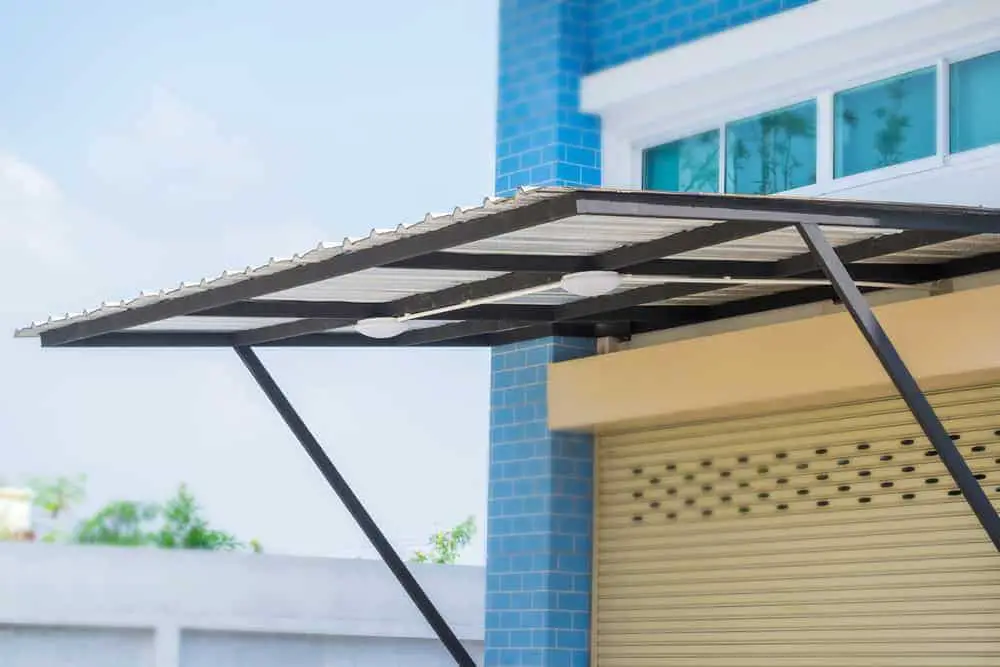 This can be tricky, since many stationary awnings are custom-made for the homes they are installed on. If you're able to find a prefabricated model you like, the awning itself will cost around $100 to $800 depending on size and material.
Premade fabric awnings can be as cheap as $100 to $400 like this one from amazon. If you choose to go for a metal awning, then you can expect to pay anywhere from $250 to $800 for a small to medium-sized model. Large awnings can cost a lot more, especially if they are made of metal.
Custom models can be pricier, ranging anywhere from $500 to $11000—with $11000 being the highest you should expect to see and only likely to happen for extremely large models. Most custom models also come with installation costs included.
Portable Awnings
If you're planning a party and you need a little shade, then portable awnings are usually your best bet. As the name suggests, these are awnings that act like "party tents" that can be folded up, added onto pergolas, and are capable of being stored in a garage when not in use.
Here's what you need to know about buying a portable awning:
They are sometimes just sold as "Outdoor Patio Shelters" online. If you can't find a portable awning through a search, type that in and you will fine a nice assortment to choose from.
They're made to be temporary. With extremely good care, you might get up to six years of regular use from a portable awning. They're not meant to act as "wannabe permanent" installations, and shouldn't be left outside for days at a time.
They are lightweight. If you're using them in windy areas, tying them down and weighting them is a must. Otherwise, you might end up seeing your awning blow away.
They are usually made of canvas, plastic, or metal. Most of  the portable awnings you'll see will be made of hollow, lightweight titanium, with plastic or canvas tops.
There's no professional installation necessary. Setup usually only takes a couple of minutes for a single person to do. Taking them down is just as easy.
You also don't have to worry about customization. Unlike other awning types, portable awnings are not going to be made into customized items.
They are not attached to your home or patio. If you want to use a temporary awning, you can put away your drills. There's no need to install them on the side of your home.
How Much Do Portable Awnings Cost?
If you're looking for a bargain buy, you're going to love the prices of portable awnings. They usually will max out around $200, and you can find them in almost any store.  This makes them a remarkably good purchase for people who want to have shade, but not all the time.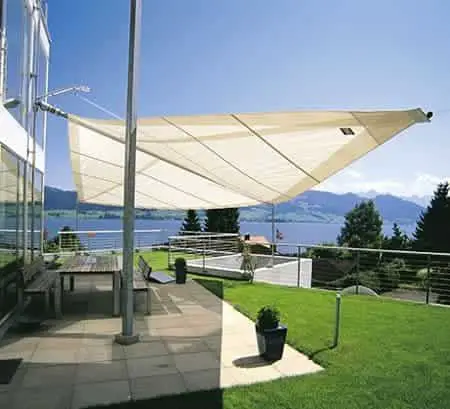 Related Questions:
Do awnings increase property value? For the most part, awnings are considered to be a desirable amenity. This means that they can be an investment in your property's value if they are maintained well.
How long does the canvas on awnings last before it needs to be replaced? Canvas is the most popular form of awning material because it's so sturdy. That said, most awning fabrics will need to be changed or refreshed at least once every five years.
How long is a typical warranty on an awning? Depending on the awning type, you should expect a warranty to be anywhere from five to 15 years. Some awning companies, however, do not offer any warranty on their products at all.
What are awnings used for? Awnings are used for adding shade to a bright and sunny patio, and can also help regulate temperatures.
Learn more!! see our article What Is An Awning? A Guide To Choose An Awning, Options And Tips for more information