Deciding My Driveway Width – Standards and Designs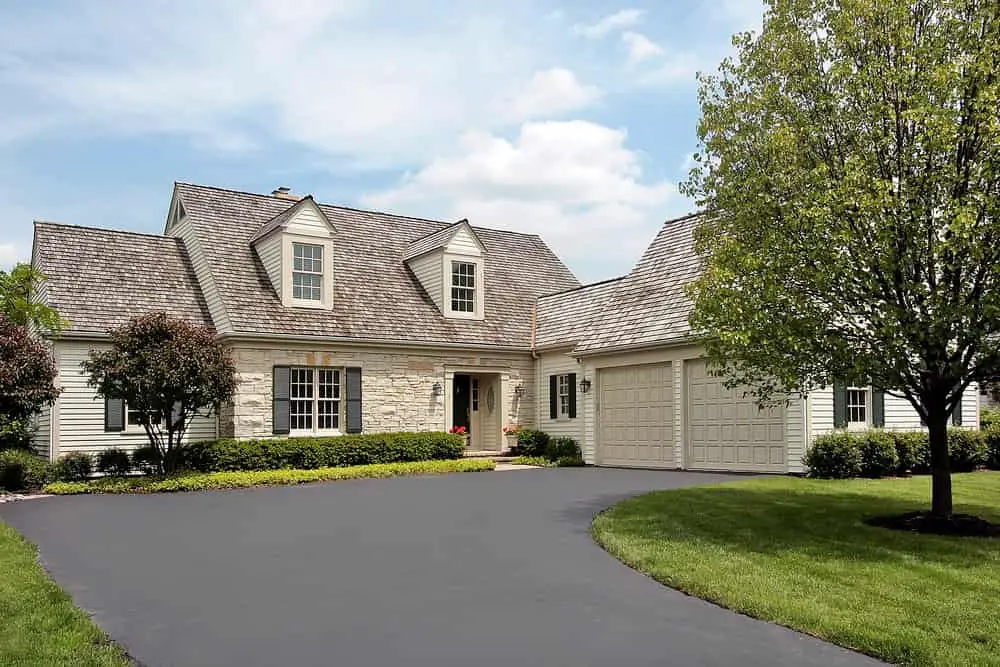 It could be devastating if your newly built driveway is too small or if you are allowed to make it bigger but didn't. What are the minimum and maximum widths a driveway can be?
The minimum width of a driveway is 10 feet, and the maximum is 20 feet. With no garage, you may not exceed the 20 feet width maximum. The driveway can overlap the garage doors by 2 feet maximum if you have a garage. If you have a flare next to the garage, you can add 6 feet in width.
Driveway widths are overall the same but will change slightly according to the area you want the driveway and the amount or size of cars needed to fit.
What Is The Standard Driveway Width?
There is a standard width for driveways. Countries don't differ in these, only in how they measure them (feet or meters). The minimum width for a single driveway is 10 feet (3 meters). Most builders recommend making a driveway at least 12 feet (3,6 meters) to get in and out of the car easier.
You can build several types of driveways, which can differ slightly depending on the shape of the driveway, the type of vehicles that will enter there, and the size of the cars that will use the driveway.
Residential Driveway Width
Residential driveways are the usual driveways we think of when we imagine a driveway—the vehicle entry from a road or street to a house or mansion. The looks and possibilities are endless when it comes to residential driveways.
However, there are specific widths to consider when building a driveway for your house. You will need to consider the need for a garage and if you would only like a driveway without the garage.
Driveway Width For 1 Car
As stated already, a driveway width for one vehicle is 10 feet. Ten feet is relatively narrow and might become a problem for more oversized cars or the trash truck collecting your trash. That is why most builders recommend you increase the width to 12 feet if possible, making it more convenient to get out of a car.
Driveway Width For 2 Cars
If you have a double garage, the driveway can be 2 feet wider than the garage. For a driveway compatible with two cars, you must have a minimum of 20feet(6 meters) in width. Twenty feet will still be tight for two cars, and the more comfortable size is 24 feet (7,3 meters)in width.
Adding a garage will influence the length of the driveway. The standard driveway length is 20 feet, but with a garage, it is 18 feet (5,5 meters), and the garage needs to have roll-up doors.
Driveway Width For 3 Cars
A 3-car driveway is not one of the ones seen a lot. You will need space to implement a driveway of this size. You will need to apply a minimum of 10 feet per car, thus a minimum width of 30 feet (9 meters). Thirty feet means if you would like to add the comfort factor to a 3-car driveway, you will end up with a total driveway width of 36 feet (10,9 meters).
Driveway Width For Trucks
A driveway for a truck might be applicable if your business requires you to drive a pickup truck, or you expect trucks at your residence for deliveries for your at-home business, or whatever reason you might have. You will have a minimum driveway width requirement of 12 feet (3,6 meters).
Commercial Driveway Width
Commercial driveway widths are essential to plan precisely as the construction uses each inch sparingly to give more space to the retail area.
You will have to consider standard measurements where there are driveways and drive aisles. For a driveway forming a one-way entrance and exit, the width will need to be a minimum of 16 feet (4,8 meters) and a maximum of 25 feet (7,6 meters) wide. If positioned next to each other, a 10 feet wide full-height curb must divide the entrance and exit driveways.
Suppose there is a driving isle connected to a driveway parking; you can reduce the isle to 22 feet (6,7 meters) in width (only for a length of 25 feet). For single-driving isles, you can expect a reduced width of 11 feet minimum for a maximum length of 25 feet. The driveways for double cars will have to measure a minimum of 24 feet (7,3 meters) and a maximum of 35 feet (10,6 meters) in width.
Industrial Driveway Width
An industrial driveway serves pickup trucks and leads to a loading dock. Thus, these driveways need to be wider than your average width of 12 feet to accompany larger vehicles.
The requirements are the same as a commercial driveway, but the width for a one-way entrance and exit increases to 40 feet (12 meters) and 35 feet (10,6 meters), respectively. For a double driveway, you will need to increase the width to a maximum of 45 feet (13,7 meters).
Different Shapes Of Driveways And Their Widths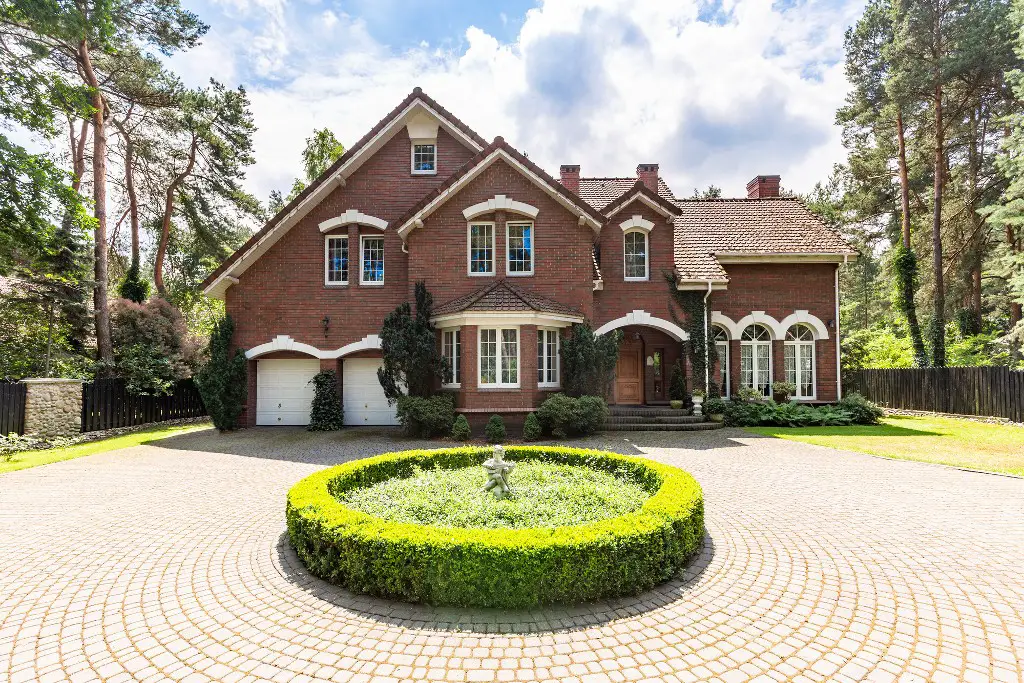 With your average driveway widths out of the way, it is time to look into your more modern, expensive, exciting driveway options. These include round, turnaround, and driveways with additional parking bays and garages.
Round Driveway Width
Round driveways are very extravagant and take up a lot of space. These are usually seen at big mansions or in your favorite royal movie. The outside radius of the driveway will have to be 24 to 28 feet (7,3 to 8,5 meters)in width, taking up the most space of all the different driveway options out there.
There are ways to get a small circular driveway if you want a round driveway but don't have the needed space. You can adjust the average circular driveway dimensions to a 22 feet (6,7 meters) radius; however, this will only accommodate small cars. If you are driving a bigger car than a sedan, opt for standard round driveway measurements instead.
Semi-Circular Driveway Width
A semi-circular driveway is excellent when your house is on a busy street. This way, you don't have to back out and hope you see oncoming traffic. The only pity of this great feature is that it is only suited for bigger houses with the space to incorporate this.
The dimensions are 10 feet wide, and taking the radius for the circle; it must be 12 to 14 feet. The dimensions will change if you want to use this driveway for bigger SUVs or trucks.
Additional Parking Space Width
Suppose you have a driveway that leads to a garage, and you want an additional parking space for visitors or maybe an extra car. The layout for a driveway with additional parking will be your usual driveway width of 10 to 12 feet and an additional parking space next to the driveway with dimensions of 10 feet in width and 22 feet (6,7 meters) in length.
Suppose you want parking space for more than one vehicle; you will have to add the 10×22 feet dimensions per car.
Driveway Turnaround Dimensions
A turnaround is always a great addition to a driveway but requires extra space. You will have to add a 10 feet wide and 14 feet deep turnaround area close enough to the garage or parking area, so the car can turn around before backing out of the driveway. If you want to add a turnaround driveway, you will earn brownie points with anyone visiting or buying the house.
If you have a bigger car or expect more pickup truck-sized vehicles to use your turnaround driveway, the depth of the turnaround area will have to increase as need be.
Things To Consider When Building A Driveway
There are many structures to consider when wanting to add a driveway to your home. The available space will play the most significant role, followed by the budget for the driveway and the surroundings to complete your driveway look.
Step 1: Measure the available area to design and build a driveway. You might be able to do a straight driveway that is wider for more cars (20 to 30 feet in width), or if you have enough space, you might be one of the lucky ones to build a round or semi-circular driveway.
Step 2: Make sure there is enough space for the number of cars you have. You might be attracted to a more extravagant driveway, but if you have more than two cars, it would be best to stay bare and consider adding a turnaround area.
Step 3:Ensure you follow government codes and protocols for driveways, taking sidewalks and roads into account.
Step 4: Examine your driveway area. Suppose there are obstacles in the way; ensure you leave enough space for people to get out of the car and doors to open easily.
Step 5: Measure out the available length for the driveway. Each car needs about 20 feet, and you can subtract 12 feet for the sidewalk (or the city might build a sidewalk in the future). You will obtain extra length when you opt for a round driveway.
Step 6: Add a turnaround area if you want. A turnaround can also serve as extra parking for those days you feel like hosting big gatherings.
Step 7: Measure it out and mark it with wooden pallets or rocks. Then you will be able to envision your plan and make adjustments.
When building a driveway, you must take note of specific utilities—lighting, water pipes, electricity, etc.
Builders recommend placing a 3-inch PVC pipe under your driveway(12 to 18 feet below) for extra drainage during high water seasons. Professionals take photos of the placements of these pipes to ensure they know where they placed the lines for future identification. 
If you have sprinklers near the driveway, ask professionals to help you place them (or design them) so drivers don't destroy them.
Add walkways at the point where a driver would get out. A walkway makes entry to the house more straightforward and more accessible. Adding it next to the garage, for example, or none at all, usually confuses visitors about where they may walk or need to enter the house.
Decorate your driveway to be the main point of attraction by adding trees or plants where you can envision it without getting in the way of cars that come and go. Water fountains are famous for a round driveway to create an elegant look. Note that these added decorations need maintenance; otherwise, your previously dull driveway might look worse than before.
Finish your driveway off with a beautiful motorized gate. Take note that these need additional maintenance, and you will have to be willing to lubricate, check the movement, and repaint as necessary. The fire brigade will need to be able to enter if essential, and there needs to be a backup plan for power failure.
FAQs
Does A Driveway increase The Value Of Your House?
A driveway adds value to your house, and it will be a good idea to spend some time upgrading your driveway. It doesn't have to cost you thousands to upgrade your driveway. Think about decorative bands drilled in the sides of the stone or concrete of your driveway. Add chemical stains to meet the look of your house and bring the picture together.
What Gravel Is Best For A Driveway?
The number one rated gravel for driveways is pea gravel. Pea gravel is different-shaped small stones mixed with different colors.You will need to stabilize this type of gravel if you tend to use it for a long time.
Conclusion
Whether you are looking to redo your driveway or build a new one, the driveway width depends on the size of the vehicles using it the most, the number of cars that will need parking, and the available space you have to create your ideal driveway.
Driveways make life easier and help the flow of traffic. Driveways are the statement to your home or the easy access to your business; either way, a driveway is always welcome.