Can a Hammer Drill Drive Screws? (It Depends)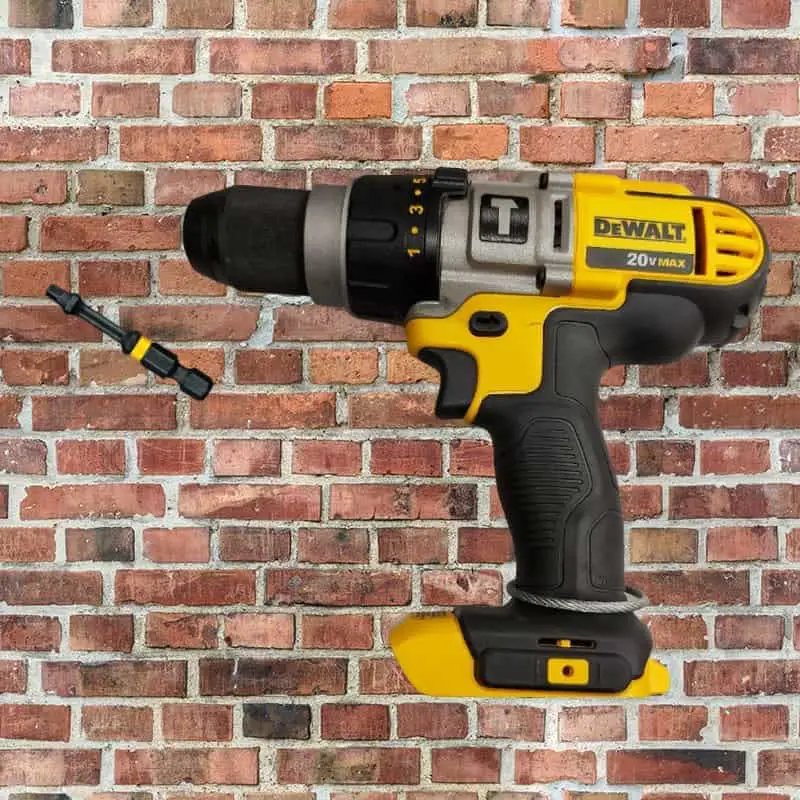 Many people have a standard drill, but fewer people have a hammer drill in their toolbox. If you want to use a hammer drill, you need to know when you can use it. Can you use a hammer drill to drive screws, and can a hammer drill remove screws?
A hammer drill can drive screws but only on specific materials like concrete and masonry. A hammer drill works best to drive holes into these materials before you drive a screw. Hammer drills are heavy, so it can be challenging to use them to drive screws, and they cannot easily unscrew.
Hammer drills get their names from the hammering motion that they use to drill holes and drive screws. The movement makes them great for drilling holes into dense materials, but you can't always use them to drive screws. Read more to learn about when to use a hammer drill for this task, and find some of the best hammer drills for sale.
When Should You Use a Hammer Drill To Drive Screws?
Hammer drills are heavier than other types of drills, so they're best for driving screws into heavier, denser types of materials. These materials include concrete, masonry, and wood. If you're attempting a project with more delicate materials, a hammer drill isn't the best option since the high power of the drill could damage the item.
When you need to drive screws into concrete or other dense materials, a hammer drill is also great for drilling holes into them first. Hammer drills primarily drive holes into concrete, stone, and brick, so you'll need one on-hand when you screw into these. 
Once you use your hammer drill to drive the hole, you need to decide if you can use a lighter, less powerful drill to drive your screw or if you need the power behind the hammer drill. Powerful hammer drills can damage your material or screw hole, and they can be harder to hold and keep steady when drilling, so a more standard fill may work better.
Can You Use a Hammer Drill to Unscrew?
Hammer drills cannot unscrew screws, at least not as a hammer drill. Since some hammer drills have a setting that works like a standard screwdriver, you will be able to use your hammer drill to unscrew.
If your hammer drill doesn't have a standard reverse feature, you'll need to buy a different type of drill that supports the feature. Many impact drills can unscrew, and often you can buy a hammer drill and impact drill set. 
Amazon sells a DEWALT Brushless Impact Driver and Hammer Drill Combo Kit. This combo comes with two drills, multiple screwdriver sets, and a carrying case so you can easily transport your drills.
Hammer Drills vs. Other Drills
A hammer drill has a hammer motion built-in, hence the name hammer drill. However, you can turn off the hammering aspect on some of these drills so that you can use it similar to a regular drill. Using a standard drill setting on your hammer drill is the only way to drive screws into more delicate materials and remove any screws.
Hammer drills also tend to be more expensive than other types of drills. The price varies depending on if you want one with a cord or not, how long you need your drill to last, and if you need any extra batteries or drill bits.
Furthermore, hammer drills are also heavier than most other drills. The weight of hammer drills is one reason you can't use them to drive screws into light materials. The power from the heavy drill can easily break light materials. Additionally, the weight of this drill can make it challenging to drive screws. If you don't need the weight to drive into a dense material, a lighter drill will be easier to hold and keep steady while driving the screws.
Essentially, you'll need both a hammer drill and a standard drill if you're doing a lot of projects that require dense materials and lighter, more delicate materials. If you rarely work with both types of materials, you can probably get away with only having one of the drills, but it may make your work harder.
For more information on when to use your hammer drill or another type of drill, watch this video from The Handyguys:
How To Use a Hammer Drill To Drive Screws
The following video from Helpful DIY will show you how to use your hammer drill. Once you learn the basics, you can use it to drive screws and drill holes:
Once you have your hammer drill and know where you'll be driving your screws, ensure you have the proper screws for the material you're drilling into. You'll need to buy screws that are the appropriate length and material.
When you're driving a screw into stone or concrete, you'll need the screw to go at least one inch into the concrete, but the longer the screw, the stronger the screw will hold. You'll also need to drill a hole that's deeper than the length of the screw. Having a deeper hole will allow for any dust to build up without affecting the screw.
Since hammer drills drill holes and don't drive screws, you need to make sure the material that you're driving into can handle the power behind a hammer drill. If necessary, use a hammer drill to drive the hole, then try a different drill to drive the screw first. A different drill may be able to drive the screw without too much power. But if it can't, then use the hammer drill.
The 3 Best Hammer Drills
Cordless hammer drills are great since you can take them anywhere as long as you keep them charged. Amazon sells the SKIL 20 Volt Half Inch Hammer Drill, a drill setting, a hammer setting, and a screwdriver mode. You can buy the drill with or without the battery, and the drill has multiple speeds.
If you want to add a hammer drill to your toolbox but don't want to spend too much money, the SKIL 7.5 AMP Half Inch Corded Hammer Drill from Amazon is perfect for you. The drill can switch between drill and hammer settings and won't die like a cordless, battery-powered hammer drill. You can also purchase this drill with a hundred-piece drill bit set.
If you know you'll be using your hammer drill a lot, a hammer drill set is precisely what you need. Amazon sells the DEWALT Atomic 20 Volt Max Cordless Hammer Drill. This drill kit includes a lightweight, compact hammer drill, two batteries, a battery charger, and a carrying case. 
Final Thoughts
You will be able to drive screws with a hammer drill, but only into dense materials like stone, concrete, and brick. Otherwise, you risk damaging the item that you're screwing into. Hammer drills can drill holes into thick materials before you drive a screw into them. 
Since hammer drills are heavy, you may want to get a smaller, standard drill to accompany your hammer drill when you need to drive screws. You can buy a hammer drill in a set with a standard drill, allowing you to remove screws since a hammer drill cannot.