Should Backsplash Be Lighter Or Darker Than Countertops?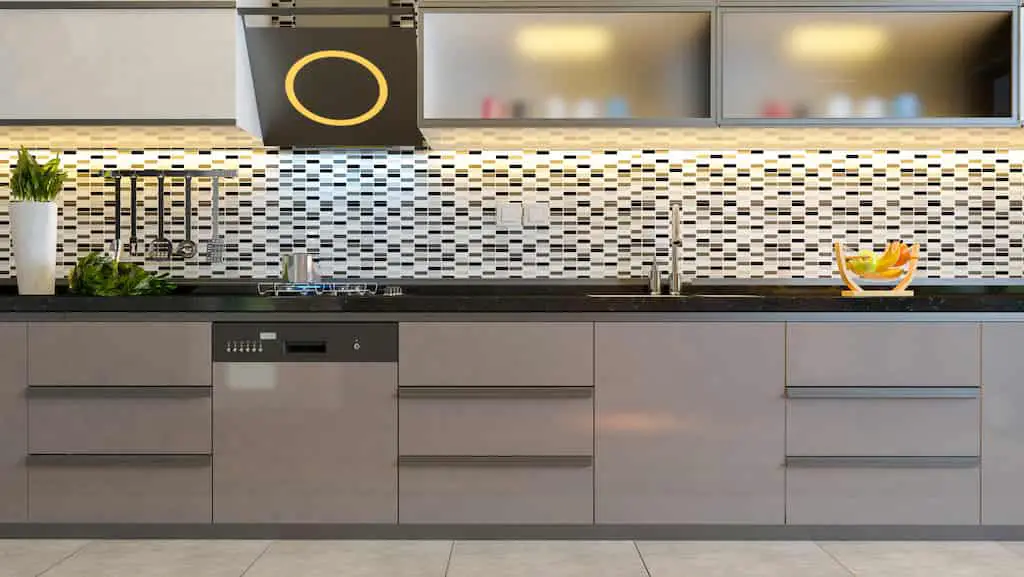 If you are renovating your kitchen or just want to jazz up a wall, why not consider a backsplash? A backsplash is a cheap, easy to install way to add some character to your kitchen, but how do you choose a backsplash to match your cabinets and countertops?
When choosing a backsplash for your kitchen, the color of your countertops and cabinets should influence your decision. A dark backsplash for light cabinets and countertops will add more character to your kitchen, while we can enhance darker cabinets and countertops with a light backsplash. 
Choosing a backsplash for your kitchen need not be a tedious task. Knowing what type of backsplash is best can make the task that much easier and the options available to you. Let's delve into the world of kitchen backsplash options to help you decide on the best option for your kitchen.
Why The Color Of Your Cabinets Influences Your Backsplash?
A backsplash can add a unique design to your kitchen, but it is important to select a backsplash that will complement the color of your cabinets and countertops. As a rule, if you have dark cabinets and countertops, a light backsplash should be used. Light cabinets and countertops would pair best with a dark backsplash to add character to the room.
You can read various design blogs and articles that will show you the best way to choose the correct color and design in a backsplash for your kitchen. Choosing a design material could be tricky, but knowing the options available makes the task that much easier.
Are Mosaic Tiles Still In Style For Backsplash?
Mosaic tiles are a decor trend that will never die. After making a huge comeback in 2020, the ever-popular mosaic tile offers a sophisticated, stylish option to create the perfect backsplash for your kitchen. With many people turning to DIY home renovation projects during the recent lockdowns across the world, the kitchen backsplash became a popular project for many.
There are many options of mosaic tiles that can be used to decorate your kitchen, depending on a light or dark backsplash and countertop. Let's take a look at the types of mosaic tiles you can choose from, as well as which backsplashes are the easiest to maintain and clean.
Most Popular Types Of Mosaic Tiles
Glass
Ceramic
Porcelain
Stone (granite)
Mosaic tile is multi-purpose and is available in different colors and textures to suit your kitchen backsplash needs. Prices vary according to the type of mosaic tile used and are easy to install. Who doesn't love a DIY project?
When choosing a backsplash for your kitchen, it is important to consider the color of your cabinets and countertops. Light or dark backsplashes should complement the color scheme in your kitchen.
Use a light or dark backsplash to add a focal point in your kitchen, creating a work of art on an otherwise bare wall. Add in your favorite colors or designs, from retro to monochromatic; the options of designs are endless.
Some love the Scandinavian style of decorating, in which the focus is on neutrals and whites to create bright and airy kitchen spaces. A dark, eye-catching backsplash would do well in a light kitchen to add a pop of color and a bit of pizzazz to an otherwise plain kitchen area.
For darker kitchens with dark wood cabinets and granite or marble countertops, a lighter backsplash would bring light into an otherwise "dark" kitchen. Create a geometric design using shades of light mosaic tiles or one color to brighten up a dark space.
Mosaic tiles are the most popular materials used as a backsplash. Whether you want to add some flair to your bathroom or create a more aesthetic kitchen, mosaic tiles are hands down the best materials to use.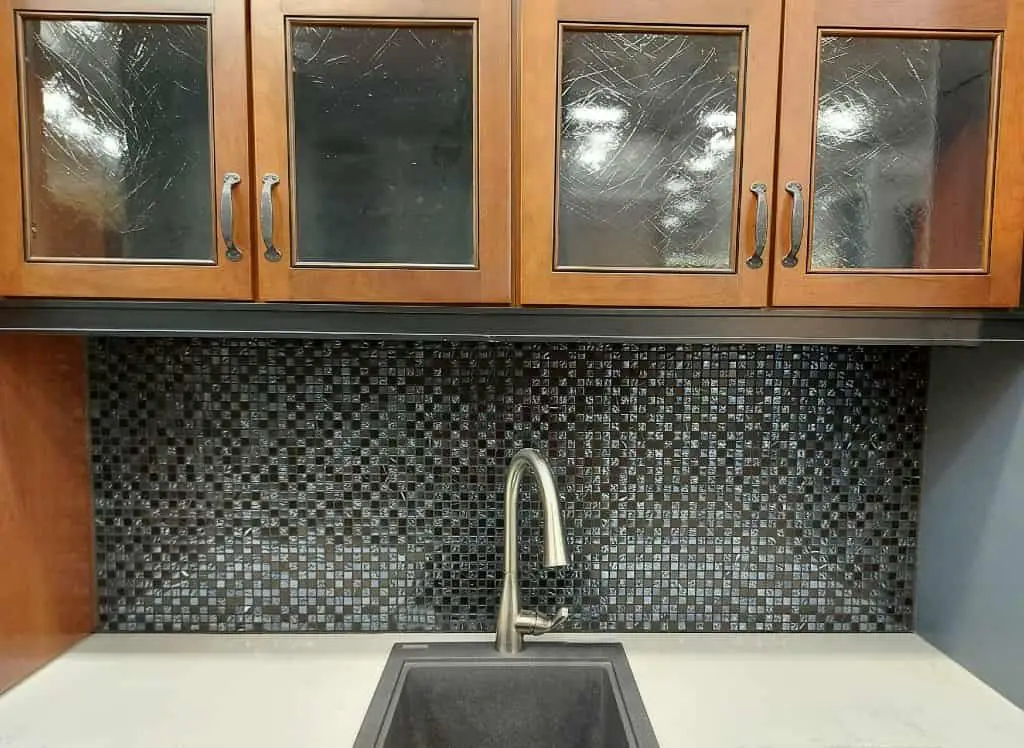 Read my article to know What Kind Of Tile Is Best For Backsplash
What Is The Easiest Style And Color Backsplash To Maintain?
We all know how quickly the kitchen can become a mess when cooking or baking. Choosing a backsplash that is easy to clean will save you time and reduce the amount of mess that could end up on your walls.
While many people opt for mosaic tiles for their kitchen backsplash, more options are available. Porcelain, glass, metal, and ceramic are just a few examples of the materials that are used to make a kitchen backsplash.
The easiest backsplash to clean would be one made of a non-porous material such as glass, metal, marble, or porcelain. These would also resist staining, making cleaning your backsplash a breeze.
Metal and glass are popular options for a kitchen backsplash as they are long-lasting, easy to clean, and can add a unique look to any kitchen. They are easy to install and do not need grouting if installed in sheets. This means easier cleanup and less maintenance to replace or seal grouting that gets worn down from cleaning.
Marble, stone, and ceramic backsplashes are beautiful and add a touch of glamour to your kitchen. Still, these types of backsplashes require special cleaning products and cleaning materials to maintain them.
Maintaining your backsplash need not be an arduous task. Using the right cleaning products and sponges or cloths can make cleaning a breeze. Let's look at how to clean your light or dark backsplash and countertops.
Lighter backsplashes are generally easier to clean, and they don't show stains as easily as a darker backsplash does. Consider porcelain, ceramic, glass tile, and metal.
How Do You Clean A Kitchen Backsplash?
A pot has boiled over, and your spaghetti sauce has splashed all over the stove and backsplash. How do you clean it? The products you use depend on the material used, as well as how dirty your backsplash is. There are two easy methods to clean your light or dark backsplash.
Method 1:
For regular, non-greasy cleaning:
Fill a sink with warm soapy water.
Soak a sponge in the water. Use a sponge without the scourer, as the scouring pad could scratch your backsplash.
Wipe your backsplash thoroughly, making sure to clean the grouting in between the tiles.
Wipe your backsplash with a clean, damp cloth.
Method 2:
This method is for greasy, caked-on dirt and splashes:
Make a paste using lemon juice, vinegar, and baking soda. Use one part of vinegar to one part of lemon juice and two parts baking soda to create a thick paste.
Apply the paste to your backsplash using a toothbrush or small scouring pad. Scrub between the tiles, ensuring that you get into the grouting.
Allow it to soak for a few minutes.
Wipe off the paste using a clean, slightly wet cloth.
Always try to use natural cleaning products or those created specifically for different types of materials. For best cleaning results of your light of dark backsplash and countertops, use a multi-purpose cleaner that contains natural ingredients.
Want to know What Is The Most Durable Backsplash? read this article.
Conclusion
Before starting a DIY project, do as much research as possible to determine what materials work best for your backsplash needs and budget.
Choose a material for your backsplash that will suit your lifestyle and your needs without costing you an arm or a leg. Add in a personal touch, and let your imagination be the limit.