What Kind Of Tile Is Best For Backsplash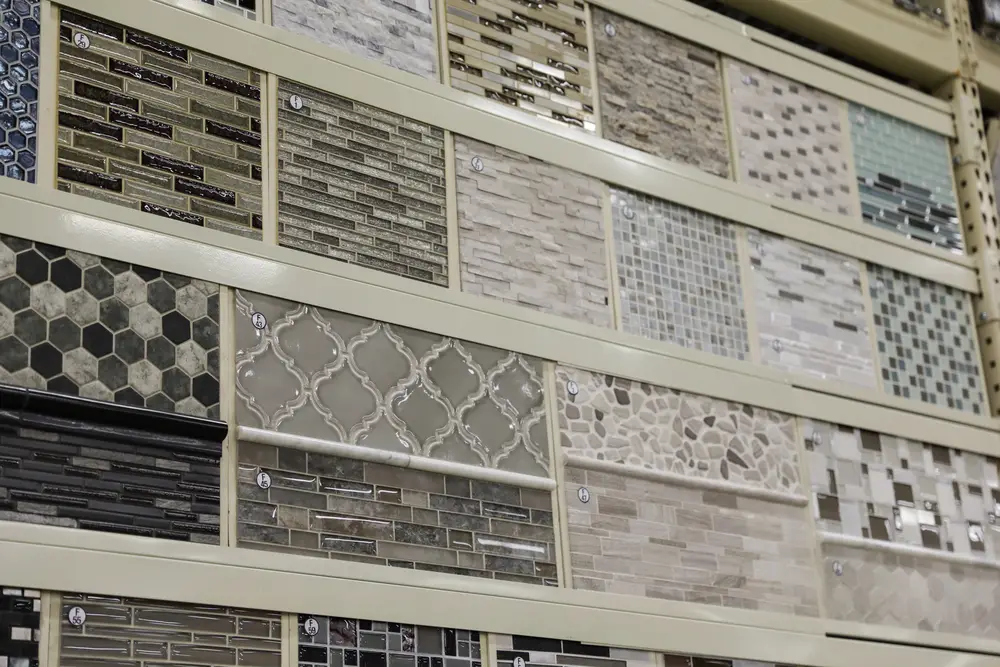 Backsplashes are important to have in your kitchen as they help protect your kitchen walls. They also have the added value of making your kitchen unique to your style, but what are the best tiles to use for your backsplash?
There are thousands of tile options to choose from, which can be overwhelming, so we have compiled a list of the 5 best tiles to use for your backsplash to make the decision easier. These tile options include ceramic tiles, glass tiles, porcelain tiles, stone tiles, and thermoplastic tiles.
Why are these tile options the best for a backsplash? What are the pros and cons of each tile when used as a backsplash? This article will explore all these questions and more, so keep reading!
Why You Should Use Tiles For Your Backsplash
Backsplashes are an essential part of your kitchen, and every good cook knows the importance of having one. Backsplashes help keep the walls in your kitchen that are over the countertops safe and clean, and they can add a unique style to your kitchen.
You can use many materials to make your backsplash, so why should you choose tiles for this purpose? Tiles are an excellent option to create your backsplash with, as there are many options you can choose from.
With tiles, there are different shapes, colors, sizes, and materials you can choose from to ensure your kitchen's backsplash is as unique and eye-catching as you want it to be. With tiles, you can make your kitchen look modern and sophisticated or bright and colorful; it all depends on you and your style.
The 5 Best Tiles For Your Kitchen Backsplash
So, tiles are the best option when making your kitchen backsplash, but with the number of tile options, choosing suitable tiles for your backsplash can be overwhelming.
There are thousands of tile material types that you can choose from, but you need to select the right one for your kitchen to ensure your kitchen looks exactly how you want it to. Let's look at the best 5 tile options you can use for your backsplash to ensure you make the best decision for your kitchen.
Learn more in this article Should Backsplash Be Lighter Or Darker Than Countertops?
1. Ceramic Tile
The first tile option you have is ceramic tile. This tile is the most popular option for kitchen backsplashes, as these tiles are exceptionally versatile and can be used in virtually all kitchen styles.
Ceramic tiles come in many sizes, colors, and shapes, and they can be installed in your kitchen in various patterns and combinations to make your kitchen unique. Ceramic tiles have pros and cons that you should know before choosing this tile for your backsplash.
Some pros include that these tiles are easy to replace should they break, reasonably priced, easy to clean, and give you many options in sizes, colors, patterns, and shapes.
Some cons about ceramic tiles are that you should keep extra tiles close incase you need to make repairs to your backsplash, some of the ceramic tiles can stain easily, cracks can form as the tiles get old, and if you want intricate designs on the tiles, then they can be pretty expensive.
2. Glass Tile
The next tile option you have for your backsplash is glass tiles. Glass tiles are a great option if you are looking for something that not many people will have in their kitchens. Glass tiles offer many designs, shapes, and colors for you to choose from to ensure your backsplash looks exactly how you want it to.
There are also different levels of reflectivity you can choose from when using glass tiles. There is frosted, iridescent, matte, and glossy, or you can use a mixture to create a pattern.
There are pros to using glass tiles for your backsplash, including that these tiles are relatively cheap, easy to clean, add to your resale value, and make your kitchen feel brighter and bigger.
However, there are some cons you need to know about using glass tiles for your backsplash. These cons are that these tiles can be heavy, so your wall might need to be reinforced before installing them.
These tiles reflect sound, which can make your kitchen noisy, and it can be difficult to find the right shade again should a tile need to be replaced due to damage.
3. Porcelain Tile
One of the best tile options for your kitchen backsplash is porcelain tiles. These tiles are made using compressed clay dust heated to extremely high temperatures and shaped into different tile shape options.
Porcelain tiles are not as customizable as other tile options on this list, and they might not have as many sizes, colors, and shape options to choose from, but they can provide a lovely stone, glass, or wood look to your kitchen.
Some pros about porcelain tiles include that these tiles are longer-lasting than the other tiles on this list. These tiles don't crack and can appear more expensive than they are, giving your home an up-market look.
Unfortunately, porcelain tiles are more expensive than the others mentioned, offering less variety in size, color, pattern, and shape.
Want to know What Is The Most Durable Backsplash? read this article.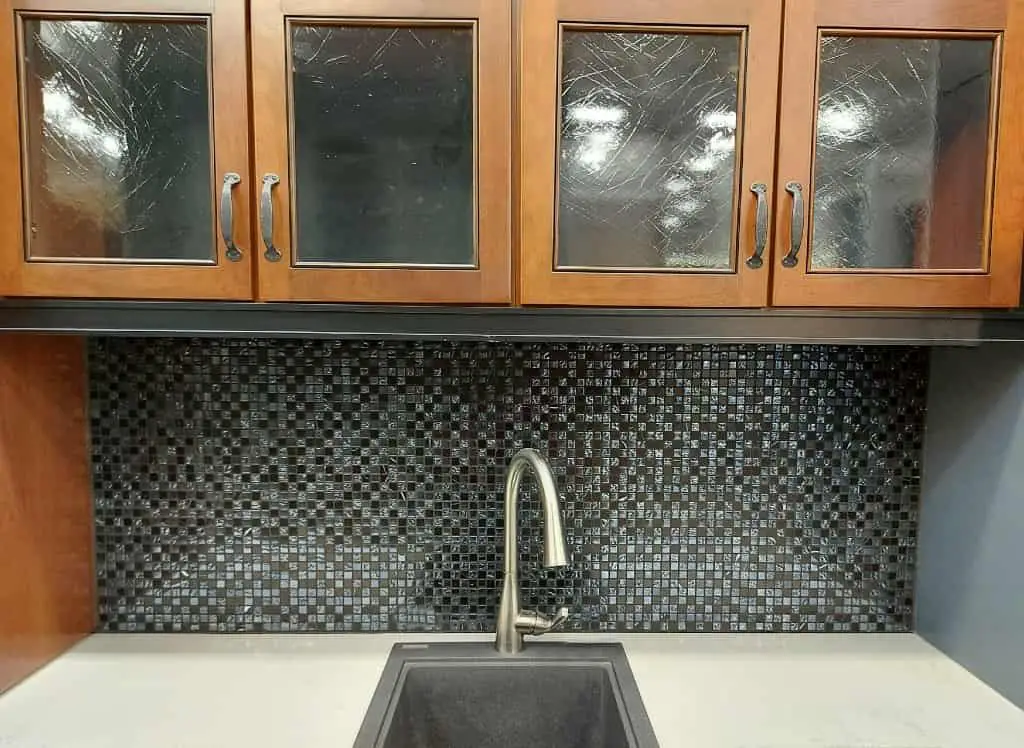 4. Stone Tile
You can go for stone tiles if you want something different for your backsplash. Several types of stones are used to make stone tiles, with the most common options being slate, granite, soapstone, quartz, and marble.
Stone tiles are a more expensive option, but it does add a unique look to your kitchen that not many kitchens have. Having stone tiles for your backsplash is considered a luxury and will be eye-catching.
Some pros of using stone for your backsplash include that the stone will add to your home's resale value, the stone is extremely durable and difficult to damage, and there is a large variety of stone to choose from, allowing you to have various colors, shape, pattern, and size options.
Unfortunately, there are some cons to using stone tiles for your backsplash, including that the tiles can be expensive, some stones can be damaged from heat, the tiles must be resealed yearly to prevent stains, and the stone tiles can be challenging to repair.
5. Thermoplastic Tile
Thermoplastic tiles are an excellent option if you are on a budget but have expensive taste. These tiles will give you the appearance of expensive tiles for half the price. These tiles are easy to install and durable, so you can install them yourself if needed.
This tile has many patterns, sizes, colors, and shape options, and they are easy to clean. Unfortunately, these tiles will show grease and fingerprints easily, and they can be scratched or dented, which means you will need to repair or replace some tiles after a while.
Installation of these tiles can be challenging if there are outlets, windows, or other features on your kitchen walls, so you might need some help to install them.
Conclusion
Backsplashes are a great thing to have in your kitchen to help protect your walls and add some color and eye-catching patterns to your kitchen. There are many tile options to choose from for your backsplash, but the tiles in the list above are the best options and will ensure your backsplash is everything you want. Good luck installing your backsplash!
References
https://www.forbes.com/home-improvement/kitchen/types-of-kitchen-backsplashes/#:~:text=Ceramic%20tile%20is%20the%20most,be%20installed%20in%20numerous%20patterns.