How Do I Upgrade My Countertops On A Budget?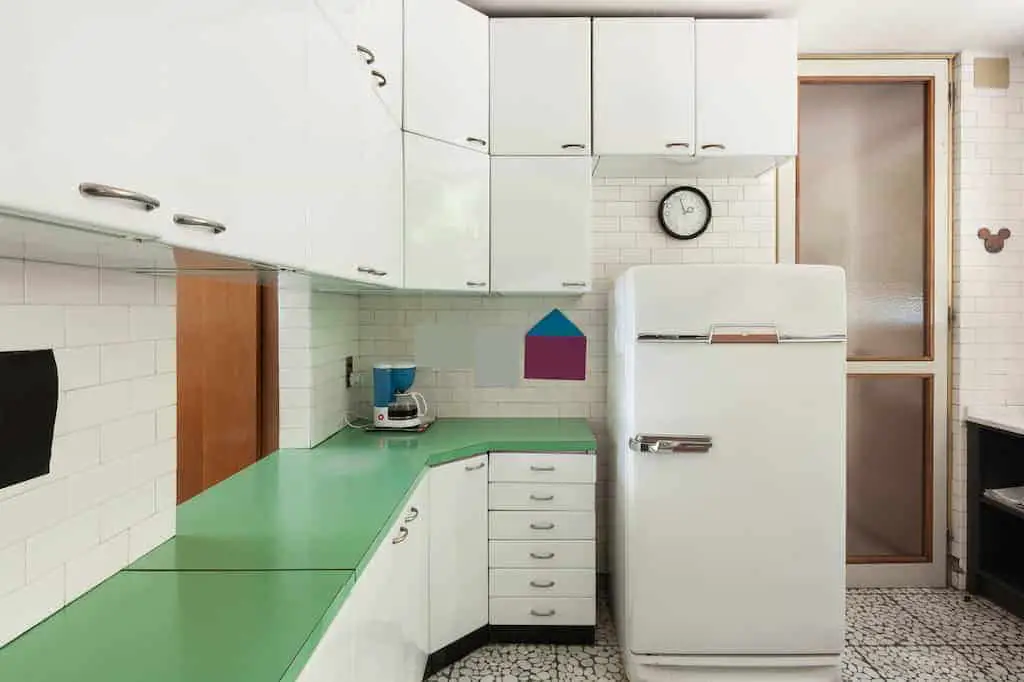 Few countertop finishes appear impervious to the ravages of time. The bets are that your countertop's best days are in the rearview mirror, and you've avoided addressing it out of fear for your wallet's health. Fortunately, there are ways to have a stunning showpiece without breaking the piggy bank.
On a budget, stick to creative ways of refurbishing your countertops instead of planning replacements. Sand, repaint or revarnish your counters and make small changes like adding an upstand. When necessary, replace parts and not entire countertops. Use overlays, a concrete skim coat, or reuse items.
Along with clearly writing out your budget, recognizing the kind of attention your worktops need or what you're displeased with is the most vital step for your undertaking. On top of restrictions like being unable to replace one-piece counters, you should set clear guidelines for yourself on what you're willing to change slightly, completely, or can't at all touch.
How Do I Make Old Countertops Look New? Refurbish Them
Unlike electrical appliances, refurbishing most items in your kitchen will inject new life and purpose into them. A simple splash of a fresh color coat to your cabinets or a dash of varnish can completely remake a space without touching a single heavy tool. Again, you need to know the direction and destination that you're after.
Make Existing Worktop Finish Pop With Varnish
Wood-material countertops are the easiest to give new life to with two or three polyurethane coatings. A fantastic option for those with a butcher block countertop, but use an oil or a wax finish if the top will see some cutting action. You can also use these smooth and glossy finishing coats on laminate.
Revitalize Your Cabinetry With Fresh Paint
Peeling and drab paint are the best indicators to sand off the old paint coats and redo the job with something fresh and exciting.
The best design advice for still usable countertops is stripping the workspace bare and seeing if the base material and design are still functional.
Try using two coats of chalk paint when you want something different and new. The matte finish can completely transform a space and make accents of pastel or bright colors elsewhere in the kitchen pop.
Read my article Can I Just Replace The Doors On My Kitchen Cabinets? to have more ideas to upgrade your kitchen
Retile Your Worksurface
Tile countertops seem intimidating when you step back and notice the cracks, chips, and tiles pulling away from the surface. Although time-consuming, replacing only the damaged tiles isn't an impossible task.
Patience, a grout rake, hammer, and chisel will be your most helpful ally if you don't wish to deal with a drill. Remember to use a grout sealer when replacing tiles to avoid staining and bacteria growth in the porous grout.
Fake A Granite Or Marble Look
The classy aesthetics that granite can imbue over your entire kitchen design makes it difficult not to want it in your kitchen, even though it's ridiculously pricey. Fortunately, you can mimic the stone pattern.
Dab a sea sponge in shades of grey acrylic paint and Picasso all over a base paint or contact paper layer to make a marbled pattern. Once satisfied, seal your creation with an epoxy layer—marble effect spray paint for a similar finish.
Apply A Concrete Skim Coat
Solid concrete countertops are classy and are not going anywhere. By stripping your counter to its foundation layer, you can make your worktop appear to have been overhauled for a concrete pour.
Once bare for all to see, refinish the top with a concrete skim coat (a thin layer of concrete) which you can finish to a shine or something more subdued and natural.
Repair And Refinish Stone Tops
Clean the countertop surfaces and then use resin diamond pads to sand down the masonry over areas that accrued shallow chips, cracks, or scrapes. Use epoxy for damage that can't be sanded off and then sand, polish, and rebuff the area. It's an intensive process with a sealing step, but the final product is incredibly satisfying.
Rebuff Metal Hardware
Similar to having stone tops that cost the big bucks to install, you might also have metal hardware that's either vintage or made from high-quality material that you might not want to replace. Remove the handles and knobs from the cabinetry, sand off any scuff marks, and rebuff them to a shiny finish.
Do The Work Yourself
After reviewing the previous section and seeing how doable refurbishing work is, it might seem obvious. Unlike your keen self, not everyone likes getting their hands dirty and requires a push to illuminate that they can save even more money on work they would typically outsource.
If you were having second thoughts because you know that work that seems this simple is often not, take heart and don't give in to the temptation to use a portion of your budget for outsourced work. Be bold, do the work yourself, and use your budget for supplies.
Transform Your Tabletop With Overlays
You don't have to add anything new or deconstruct your countertops, as most overlays have a self-adhesive that allows them to sit pretty and look expensive for a fraction of the cost of masonry finishes.
Contact paper, prints, and covers come in a school of different designs, which can tailor your look to the exact image you saw in your dream.
Use Concrete For A New Aesthetic
Tearing down and pulling out all your countertops from the fasteners isn't in everyone's budget or DIY wheelhouse.
But, the reward and payoff are immense for people willing to take the hours of frustration involved in learning to make, model, pour, and finish concrete. Concrete is a relatively inexpensive material to work with.
Fully Invest In Butcherblock Counters
Like the above concrete countertop idea, working with butcherblock worktops will require time and effort. Butcherblock counters per square foot can be incredibly affordable, stylish, and long-lasting.
You save on fees and gain experience by tearing down the old countertop and installing the butcherblock countertops.
Find The Right Countertop Refinishing Kit
You can get many different countertop refinishing kits from your home hardware store or from Amazon for an easy package to refurbish your old counters. Refinishing kits are an excellent idea for the birth of new DIYers.
Make Art Out Of It
Sanding down laminate or wood countertops, making a design as simple as lining pennies over the surface and raising borders along the edges to pour the epoxy resin can produce something distinct and memorable.
Strip Your Counters For An Industrial Chic
Interior design has long taken pages from the stripped-back and minimalist style of refurbished factories from the industrial revolution. The industrial style embraces the philosophy of exposed bricks, concrete, and pipes.
You can add silver or copper accents to complement the color of your pipes if you choose to go beyond stripping only the paint. As you're already catching on, you'll need to take extra steps to select the correct sealants and concrete skim coats at places to get the desired utilitarian finish.
Add An Upstand
The upstand is a short extension up a couple of inches on the wall where the countertops connect. Like baseboards, the upstand can hide the worktop and wall joint. At the same time, the seamless effect creates a perception of a more extended countertop when viewed from some angles.
Revamp Your Counter's Backsplash
Like the upstand, the backsplash is usually excluded from the conversation of little changes but significant differences. This small panel or wall section that catches water splashes from the sink and grime from cooking is more pronounced in older architecture.
You'll need more elbow grease and reading up if all your back walls have a single material that might require the entire thing to be removed and replaced with new material. Replacing or refurbishing the backsplash wall can give your full kitchen renewed leave to live.
If you do not want to replace your door learn more in What Is The Difference Between Refacing And Resurfacing Cabinets?
Conclusion
There are many tricks that you can employ to satisfy any shoe-string budget. Besides refurbishing and replacing countertops and their hardware, you can also recycle materials like old doors or consider upgrading your lighting and its features which could be the reason behind your dim outlook for your kitchen.
If this is your DYI project read this article What Goes In First Kitchen Cabinets Or Flooring