3 Types Of August Smart Locks Explained (Which One Is Best For You?)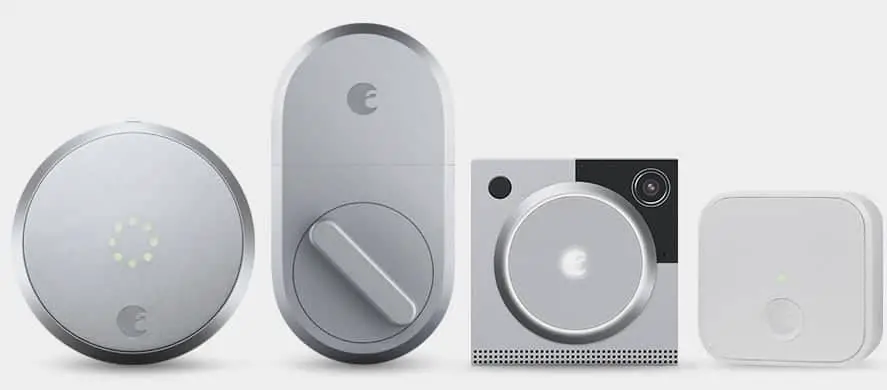 August smart locks are considered to be the cream of the crop, which is why they've started to be snapped up left and right. If you are looking for a new smart lock, it's a good idea to know what you should expect from the categories each brand offers.
The three types of August smart locks are the August Smart Lock, the August Smart Lock Pro, and the August Smart Lock Wi-Fi. Each one has its own benefits and is made to work with a variety of home setups.
When choosing your smart lock, you have to remember that your home's security is at stake. It is up to you to make sure to choose the best lock for the job. This article will introduce you to August, its smart locks for sales, and help you choose the best match for you.
What Is August?
August is a specialty company that's devoted to making home security devices and other smart home accessories. They are known for having intuitive apps that let you control your devices through the use of your smartphone, as well as for having elegant-looking locks that often come at a discount when compared to others.
Since the beginning of their creation, August steadily gained a fanbase due to the company's product durability and ease of use. Needless to say, it's a brand that you can feel safe working with.
Why Use A Smart Lock?
Smart locks are a great investment if you are looking for home security that can be controlled from afar. The August Smart Lock series is designed to be used through several different means. Voice activation, automated locking features, and app use all make it possible to get a smoother transition from place to place with August's smart lock line.
Using a smart lock can make it easier to get inside while carrying groceries, and also can provide a reliable way to unlock doors without needing to be there in person. With August, you also get the benefit of being able to see who came in, who left, and even give people personalized "keys" for your home.
Understanding How Wi-Fi Works With August Smart Locks
Unlike other smart lock companies, August's smart locks don't always have wi-fi built into them. If you choose the August Wi-Fi Smart lock, you get the wi-fi built into the lock. Otherwise, you will need to get an August Wi-Fi Bridge to ensure that you get the connection you need.
What this means:
If you choose to get the Smart Lock or Smart Lock Pro, you need an August Wi-Fi Bridge. This is not something you can get around. To get the full functionality of these locks, you need one to get remote access or voice control.
If you're looking for an all-in-one, go for the August Smart Lock Wi-Fi. It's a petite lock that will work just as well as the other models, but won't take up space on your plug.
The big perk of the August Connect Wi-Fi Bridge is that it comes with near-instant pairing. As long as the Bridge is plugged in, you should be able to enjoy rapid pairing with your Alexa or Google Home.
What Phones Are Compatible With August Smart Locks?
Part of choosing the right smart lock for you is making sure that the lock you get will have an app that's compatible with your phone. There's some good news that you can count on with this series, and that's app compatibility.
August's smart lock app is available for download on both Apple and Android phones. So, regardless of what phone OS you use, it's safe to say that you can expect August to step up to the plate.
Do You Need To Get The August Bridge To Use Their Smart Locks?
If you are buying the August Smart Lock or the August Smart Lock Pro, you will need to buy  (and use) the Bridge accessory in order to get remote use and voice control on your locks. Without it, your smart lock won't be very smart at all.
On the other hand, if you are looking at the August Wi-Fi Smart Lock, you won't need to get the Bridge. This is because the wi-fi accessibility is built into the lock. If you don't want to use extra plug space to get your smart lock working, then the Wi-Fi is going to be the best option for you.
What Does Each Smart Lock From August Come With?
Every smart lock that is made by August comes with the lock itself, some AA batteries to power it, the instructions required to help you use it, as well as a one-year warranty. The locks also come with their own mounting hardware to ensure that your installation is as smooth as possible.
If you get the Smart Lock or Smart Lock Pro bundle, then you also will get an August Bridge to help you gain wi-fi compatibility. With that said, you need to make sure to buy the lock as a bundle with Bridge. Otherwise, you will only get the lock itself.
Are August Smart Locks ADA-Compliant?
This is actually pretty difficult to find out, since there isn't much information about it online. One could assume that they are, simply because they are able to be operated via voice commands an app commands. However, there's no official information about their ADA compliance on their site.
If you are in need of a smart lock that is designed to work with the standards set forth by the ADA, it may be better to avoid assumptions. Seeking out a smart lock that's specifically advertised as ADA compliant might be a better move.
The August Smart Lock
The August Smart Lock is (and was) the flagship model for August. It remains one of the more popular models, particularly among people who are using their locks for an Airbnb. Here's what the smart ock is capable of:
Automatic Locks And Unlocks. If you've ever wanted to walk into a locked room smoothly, and not have to worry about having to unlock it, the August Smart Lock will work well for you.
App-Based Use. The August Smart Lock app lets you program your lock to make your life easier, and also lets you see who's been entering (and leaving) your home.
Voice Command. When paired with the Bridge, the Smart Lock can be activated using voice commands.
Grant Guest Access. Do you have an Airbnb guest who needs to use your home? This lock comes with a special guest access program that makes it easy to keep things safe.
DoorSense. DoorSense is a feature that's available on all of August's smart locks, and it's a remarkable one at that. This feature lets the users know if their door is actually closed, as well as whether it's locked or unlocked.
Quick Install. This lock installation takes less than 10 minutes.
Where Is The Smart Lock Compatible?
If you have a single cylinder deadbolt lock, then chances are that you will do well with an August Smart Lock. This is because it's designed to be installed over your deadbolt lock, rather than your primary lock.
You might be able to use this lock with locks that aren't deadbolts, however, it could take a longer amount of time to install it, simply because you may need to install a top bolt area up above your regular lock.
All of the August models come with some level of compatibility when it comes to smart home hubs. The basic Smart Lock can work with Google Home and Alexa, but not Apple's Siri or HomeKit.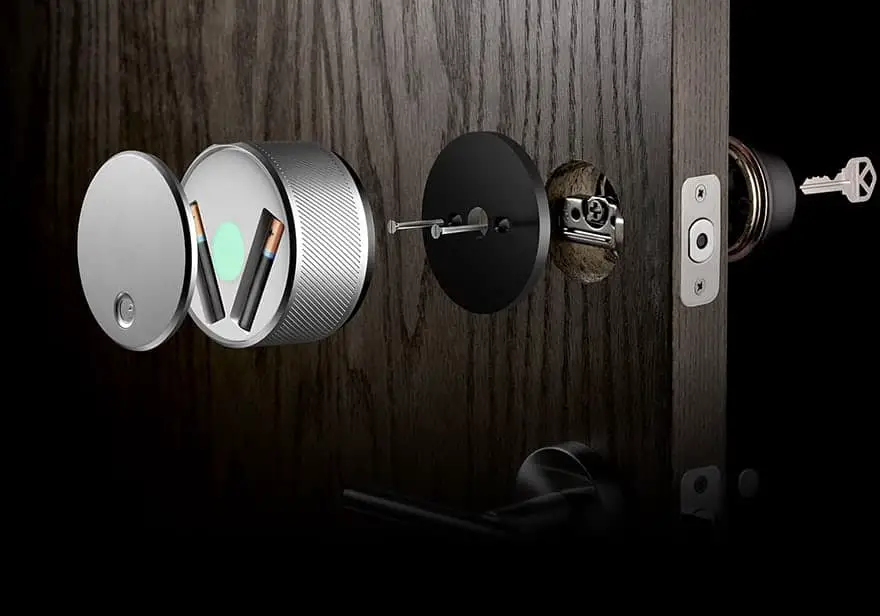 The August Smart Lock Pro
The August Smart Lock Pro is a little different than the main model. Much like the regular August Smart Lock, you can expect the following features to be part of the perks:
Automatic Locks And Unlocks. The Smart Lock Pro comes with the perk of automatic lock and unlock functions for people who are just walking through.
App-Base Use. A quick download of the app is all you need for remote usage.
DoorSense. You'll never have to pause and ask yourself if you locked the door again.
Voice Command. If you have your hands full, just give your Smart Lock Pro a shout to lock or unlock your door.
Remote Use. You can grant guest access from your app, and also see who has been in your home through the app.
Fast Install. Like other August smart lock models, the Pro is designed to be easy enough for a novice DIYer to install.
Where Is The Smart Lock Pro Compatible?
The August Smart Lock Pro is just like the regular Smart Lock in terms of compatibility. You will need a single-bolt deadbolt lock on your door in order to make it work. If you want to double-check your door's compatibility, you can through their website.
If you are concerned about keeping the option of manual use, then you may not want to use the Smart Lock Pro. The regular Smart Lock offers a way to manually turn the deadbolt, while the Smart Lock Pro doesn't.
When it comes to home devices, the Smart Lock Pro is more flexible than the regular Smart Lock. Along with Alexa and Google Home, this model offers up compatibility with Siri, too. This is also the only model that comes with Z-Wave Plus support.
The August Smart Lock Wi-Fi
If you are not a fan of having to get a wi-fi connection bridge to make your lock work, then you might want to check out the August Smart Lock Wi-Fi. This is the latest smart lock model from August, and it comes with a built-in wi-fi connector.
Along with the standard benefits that you get from the Smart Lock and Smart Lock Pro, the Wi-Fi Model comes with a nice array of additional features that make it worth your time:
Instant Connection. As soon as you install your lock, it's ready to go. There's no programming or special hookups to worry about.
Special Designs. Unlike the regular Smart Lock and Smart Lock Pro, the Smart Lock Wi-Fi is sold in multiple colors. This means you can enjoy a more aesthetically pleasing door.
Fast Install. Like all other August models, the Wi-Fi is meant to be fast to install and doesn't require much in terms of tools.
Where Is The Smart Lock Wi-Fi Compatible?
Much like with other August options, you can use the August Wi-Fi smart lock with almost any door that has a single deadbolt lock. This lock also comes with the added perk of working with all three major smart home hubs—Alexa, Siri, and Google Home.
Which Smart Lock Choice Is The Easiest To Install?
This is a tough question, simply because all three August lock models are made to be easy to install. However, if we had to pick one, it would have to be the August Smart Lock Wi-Fi model. This is simply because you don't have to plug in a Bridge connector to make it wi-fi compatible.
Aside from that, all three of the smart locks made by August are meant to be installed with minimal need for additional tools or experience. So, if you're looking for a quick DIY project that will keep your home safe, this is a good pick.
Do You Get To Keep Your Keys With An August Smart Lock?
Yes! All three locks let you keep your keys if you choose to. This makes them very landlord-friendly and also reduces the risk of feeling like you don't have a way to unlock your door the old-fashioned way.
Moreover, all of August's smart locks all ensure that your lock still looks the same from the outside. So, if you were worried about people being nosy about a new lock, don't be. They won't be able to tell that you have a smart lock unless you invite them in.
How Are August Smart Locks Powered?
Part of figuring out which smart lock is best for you is knowing what to expect in terms of power. Most smart locks on the market tend to have internal batteries that cannot be replaced, or require specialty batteries that are difficult to find. This is not the case with any of August's smart locks.
All of August's smart locks are powered by AA batteries—the same kind that you see in grocery stores. The company is also nice enough to give you enough batteries to power your lock as part of their bundled packages.
Should You Get An August Keypad With Your Smart Lock?
August smart locks let you give digital "keys" to guests that they can use through your phone, but actually having keypad codes is a different thing. August smart locks don't come equipped with a keypad as part of their basic package. Rather, the company offers keypads as an accessory.
It's important to realize that August keeps all its products in its own system. If you want to get your smart lock to work with a keypad, then you need to buy an August Keypad as an accessory. Other smart lock keypad systems won't work with your lock.
Learn more!! see our article Everything You Must Know About Smart Locks for more information
Related Questions
How do you maintain an August smart lock? The best way to maintain your smart lock is to replace the batteries on a regular basis and keep your phone's app updated. If you notice your smart lock losing its ability to function, call the customer service line at August to find out what you should do.
What does August's one-year warranty include? August's warranty states that any product you buy from the company (or a licensed seller) will work well for an entire year after the purchase. If your product becomes defective within that first year, you have the option of exchanging it for a new one.
What are some of August's competitors? August's top competitors include companies like SimpliSafe, Kwikset, and Schlage. That being said, this company is still seen as one of the most well-performing new smart home companies.
Do you need a separate Connect Bridge for every August smart home item you buy? It depends on the location of the locks. Generally speaking, you won't need more than one Bridge if all the products you're using are going to be in the Bridge's vicinity. Moreover, a lot of other August products don't require a Bridge.
Does August offer a money-back guarantee? Yes, they do. If you bought a smart lock from an official retailer, you are given a total of 30 days to test it out. If you're not satisfied, you can return the smart lock and receive a full refund.
Do you need to get an August smart lock professionally installed? Nope. It's a simple DIY project for most people. However, if you do want to get it installed professionally, you can. August even has installation service partners listed on their website's FAQ section to help you connect with someone who can help you.