Can You Rekey a Schlage Smart Lock?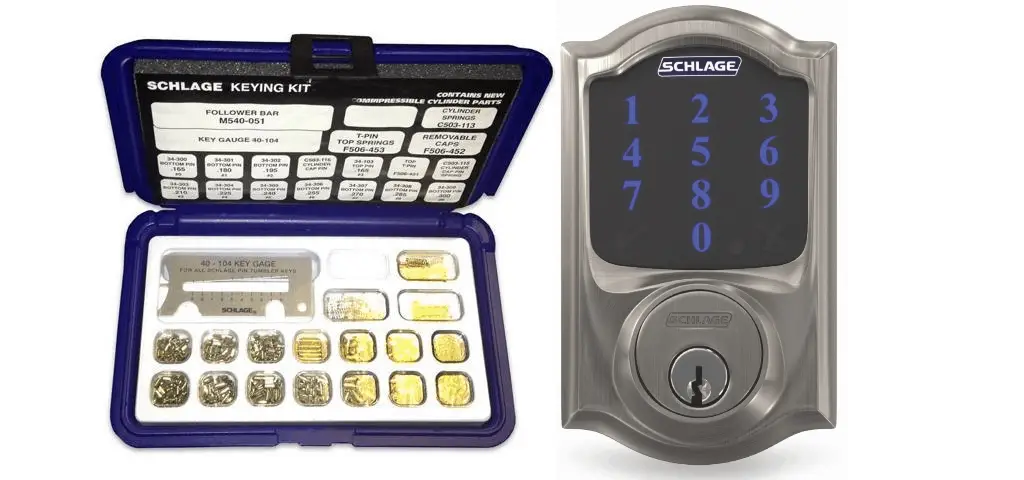 Rekeying locks is a natural and common part of homeownership, especially when purchasing or moving into a new home. Like many people, you may be purchasing a new house or just finally switching over to a smart lock. Regardless of the reason, you probably have this question.
Can you rekey a Schlage smart lock? Absolutely. Rekeying your Schlage keypad lock should be no issue, and can be done by yourself or a local technician. You can save money and time by just swapping the cylinder, or deadbolt core, out.
Of course, it is not always that simple and will depend on which smart lock you actually have, as well as the end result you want. Whether rekeying a smart lock for standard smart key replacement or to increase your home's safety, this is possible with the Schlage Smart Lock. In this article, we will address why you would want to rekey a smart lock as well as the steps to do so. Continue reading for more information.
Why Would You Want to Rekey a Smart Lock?
There are several reasons that rekeying a smart lock is a good idea. First of all, many Schlage smart locks still have keyholes for use just in case of the smart lock's electric/battery/wifi-operated component malfunctioning. This feature could be used in the instance that a battery dies or if you do not want to give out the smart lock key code to a visitor. Here are some additional reasons you may want to consider for rekeying a smart lock.
Rental Property
When you are a landlord renting homes, you likely give the renter a physical key- even if it is a smart lock. While it is easy to change the code on smart locks, you may want to also replace the key to ensure that the old renters did not make an unwanted copy. Otherwise, you will never know if your rental property is still accessible to your former tenants. Rekeying is a good idea in this situation.
In short-term stay rental properties, such as bed and breakfast or business bookings, this can still be a good idea every now and then. While it is less concerning if you did not hand your renters a physical key, it can give you and your future guests peace of mind knowing that the lock has recently been rekeyed.
You could also even give your tenants the ability to change the smart lock to a combination they prefer while still maintaining the physical key. This could give your tenants a little bit of control while still allowing you and them (and not anyone else) to have full access to the property.
It is Your Only Smart Lock
If you just got a new smart lock and are in the process of installing it, you may realize this no longer matches the rest of your home. Many people want to have one key that works around the whole house. This saves from the hassle of having to search through multiple keys to find the right one as well as the possibility of losing all access to your home through a misplaced key if you only have a spare for your "dumb locks".
The best way to make this happen is to rekey your smart lock to match it to other locks in your home. When rekeying, it will likely be easier and cheaper to do your smart lock than multiple other locks around the house.
Most local hardware stores should be able to help you with this process. You will need to be able to provide a key that matches the other doors and locks in your house, but then they should be able to match this to the new deadbolt core. This way, you only have to replace one lock (and can even take it into the store yourself) rather than having to spend a day letting in the locksmith to rekey your entire home.
Read this post If you have a problem with your Front Door Smart Lock Keypad
Moving Into a New House
When moving in or out of a new home, you will want to consider rekeying your Schlage smart lock. For the purpose of moving in, it is obvious that you will not want someone having the same lockset that the prior owner had. They could have family members or friends with keys that are still out there. They may also have forgotten to give you some of the keys.
Unless there happens to be a detailed record of every key made for every lock in your home, there is simply no way of knowing what and how many keys exist for the locks on your door. Not providing all of the keys may not be malintent, but it could still waive some level of security in your home.
Regardless of the motive, rekeying is an essential part of moving. You will be able to rest easy knowing that you have rekeyed all of the locks in your home, and especially in rekeying your smart lock for a new physical key (as well as the combination).
Steps to Rekey a Schlage Smart Lock
By following these easy steps, you should be able to rekey your Schlage smart lock with ease. If you have any other questions, feel free to refer to your owner's manual or take your smart lock to a local hardware store that sells similar items. These steps should be able to help.
Remove the Lock from the Door
If your lock is already on your door, you will need to remove it from the door itself. To do this, there should be a couple of screws inside the door on the back of the deadbolt.
Unscrew those and the lock should be removable. This should not require too many tools or additional hardware, as you should be simply removing the screws that are keeping the smart lock in place.
Remove the Front of the Schlage Lock
To remove the front of the Schlage smart lock, there will be screws on the back of the lock (the side that would be pressed against the door once installed).
Unscrew these screws and then turn the lock over so it is facing you. This will provide a view of the portion that you will work with to rekey your Schlage smart lock.
Pull Out the Cylinder
Once the front-facing metal parts are removed from the smart lock, the cylinder components should be able to come out easily. The cylinder is the part that the key would hit in order to turn the deadbolt to the locked or unlocked position.
You can remove this manually or using tools that will help you to grab the cylinder components. From here you can replace the entire cylinder, or bring it to a professional to have it changed over.
Rekeying Yourself
Rekeying a smart lock will require a bit more work, though it is possible to complete. It may cost you more time unless you are pretty familiar with the product. First, you will need a Schlage rekeying set, like this one. Once you have that, it is best to watch a video to truly understand how to do it. Here are a couple of videos to help you. The first video is not just for smart locks, though the rekeying process will be the same.
Removing the Schlage Cylinder
This video has been included to help you know how to remove a cylinder and its components from a Schlage smart lock. This portion of the process is very important as this is how you will be able to transfer the safety component of the lock, or in other words, the part that the new key will fit into.
The video includes the necessary tools that you may need for this process as well as step by step instructions. By using the visuals, you may be able to remove the Schlage smart lock cylinder with no issues. From here, you can determine whether or not you would like to rekey the lock yourself or take the cylinder in for someone else to rekey it. Either way, the safety of your home will be remarkably improved.
Rekeying a Schlage Cylinder
This video includes how to rekey a Schlage smart lock cylinder. This is the component that many people will choose to take to a professional, so do not worry if you decide to do this. You want to make sure that this part is done correctly, considering it is the final step and the entire point of the process.
Included in the video is a visual demonstration of detailed instructions for how to rekey a Schlage smart lock cylinder (that could likely be applied to other smart lock rekeying processes). Remember, if you are ever in doubt of the process or are unsure if you are doing something correctly, it is better to seek help than to leave the security of your home up to question. Watch this video and then decide which choice for rekeying is the right one for you.
Learn more!! see our article Everything You Must Know About Smart Locks for more information