8 Best Gazebos For High Winds And Rain in 2023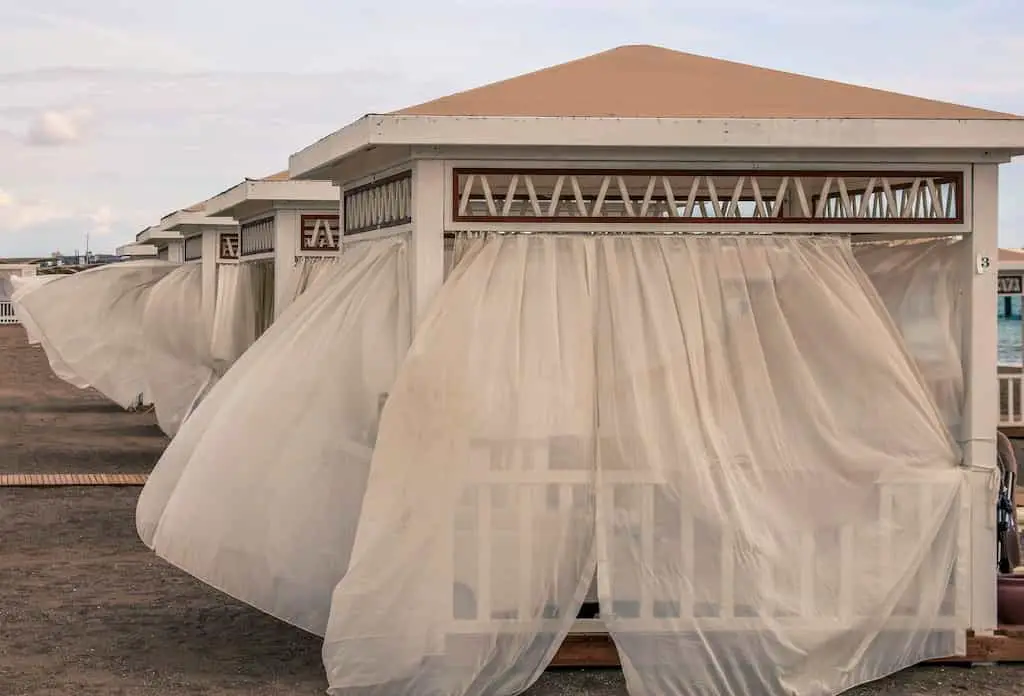 If you want to enjoy the beautiful shade of a gazebo, you have to remember that those structures have to be able to weather both sunshine and storms. If you live in an area that's known for high winds and rain, this can be a problem.
The best gazebos for inclement weather include:
Kozyard Alexander Hardtop
Kozyard Odyssey Hardtop
Gazebo Penguin Florence Solarium
Sunjoy Chatham Steel Hardtop
Mellcom Hardtop Gazebo
Domi Outdoor Living Hardtop Gazebo
Purple Leaf Outdoor Hardtop Permanent Gazebo
Sunjoy Hudson Cedar Wood Pavilion
Anyone who is in the market for a new addition to their yard needs to think about choosing a gazebo that's going to be capable of handling all four seasons. This guide will help you understand what you should look for, and how you can get the most for your money.
Can Gazebos Withstand Heavy Rain?
Gazebos are not just for looking nice during hot summer days, nor are they just meant to provide shade. A good gazebo will be capable of giving people shelter during times of heavy rain.
However, a gazebo's durability in the rain is a lot like its wind resistance. You have to get the right model and you have to make sure it's properly cared for before you can remain confident in its ability to protect you from the elements.
Do Gazebos Blow Away?
If you have a gazebo that isn't built for high winds and isn't installed using heavy weights at each post, it's very possible that your gazebo can blow away. There have been multiple cases where high winds caused a gazebo to uproot itself and blow into a house, causing major property damage.
How Can You Make Sure Your Gazebo Withstands Hash Weather?
When choosing your gazebo, make sure to look for a model that is designed with inclement weather in mind. These weather-resistant design features below can help you pick out the right one:
Rustproofing. Materials like aluminum, brushed steel, baked enamel, and galvanized steel are all known for being able to withstand wind and rain better than cheaper alternatives. Rust eats away at gazebos, so choosing a rustproof model is ideal.
Gutters/Tiered Roofs. Both tiered roofs and gutters are used to mitigate the heavy rainfall that can potentially damage gazebo rooftops. If you have a soft-top gazebo without any sort of tiered system and no sign of gutters, it's safe to say it's not good for rainy seasons.
Weight. The heavier the gazebo is, the less likely it is to blow away. That's why wood, aluminum and galvanized steel tend to be the preferred material choices for areas with high wind.
Rainproofing. Hardtop roofs are ideal here, but in many cases, a softtop with gutters will work just as well. Hardtop gazebos tend to be more durable overall, so if you can splurge on a hardtop, do so.
Mold/Mildew Proofing. With hardtop roofing, this won't be as big an issue since they usually are made of metal or have a finish on their wood to prevent mold growth. Softtops, on the other hand, may need mildew and mold proofing since they're more susceptible to it.
Proper Installation. This isn't a feature, per se, but it is important to keep in mind. Having your gazebo reinforced with concrete weights or having a good platform will help keep your gazebo from flying off during a storm.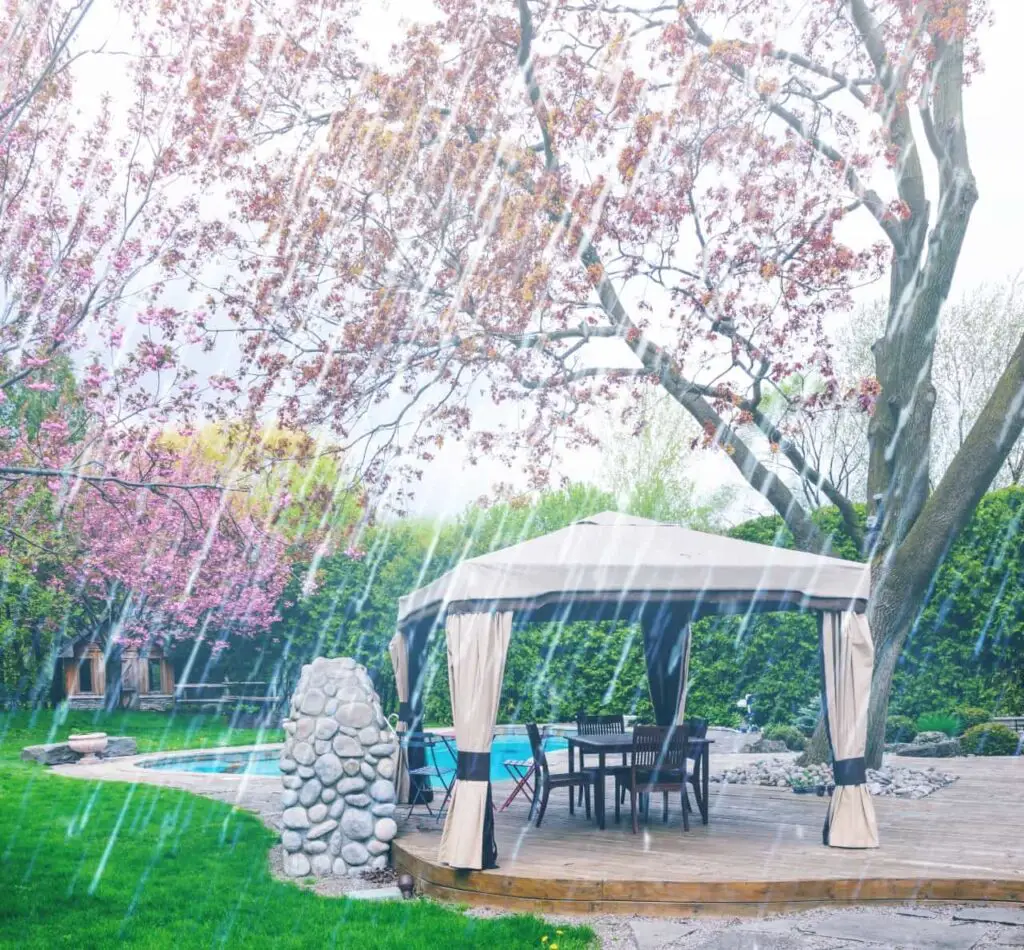 What Are The Best Gazebos For High Winds And Heavy Rain?
For the most part, any gazebo that is made out of heavy material and has a good amount of rain proofing should be able to withstand a storm. The hard part, though, is finding one that fits this bill.
The vast majority of gazebos you'll see on the net are designed to be used as temporary "party shelters" for gatherings. They are meant to be set up, used for a day or two, then taken down before weather takes a turn for the worse.
Those types of gazebos are temporary and shouldn't be left outside during a storm. Though most gazebos are meant to be used exclusively in fair weather, there are options that can hold up during a storm.
The best type of gazebo for high winds is a permanent type. We found some of the best offerings in this category. Ready to see the cream of the crop? They're right below…
Kozyard Alexander Hardtop
Kozyard is one of those brands that gained a solid reputation for making high-quality, durable yard goods. It's not surprising, then, that we ended up with not one, but two, different gazebos from this company on this list.
The Alexander Hardtop is a hardtop gazebo, which means that the soft fabric that usually can't handle high winds doesn't exist. Rather, it's a fully hardtop aluminum roof that comes with a five-year warranty. As far as its resilience goes, this gazebo can handle a whopping 2500-pound snow capacity.
Wind-wise, the rating on the Alexander Hardtop is definitely admirable. You can expect this to withstand winds up to 40 miles per hour without any additional assistance. With extra reinforcements, you can expect this to withstand quite a lot more.
Kozyard does it again, this time with a more regal outfit called the Odyssey Hardtop. Much like the Alexander Hardtop model featured earlier, the Odyssey hardtop is made from high quality, rustproof galvanized steel while the frame is made of aluminum. This gives the Odyssey the kind of durability people need.
With its elegant sloping and built-in mosquito netting, the Odyssey is meant to be a nice little home away from home. But, don't take its delicate-looking build at face value. It has a three-year warranty on its roof and can also handle an impressive 2500 pounds of snow on its roof.
In other words, this thing is secretly built like a tank. Expect it to withstand Mother Nature's wrath.
When it comes to soundproofing and rain proofing gazebos, having more coverage and more bulk tends to be the smart way to do things. That's the design concept that makes the Gazebo Penguin Florence Solarium such a good pick for areas with difficult weather.
The Florence Solarium is more of a separate outdoor room than a gazebo in many ways, but it still fits the bill. I know is pricy but is an investment that will last. It's heatproof, windproof, can handle 16″ of snow and comes amazing amenities that will keep you feeling cozy—even on the worst of days. Many customers are using as spa with hot tub.
You're not going to be able to find a place that's more well-ventilated and yet durable than this one. Many people have noted that this model is capable of handling winds as high as 50 miles per hour.
Sunjoy has been a mainstay in the gazebo world for decades, and rightfully so. They're a company recognized for standing behind their products. This is especially true when it comes to matters of inclement weather and using the best possible materials on the market.
The Chatham Steel Hardtop is made of metal steel roof and aluminum and steel powder-coated rustproof framing . On top, you get to enjoy a vented hard top that offers protection from rain as well as a surprising amount of stability during windy seasons.
Though there isn't really an official wind grading to this model, anecdotes have suggested that it can hold up against winds as high as 65 miles per hour. Make sure that is bolt to concrete with four bolts.
Stakes are provided to secure the gazebo in grass ground. If you wish to secure the gazebo to a wood deck or concrete surface, you will need to purchase fasteners appropriate for these surfaces
Between that, and its nice roof, it's safe to say you'll enjoy this gazebo.
Yes, Mellcom is great in modern design. This one's durability is built right into its name. It's an all-season gazebo that's designed to be used in both fair and foul weather. This is primarily made of heavy-duty aluminum with a galvanized steel top.
This gazebo can support a load of 2500lbs of snow. Make sure the 4 stands are perfectly anchored in the ground.
When it comes to rain, the enamel and three-ply vinyl will keep you safe while remaining resistant to tears that can happen from errant sticks. When it comes to high-speed winds, you can rely on it to keep itself grounded in winds higher than 60 miles per hour.
People who are looking for an elegant yet affordable option should give this gazebo a shot.
Domi Outdoor Living Hardtop Gazebo
Though most people love the idea of a classic metal gazebo as a way to cool off during the summer months, there are a select few who want to have what most would call a "heritage piece" for their yards. That's where companies like Domi Outdoor Living come into place.
Their Wood-Looking Gazebo walks the fine line between luxury and durability.
Since this entire gazebo is made of Powder-coated gazebo aluminum frame the chances of it blowing away are zero. Moreover, the roof is designed to be water gutter. So, if you end up wanting to hang out in the gazebo during a rainy season, you absolutely can. The price tag is high, but you can bet this will last and last.
The easiest way to find a high-quality and strong gazebo that can withstand the elements is to seek out a gazebo made to be a permanent fixture. Purple Leaf makes a gorgeous hardtop that's meant to be a year-round, permanent part of your home's terrain.
What makes the Purple Leaf Permanent Gazebo a great choice is the fade-resistant and rustproof galvanized steel rooftop. It's strong enough to withstand heavy rain, snowfall, and even strong winds with proper installation. The roof is vented, and the entire gazebo has a lightweight mosquito net to help you keep out bugs.
This gazebo is a particularly good pick if you are in a region known for heavy rainfall. Why? Because it has a specially-designed rain gutter that's designed to hold extra water.
If you're a fan of Sunjoy's elegant yet perennially pretty gazebos, you're going to be a huge fan of their Hudson model. Made of high-quality, insect-repelling cedar wood, this heavy-duty gazebo is meant to be a permanent fixture in your yard.
This model remains one of the more popular long-term models offered by Sunjoy, especially among people who are looking to add a park-like ambiance to their garden. The Hudson is large enough to fit a large party inside but also has a fully open setup that gives you plenty of ventilation.
Due to the heftiness of the wood involved, you don't have to worry about having strong winds blow this model away. Even the heaviest of rain downpours won't be a match for the Hudson.
Related Questions
How do you secure a gazebo in high winds?
If you have a temporary gazebo, take it down and store it in the garage. If you have a permanent gazebo, use rope and stakes to nail it to the ground. Add sandbags near the bottoms of the gazebo to ensure things don't blow away.
Want to install a gazebo on grass read my post on Can You Put A Gazebo On Grass? we show the secure way to do it
How long can hardtop gazebos last?
A typical hardtop gazebo can last between one to five years. Wooden gazebos can last as long as 20 or more, depending on maintenance.
How long can soft top gazebos last?
Most soft top gazebos will last between one to three years with careful maintenance. To find out how long you can expect your gazebo to last, check the warranty that comes with it.
What is the top speed a gazebo can withstand Wind?
This all depends on the gazebo model and the material that your gazebo is made of. Most permanent gazebos, when properly installed, can withstand speeds ranging from 40 to 80 miles per hour.
Do I always have to anchor a gazebo?
Permanent or temporary, it's just good practice to tie down a gazebo to the ground through one method or another. Unsecured gazebos, particularly temporary ones, can blow away—even if winds aren't that bad.
Learn more!! see our article The Ultimate Guide To Choose And Install A Gazebo for more information