Do All Smart Locks Require a Hub?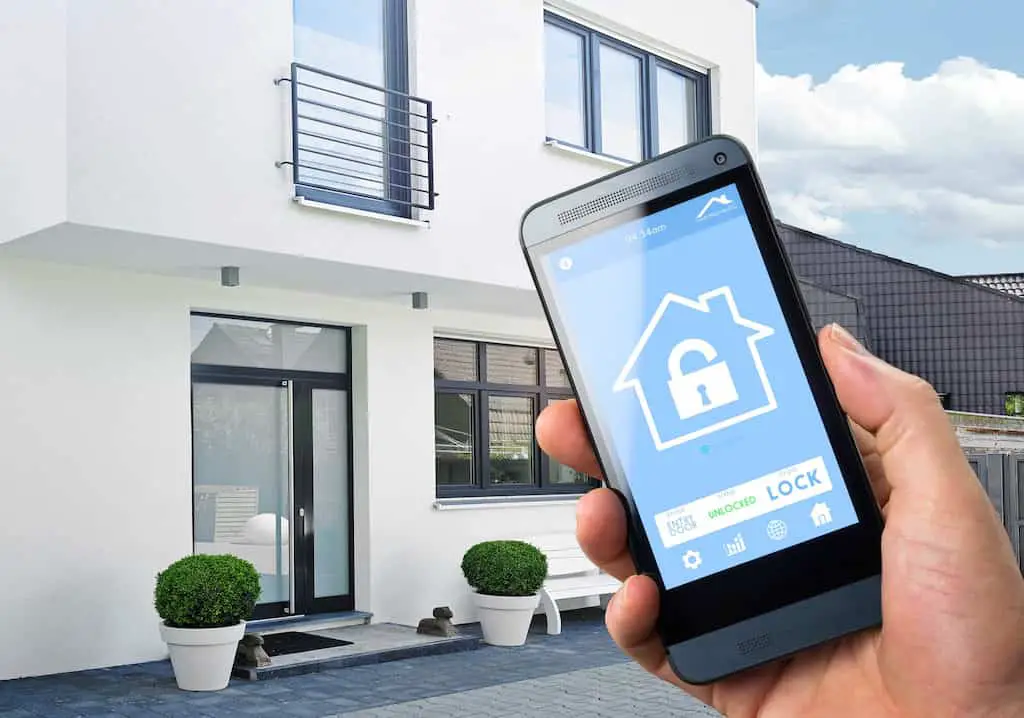 Anyone who's ever searched high and low for keys while family members rambled on about how we're late and we have to get going has dreamed of a world in which keys were obsolete. Smart locks are here, and they can make life easier as a part of your smart home.
Smart locks do not require a hub, though technically part of the Internet of Things. Smart door locks that allow users to access their locked door via a phone app, Bluetooth, a fingerprint, even a multi-digit code eliminate the need for a house key but need a hub to function fully and use all the benefits for the safety of your house.
Some smart locks offer features that won't work without a hub. But before deciding on the smart lock for you (and the hub you may or may not need), you need to know more than just the fact you want to stop carrying keys around.
Why Do Smart Locks Require a Hub?
Smart locks can be relatively simple, perhaps just a deadbolt lock that can be accessed with a key or a numeric pad. More advanced models can be unlocked by a user hundreds of miles away, and it's these more advanced locks that need a hub. No matter how fancy your lock's features are, if it does not have a hub or doesn't use one, many of these attributes will be unavailable.
A hub is the so-called brain of your smart home, the piece of Wi-Fi or Bluetooth technology that links all your smart-home parts together to your phone or another device. The hub lets you use an app on your phone to turn up the heat in your home as you get in your car after work, watch the nanny deal with the kids in real-time video, and yes, lock or unlock your door from afar.
Some hubs are brand-specific, while there are more universal models that work — for instance — with Alexa, like this GeekSmart Wi-Fi Gateway, which works with Yale, Kwikset, and others.
While almost all smart home devices will function without a hub, a smart home needs a hub to work everything to its full potential.  Some locks offer the option of being used with or without a hub.
Why Do I Need a Smart Lock?
If you've had enough of looking haplessly for your keys, a smart lock may be for you. While a smart lock is often erroneously credited with being more secure than a keyed lock, the truth is that a smart lock is more convenient but is just as vulnerable to failure as an old-fashioned keyed lock, albeit in different ways.
Pros of a Smart Lock
Maybe you want to let the delivery guy open your door to put the package inside. A smart lock will allow for that without having to tell him where you hide your key in the garden or giving him a copy. With a smart lock, you can program a code for him to use, and some models even allow you to limit when and for how long that code works.
If your smart lock is connected to a hub, you can open it remotely from your phone– maybe the driver notifies you he's arrived, you buzz him in, and the two of you defeat another porch pirate together.
And of course, there's the gee-whiz factor and the idea of not keeping up with a key.
Smart Lock Cons
Naysayers will bring up hackers when it comes to any smart home device. While this is an actual concern, there are precautions we should all be taking anyway, like with any such device:
Password security. You don't give out your ATM PIN or your Facebook password. Protect your Wi-Fi hub's password just as vigorously.
Password changes. Just like your work email requires you to change your password every month, quarter, or year, you should be changing your home passwords, too.
Mindfulness. Be aware that hackers are out there. Use that firewall feature, and just be aware.
Common sense. Don't give just anyone your smart lock code. If you gave one to a delivery man, deactivate it once he's used it.
Some smart lock models are retrofit units designed to mount over an existing lock, usually a deadbolt. It should be noted that these models are somewhat easier to break into with a flathead screwdriver, as the criminal can just remove the unit from the door. This isn't an incredibly simple process, so it's not like the retrofit units are entirely unsafe, but it is a drawback that bears mentioning.
Also, while nearly every smart lock is battery-powered these days, the hubs are not. A power outage, then, would not render your smart lock inoperable. But it would disable any hub-related features.
What Do I Need To Consider Before Choosing a Smart Lock?
Like nearly any purchase, you need to know what you want the product to do for you. If you only wish to live a keyless life, maybe the simplest lock might work for you–one that reads your fingerprint or takes, say, a four-digit code. Many of these also work with an old-fashioned key if you're not completely ready to abandon the 20th century.
But let's say you want to unlock the door while you're out of town on business or give the babysitter her own code (allowing you to monitor, if you want to, when exactly she left for the park with the kids). Or, even in the delivery driver scenario mentioned earlier, you'll need a higher-end model and probably one that requires a hub.
There are also compatibility issues. If you're looking at a smart lock that uses an app, be sure that app works on your phone. And some smart locks are made with precise dimensions in mind, meaning you need to check the measurements of your door before you buy. This isn't a complicated process, but it is one often overlooked.
The 6 Best Smart Locks Without a Hub
This Kwikset lock doesn't require a hub but provides keyless entry and rapid re-keying and can be operated via your smartphone. Since it doesn't use a hub, you won't be able to use your smartphone from another location, but this unit can be set to unlock when your smartphone comes into proximity to the lock. It also offers up to 30 programmable codes to allow for multiple users.
One of many units offering the option of using a hub, this smart lock offers functionality on its own. Perhaps its best feature is that once it's been paired to your phone or to an available- separately fob, you simply touch one of them to the lock to open it. Send eKeys to friends, and monitor who operates the lock and when via your phone.
By far the most unusual smart lock on this list, the OWSOO comes with four wireless remote controls that operate much like the ones we use to lock and unlock our cars. The lock itself runs on four AA batteries and has a backup battery, so even if you neglect the low battery alarm, you will not be locked in or out of your home. Stainless steel finish gives the lock an austere look that may be exactly what you're going for.
Never worry again about whether you remembered to lock the door, as this smart lock offers an auto-lock option. The Manhaoya lock can be operated with a mechanical key, key card, or a passcode entered via touchscreen. This is a sleek-looking unit that also offers easy installation and compatibility with most standard door sizes.
Another unit that can interface with a hub but neither comes with one nor requires one to work. Adding a hub will simply open up additional features, specifically remote access through a smartphone. Unlock with a fingerprint, passcode, or traditional key, and even sport a micro USB port for charging in case of a dead battery.
Smonet offers this smart lock with a fingerprint reader–open it with literally a touch. The number pad allows for additional codes for other users. Also choose whether to use this unit with or without a hub.
Learn more!! see our article Everything You Must Know About Smart Locks for more information
Conclusion
While smart locks have come light-years from their earliest iterations, there are still elements some would consider drawbacks. You'll have to do your research before you buy anything to ensure that you'll be able to do what you want with it and to be able to take advantage of all of your lock's features.
If you have a hub, by all means, use it, but if you have no hub–or don't want one–smart locks are still available to you so that you, too, can move closer to a keyless life.