Simple Backyard Landscaping Ideas Along Fence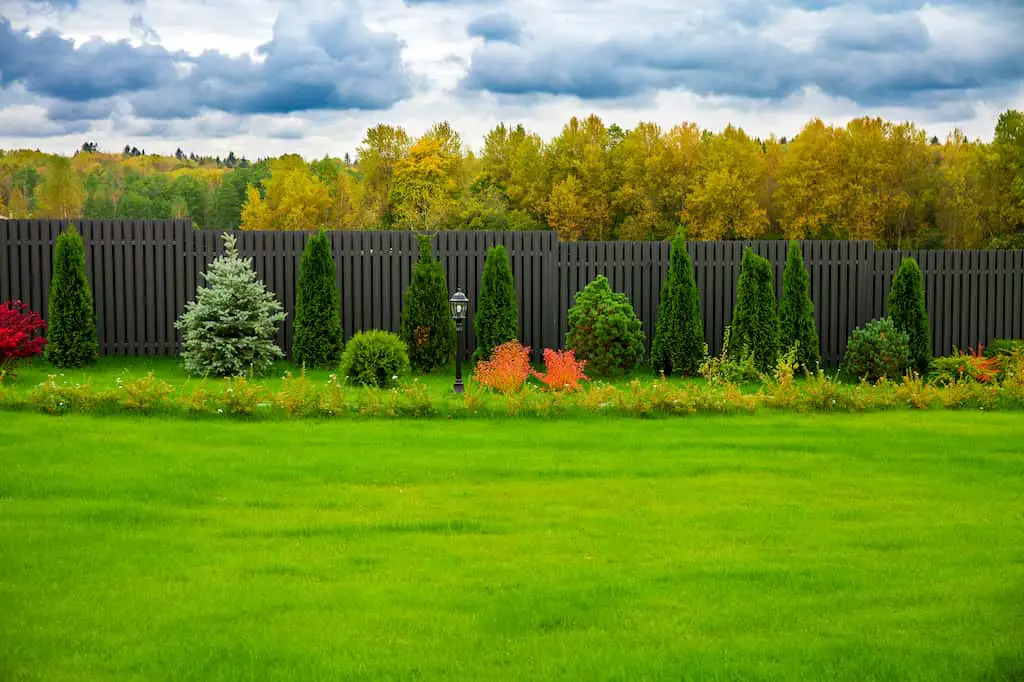 The fence line is one of the most exciting backyard spaces to landscape. What seems like a narrow garden strip can become an exciting DIY project that can entirely transform the look and feel of your fence and backyard. You don't need to be a trained master gardener to turn the awkward space along your fence into a beautifully landscaped area.
When landscaping along a fence, decide if the intention is to hide the fence or be a feature. Practical ideas include adding a water feature or fire pit in a corner section. No-dig designs can incorporate ceramic pots or string lights. Landscape for all seasons and use indigenous plants if possible.
Fortunately, you don't need a big budget to convert your fence ideas into reality. Whether you need to create a tall showy tropical garden to hide the fence or just want a pop of color to cheer up a dull section, there are plenty of budget-friendly backyard landscaping ideas to suit everyone.
How Do You Landscape Next To A Fence?
Any successful landscaping project always starts with a plan. Before you head to the garden center and feel tempted by all sorts of beautiful plants, start your makeover of the section below the fence with a plan. Ask yourself the following seven questions:
Does the garden area next to the fence need to serve any practical purpose? Perhaps it would be an ideal, protected area for a small vegetable garden or a sunny seating area.
Do you want to hide the fence, or would you prefer low-growing evergreen shrubs and flowers that create a low border in front of the fence?
Do you want to include any favorite plants or special features in the landscaping project? Your preferences must align with the rest of the landscaping to provide a cohesive appearance.
Take note of any unique characteristics of the fence. You may like to include a water feature if a tap is available. Any curves, higher sections, or natural elements like large boulders along the length of the fence could be used to create an interesting focal point.
Know your plant hardiness zone. Landscaping during the beautiful summer months can be deceptive. Plan with all seasons in mind so your fence line retains some of its charm during winter.
Demarcate the size of the garden space. Before any work begins, use a flexible pipe or markers to indicate how far from the fence you would like the garden to extend. That will also ensure you keep the edges straight and professional looking.
Consider the five elements of landscape design to create an outdoor space pleasing to the eye: line, form, texture, color, and scale. You may prefer a highly structured neat border for your fence or a more carefree look. Keep the intended outcome in mind while planning.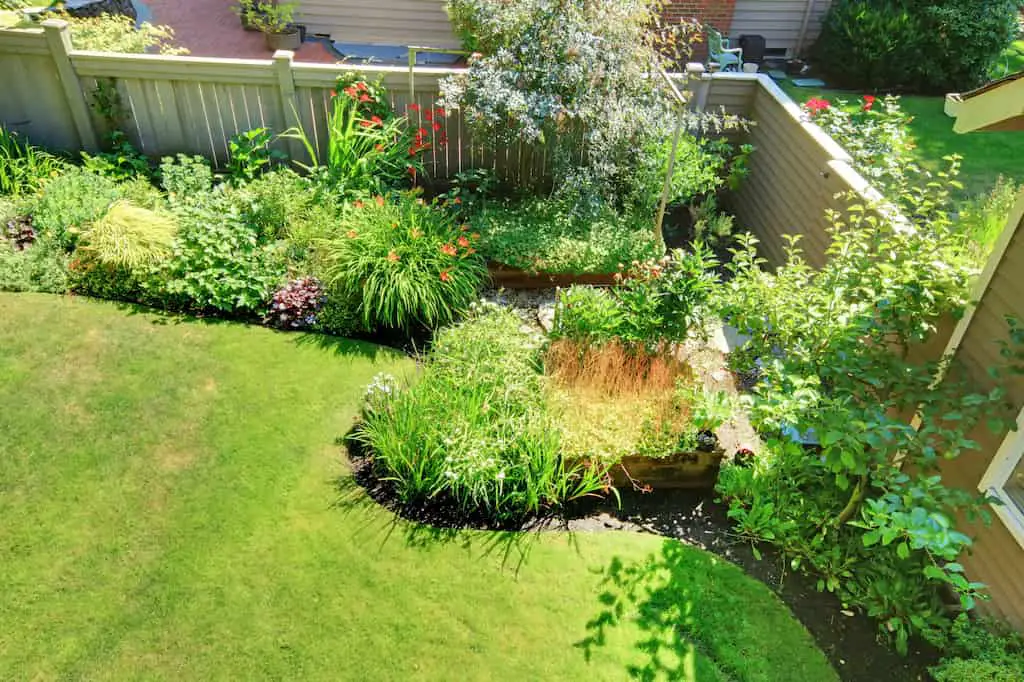 Even if you have a tiny backyard, the area will require occasional maintenance to look neat. Consider the time needed to maintain your garden when choosing the perfect backyard landscaping idea for your fence line.
Read about House Fence Dimensions And Space: What You Need To Know
Easy Backyard Landscape Ideas Along A Fence
Some of the best landscape ideas are also the easiest. Keeping things neat and simple is not only less work, but it's a great way to start slowly and find what works in your unique space.
Consider some of these tried-and-tested effective landscaping designs for the narrow area alongside your fence:
Add a trellis to the fence and grow a climbing plant: Instead of taking up loads of space in front of the fence, use the vertical structure to create a living wall. This is effective if you have a small garden with limited space to create flower beds.
Create a narrow garden bed below the fence that runs its entire length. The bed can have a highly structured look with a few feature trees and shrubs spaced equally or incorporate pretty flower beds. Protected garden spaces below fences are often ideal for growing delicate flowers like impatiens.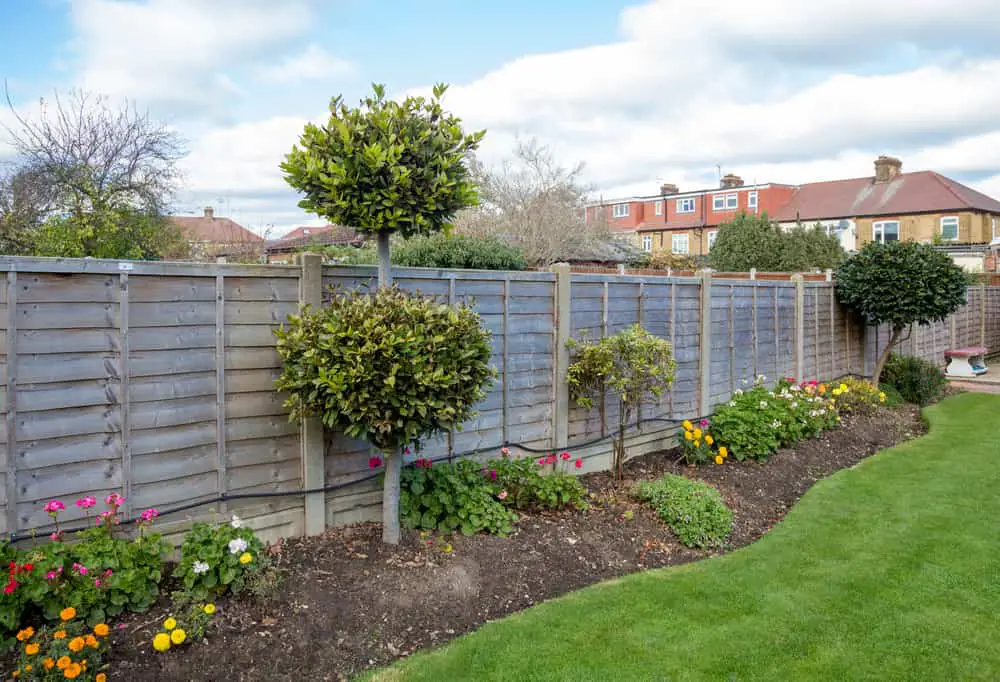 Consider using native plants. For the ultimate low-maintenance garden that will attract birds and beneficial insects, create a backyard fence garden that will feel inviting to everyone. Indigenous varieties are the best plants for low-maintenance gardening. You can plant them confidently and know they are in the right place to thrive from day one.
Make the garden beds alongside the fence a feature by using pebbles. A covering of white stones, also known as landscaping rock, can add a whole new dimension to a dull garden setting. The shadowy area below the fence will instantly look brighter and may only need a few feature plants to create professional-looking results.
What Can I Put In Front Of A Fence?
Not everyone has a big backyard with loads of space for garden beds where they can plant trees and shrubs. If you have a small backyard, the outdoor area may need to double as a cozy outdoor kitchen or a relaxing gathering place for friends and family.
While most backyard landscaping ideas use plants as the heart of layout, plenty of small-yard landscaping ideas effectively use every inch of space right up to the fence line. Best of all, if you don't need a green thumb to create an attractive space along the fence.
Some no-dig backyard landscaping ideas for fences include:
Create a vertical garden. Use hanging pots or upcycle rain gutters to create planters attached to the fence. Anything from painted cans to floating planter boxes can make your fence above ground level come alive.
Use large planters. Evenly spaced large ceramic planters with feature plants can soften the appearance of a plain fence.
Add an outdoor firepit to create a cozy corner space. Create a comfortable seating area around the fire pit, and the spot next to the fence is sure to become a new favorite hangout.
Turn up the magic with fairy lights. No matter how your backyard landscaping effort turns out, attaching a few strands of string lights to a fence instantly makes it festive and charming.
Learn More about House Fencing: From The Cheapest To Most Expensive, Explained
Conclusion
Whether you have a tall privacy fence or a pretty picket fence, you want the area to look inviting and attractive. Landscaping the area along a fence is about balancing imagination and practicality. Fortunately, there are plenty of inspirational ideas that can turn an ordinary backyard fence into an outdoor feature.