How Do You Make The Perfect Walk-In Closet?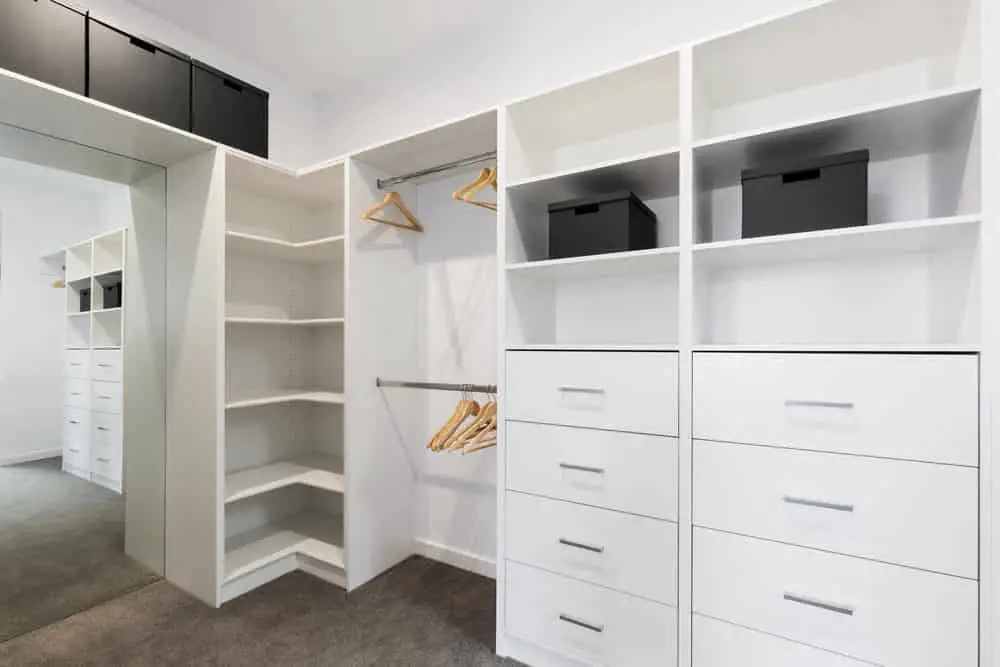 Walk-in closets are accepted as being the epitome of luxury. While people have walk-in closets for numerous reasons, they were originally designed to store shoes, clothes, and other wearable accessories. However, most homes do not come standard with walk-in closets, meaning that it is essential for you to weigh up all your options before deciding on the best way forward. 
The perfect walk-in closet consists of choosing the appropriate design before deciding on the optimal organization system and layout. The most desirable walk-in closets fully account for the bedroom's main function and style, which is efficiently incorporated into the walk-in closet design.
Choosing the best design for your walk-in closet is the most important step in the entire process. The design should incorporate the bedroom's main function and style, which must be combined with the original intention for the walk-in closet. Many appealing walk-in closet designs are currently available; however, this article will direct you to the path best suited for your requirements. 
How Do You Design The Perfect Walk-In Closet?
By designing the perfect walk-in closet for your home, you are significantly increasing the likelihood of maintaining a tidy, happy, and luxurious living space. 
However, the vast array of walk-in closet ideas currently available on the internet and home improvement apps has made the eventual decision more challenging. Choosing your perfect walk-in closet from all available options is near impossible, although it can be achieved with enough guidance, research, and patience. 
Once you have chosen your perfect walk-in closet, you must create a design for it. The design process is critical as it will allow you to thoroughly understand the room's aesthetic and if any aspect can be improved. It should be noted that the best walk-in closets are designed with the bedroom's main function and design in mind. 
A successful design process will enable you to create the perfect walk-in closet while keeping costs to the bare minimum. Before your design is complete, you must seamlessly implement your chosen organizational system and room layout. However, planning, designing, and making the perfect walk-in closet is challenging unless you read this entire article.
How To Plan Your Walk-In Closet
The planning process is essential to inspiring and creating the perfect walk-in closet. Following an easy 7-step process leads you in a positive and exciting direction.

Declutter Your Closet
it may seem obvious, but decluttering your current closet is essential before making the perfect walk-in closet. 
It would help if you removed all your clothes, shoes, socks, and other accessories from your current closet. Once they have been laid out, you will better understand all the clothes you have, the specific colors you want to keep going forward, and the sizes that still comfortably sit you. Any piece of clothing you do not love should be thrown out.
Essentially, during the first step of the process, you should take accurate stock of all the clothes, shoes, and other accessories you own. By doing a stock take, you will allow yourself to trim down any wasted space and obtain a more thorough understanding of how much space your walk-in closet will require. 
It is important to separate your clothes, shoes, and other accessories before designing your perfect walk-in closet. Every piece of clothing should have its own space while fitting into a specific order. While decluttering may be challenging for some, it is the most vital step in the design process. 
Prices pulled from the Amazon Product Advertising API on:
Product prices and availability are accurate as of the date/time indicated and are subject to change. Any price and availability information displayed on [relevant Amazon Site(s), as applicable] at the time of purchase will apply to the purchase of this product.
Decide How Much Hanging Space You Require
Once you have thoroughly decluttered your current closet, you will clearly understand how much closet space is required to build the perfect walk-in closet. 
Decluttering and deciding on the amount of space required for your walk-in closet is especially important for smaller closets since every single inch is critical and will have its specific purpose. In addition, you should measure the length of your clothes, shoes, dresses, or other accessories. 
Obtaining the correct length of your clothes is vital as it will assist you in choosing the distance needed between rails in your perfect walk-in closet. It should be noted that men's clothes are often longer, while blouses and dresses tend to be different lengths. Measuring and accounting for all the distinct sizes of clothes you have is crucial to the final design of your ideal walk-in closet. 
Group Your Clothes
It is recommended that you group your clothes into distinct piles. Some people prefer to color code their clothes, while most choose to categorize their clothes by type. 
By categorizing your entire closet before placing them in their new home, you can easily find them at a later stage. Finding a specific piece of clothing in a disorganized closet can be enormously frustrating. Grouping your clothes into specific categories decreases the difficulty of finding that specific blouse or dress when you need it most. 
Experts recommend dividing your clothes into trousers, blouses, jumpers, shoes, and other accessories. Furthermore, they should be separated into colors and sleeve lengths. While this process step is tedious and time-consuming, it's well worth it. 
Focus On Shoes
It is critical to account for the shoe aspect of your closet as they are known to require a large amount of space. 
People who see shoe space as an afterthought in their walk-in closet design often regret it later as they realize they have not restricted enough space for their entire footwear collection. It is recommended to build multi-height adjustable shelves, which can comfortably house your entire shoe collection in all their different shapes, styles, and functions.
Will You Fold Or Hang Your Clothes?
Deciding whether to fold or hang your clothes in your perfect walk-in closet is a critical and personal decision. 
There is no specific way to fold or hang your clothes; your personal preferences and requirements will dictate the best option. It should be noted that folded clothes should not be placed in uncomfortably high drawers as they will be difficult to reach when you need them most. 
Build An Island For Accessories And Belts
The most luxurious and desirable walk-in closets have a type of island in the middle of the floor space. 
The center island gives the walk-in closet an extraordinarily luxurious feel while giving the room far more storage space. Many people decide to install cupboards, drawers, and seating areas on their middle island in their walk-in closets. 
Decide On Hangers
The final step of the process is deciding the type of hangers you will utilize. The choice of hangers is more critical than most people realize.
While it is acceptable to have different types and sizes of hangers, it does not enhance the aesthetic appeal of your walk-in closet. A uniform set of hangers is the final touch of a perfect walk-in closet. People with the same hangers in their walk-in closets note that it makes their clothes feel more desirable to wear, is easier on the eye, and is a critical requirement for the perfect walk-in closet.
Conclusion
Building the perfect walk-in closet is an enormous challenge for anyone, as many viable and appealing options are currently available. However, deciding on the main intention of the walk-in closet before combining it with the function and style of the bedroom will allow you to create a space best suited for your needs. 
While there are many options and designs for walk-in closets, you should follow a simple 7-step process that will assist you in your decision-making and eventual design. Once the design has been chosen, it is easy to build the walk-in closet. While building the perfect walk-in closet remains challenging, it is something everyone should attempt at least once in their life.