The Pros and Cons of Smart Locks: An Honest Guide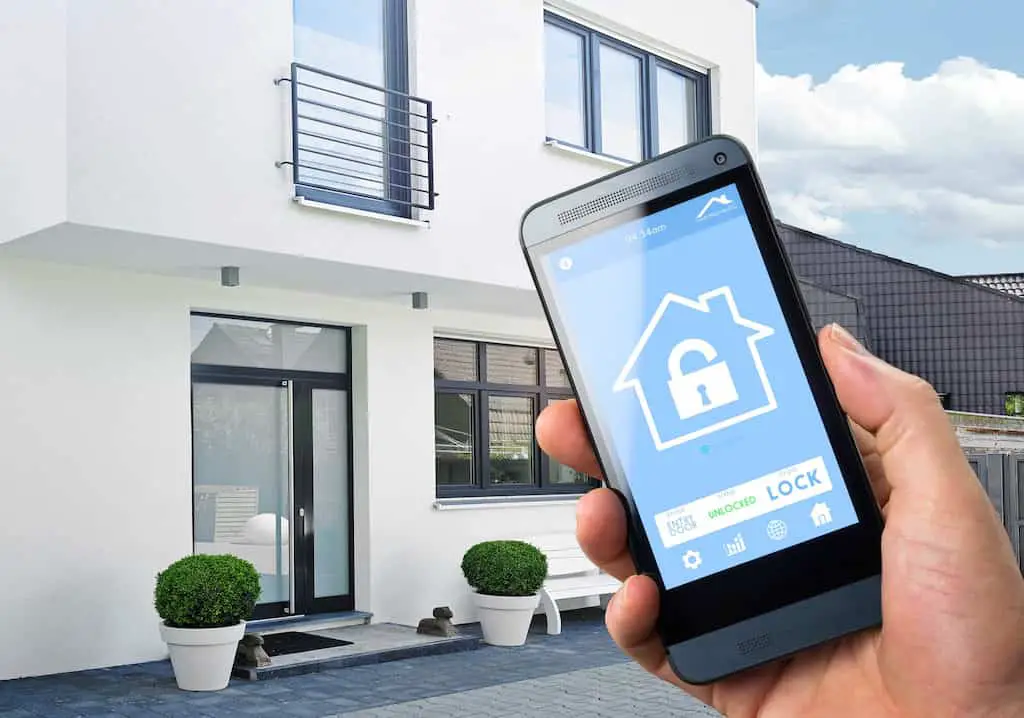 When I first heard of smart locks, I have to admit, my curiosity was piqued. They offered up a lot of benefits that I wanted, so I got one for my front door. What I discovered was that there's a lot people don't tell you about owning and using one.
What are the pros and cons of smart locks? The pros include extra convenience, the ability to let in and others out as you please, and added security. The cons include installation woes, battery replacement, and price. However, it's a complex subject.
If you want to get a smart lock, I strongly encourage you to understand what you should expect before you install one in your home. Depending on what you're looking for, it could be a great decision—or a personal nightmare.
What Are The Pros And Cons Of Smart Locks?
Smart locks are a true double-edged sword. In order to understand what they offer, let's take a look at the benefits of a smart lock and the disadvantages of owning one in each situation.
The Benefits Of Using A Smart Lock
When they first came out, smart locks were touted as the new way to keep your home safe and to control your home's entry without worries. Having a smart lock can be a great way to enhance your house's security without needing a lot of special protocols .
There are tons of people who are thrilled with their smart lock use. Some of the top reasons why people use smart locks include:
You can lock and unlock your doors without being home. This is the biggest perk. Smart locks are all controlled through apps and through smart home hubs. If you need to let someone in, you can unlock the door for them through your phone. If you forgot to lock your door, a quick tap on your app can make it happen.
You can also check to see if you locked the door while you're out and about. Ever have that small worry that you might not have locked the door while you're on a trip somewhere? It can be nerve-wracking to say that least.
Smart locks also give you a way to let people in using codes. Number codes are pretty easy to remember, and also can be shared with people you trust. When you no longer need them accessing your home, all you have to do is use the app to change the code. This makes them popular with Airbnb homes.
They also let you know what's going on in your home. Let's say that you are out on a trip, and a burglar tried to force his way into your home. In the past, you never would know this. A smart lock, however, would let you know by sending an alert to your phone.
Smart locks are great for people who have accessibility issues. If you have mobility problems like Parkinson's or MS, a regular lock and key system might be difficult to work with. Smart locks are easier.
You don't have to worry about losing your keys. Keys are one of the most commonly-lost items in a home, but with traditional locks, you can't leave without 'em. With smart locks, it's a matter of no keys, no problem.
They can also work with the existing system you have in place. A lot of people don't feel comfortable with a number pad being the only way to get into a house. It's good to know that smart locks can work with an already-existing deadbolt system if need be.
Depending on how you use it, you can also track who enters your house. A different key code for each person means you can get more accountability and be more aware of who's doing what.
The Disadvantages Of Using A Smart Lock
Though they do offer a lot of perks and flexibility, smart locks aren't for everyone—nor are they a cure-all for security issues. Here's why some people don't mesh well with smart locks:
Smart locks can be difficult to install. If you're not tech-savvy or just have a rough time with setting up gadgets, a smart lock might be more infuriating than anything else. Even those that are "easy install" can be a pain.
You need to have a smart phone to work with them. Believe it or not, not everyone has a smart phone or knows how to use one. If you have an elderly parent, trying to get them to use an app on a smart phone for home security can be annoying at best and futile at worst.
Battery issues are a thing. You don't plug in smart locks. They're battery-powered. Once your lock's battery goes bad, you might need to replace the lock if you can't replace the battery. But all the locks will activate a light for almost a month to let you know that the battery needs to be replaced.
They're also expensive. A regular lock can still be affordable and usable. Smart locks tend to start in the $100 range. That's above budget for many families.
If you use e-keys (number codes), someone can spot the code and use it when you leave. This is a potentially dangerous situation that has occurred in the past and needs to be acknowledged as such. That's why it's best to "double up" with both a smart lock and a regular key.
Smart locks also can glitch out. With a regular lock and key system, you can reliably expect your lock to work every time as long as you have the key. With smart locks, there's a possibility that an app glitch or battery issue can cause your lock to fail. This can lead to calls to the local locksmith.
They can also be hacked. While unlikely, this is still a valid concern that you should be aware of if you want to use a smart lock on your home.
Unlike regular locks, smart locks can and do become obsolete. There's only so long that a company will remain willing to keep their apps updated. The same can be said about locks. Sometimes, apps can be updated and leave certain lock models out of the loop. This means you might need to update your lock, even if it works great otherwise.
What Do You Need In Order To Use A Smart Lock?

Part of knowing whether smart locks are right for you is knowing if you have the tools you need to actually use them. Smart locks generally need to have a smart home hub (like Alexa) and a smartphone in order to work.
When it comes to smartphone use, you're going to need to download an app from the marketplace and use it. The vast majority of smart locks work with both Apple and Android phones.  If you don't have enough space for that on your phone, a smart lock isn't for you.
Are Smart Locks Safe?
They can be. It's all about how you use it. Like with any other security features, it's important to remember that picking the right lock and using one that can double up with the lock you already have can be the best way to handle things.
A little common sense goes a long way with these things. Using smart locks responsibly is vital to your results. These tips below can help reduce the chances of having problems with your smart lock…
How To Use Smart Locks Safely
If you want to maximize your security, using smart locks the right way is a must. These tips below can help:
Double duty. Using a traditional lock and a smart lock at the same time is the easiest way to prevent mishaps from happening. Should your smart lock fail, your traditional lock can act as backup.
Don't use key codes in an area where people can potentially memorize them. If you use a number pad regularly, cover the pad while you type things in. Also, change your code regularly. This is a smart way to avoid having someone recognize the code and potentially break into your home.
Avoid using e-keys with anyone you don't know well. E-keys, also known as access codes that are shareable via the app or via text, should be strictly used for family members in most cases.
If you need to use e-keys, then make sure that each person has their own e-key. This can help improve accountability, should anything happen to your home while you're gone.
Learn your app well. You'd be amazed at how many cool features some smart lock apps can have. These features can help keep your home safer and also alert you to intruders.
Don't have timed locks. Some apps allow people to choose a schedule when doors are locked and unlocked. While this may appear to be convenient, it can be a serious security risk. After all, if you let this feature get turned on while you're not home, someone else could come in.
Keep your app updated. This is the easiest way to prevent people from hacking your smart lock. App updates can also give you additional security features that make it easier to protect and monitor your home.
What Smart Lock Features Improve Safety?
Along with typical features like e-keys, automation, and distance locking, there are other features that can help make your smart lock safer. These can include two-way communication, built-in cameras, as well as biomarker scanning.
Obviously, doing a retinal scan or a fingerprint scan isn't really necessary for most homeowners. However, it's good to know that it's an option if you so choose to pursue it. (For the record, these kinds of features are mostly relegated to corporate settings that require high security.)
Are Smart Locks Worth It?
For most people, owning a smart lock won't ever be a bad thing. Most people who buy smart locks find them to be very handy and convenient. Obviously, how much you perceive the value of a smart lock's convenience to be can vary.
If you live in a rough neighborhood, are worried about home security, or just really need to be able to track who's entering your home, a smart lock can be a great investment. If you are fine with a standard lock, chances are that you might just find it to be a frivolous splurge. Then smart locks may pose more of a problem than they're worth.
Why Are Smart Locks So Expensive?
If you take a quick look online, you're going to notice that smart locks are pricey—very much so, in fact. A low-end smart lock typically costs around $100. If you want to get a high-end one, you should expect to shell out as much as $300 or more.
Here we shows 3 popular smart locks two with wi-fi access and one without, so it is easy to see the price difference. Many people doesn't need all the benefits that remote access give you and keep low price.
| Brand/Model | Schlage Encode Smart WiFi  BE489WB | August Smart Lock + Connect Wi-Fi Brige | Kwikset 99130 SmartCode 913 Non-Connected |
| --- | --- | --- | --- |
| Overview | Built-in WiFi compatibility with no additional accessory | August Connect Wi-Fi Bridge | No Wi-Fi Connection. UL certified with 20 minute fire rating, and features SmartKey re key technology with Bump Guard protection |
| Entry Access | Access remotely  with the Schlage Home app or Key by Amazon app | Unlocks automatically as you arrive.  | Key less entry touch pad with a motorized deadbolt and sleek interior |
| Security | Built-in alarm technology senses potential door attacks | Door Sense, a sensor that tells you if your door is securely closed or left opened | 10 digit back lit audible keypad, one touch locking, 30 second auto lock option, and 16 customizable access codes |
| Home Automation | Lock or unlock from anywhere by connecting directly to your home's WiFi network. | Lock and unlock your door, grant keyless access and keep track of who comes and goes, all from the August app, from anywhere | |
| Compatible | Ring, Key by Amazon, Schlage Home App | Add an August Doorbell Cam to see and speak to visitors before you let them in | |
| Voice Assistants | Alexa, Google Assistant | Works with Alexa, the Google Assistant | |
| Cost | U$ 249.99 | U$224.98 | U$96.44 |
| Installation | Easy | Easy | Easy |
So, what gives? There are a couple of reasons why you will see these high price tags on your locks…
They take a lot of tech and materials to manufacture. There are a lot more components that go into a good smart lock than there are going into a traditional lock. Because of the parts alone, there's going to be a bump in price.
Maintaining apps is costly. Most people don't realize how important it is to maintain the app that works your lock. Regular maintenance and improvements can easily cost thousands of dollars per month—if not far more. The price of the lock is high to offset the cost.
Then there's the customer service overhead. Need help troubleshooting your lock? Well, you're going to need customer service. They need to be paid, too.
All advanced tech has a high price tag. Smart locks are not low-tech. They're high-tech, and technically, a luxury item. Their price tags reflect that.
Read this post If you have a problem with your Front Door Smart Lock Keypad
Where Do Smart Locks Excel?
If you're wondering whether you're a good candidate for a smart lock on your home, you're not alone. Anecdotal evidence shows that these groups of people tend to find them to be the most useful:
Mobility-Impaired People. Smart locks let you unlock and lock doors through the use of a cell phone. This makes it a lot more mobility-friendly than a traditional lock would be.
Airbnb Owners. Since smart locks allow easy entry without the use of a key that could be copied, many Airbnb owners prefer their use in their rentals. They also offer an added layer of security through the use of changeable e-keys.
Homeowners with Hired Help. If you're the type of homeowner who has hired help come in while you're out at work, a smart lock can be a smart decision. Smart locks will let you unlock the door for them, monitor when they come and go, and even hold them accountable.
Company Owners. Smart locks are regularly used in buildings that need to have added security for workers, primarily because they make changing door codes a breeze and because you can use a different code for each employee.
Traveling Homeowners. Are you on the go for work? If so, having a smart lock that can keep an eye on your home and also assure you that everything's locked up can be a lifesaver.
When Are Smart Locks A Dangerous Idea?
It's very rare that you'll hear that smart locks are not a good idea. However, if you are prone to losing your phone, have a tendency of using risky features, or just don't work well with tech, then it's best to avoid using them altogether.
Related Questions
Do you need wi-fi in order to use a smart lock? If you don't have wi-fi, using a smart lock might be more difficult. However, it's not impossible and most smart locks have wi-fi built into their systems. You absolutely can use a smart lock without wi-fi in your home.
How long do smart lock batteries last? This varies greatly from model to model. Some locks have a battery life that can last for years without a need for replacement. Others will need to have a replacement every three to six months. If you aren't sure about a smart lock's battery life, check the package to determine your model's battery life.
How do you prevent your smart lock from being hacked? The best way to prevent your lock from falling victim to a hacking attack is to keep your apps updated. If you are particularly concerned about hacking, you can also hire a professional security expert to help you foolproof your home.
Why is my smart lock beeping? Smart locks can beep for a wide variety of reasons, including a need to replace batteries, errors in the lock's programming, hardware problems, and excessive attempts to get into the building. If you are unsure as to why your smart lock is beeping, it's best to refer to your owner's manual to troubleshoot your lock.
Can smart locks have false alarms for suspicious activity? Though rare, there is always a chance that your smart lock could have a false alarm. Even though it's possible, it's a good idea to take each alarm seriously and check out what's going on. It's better to be safe than sorry.
Learn more!! see our article Everything You Must Know About Smart Locks for more information