Can You Put A Gazebo On Grass? What You Need To Know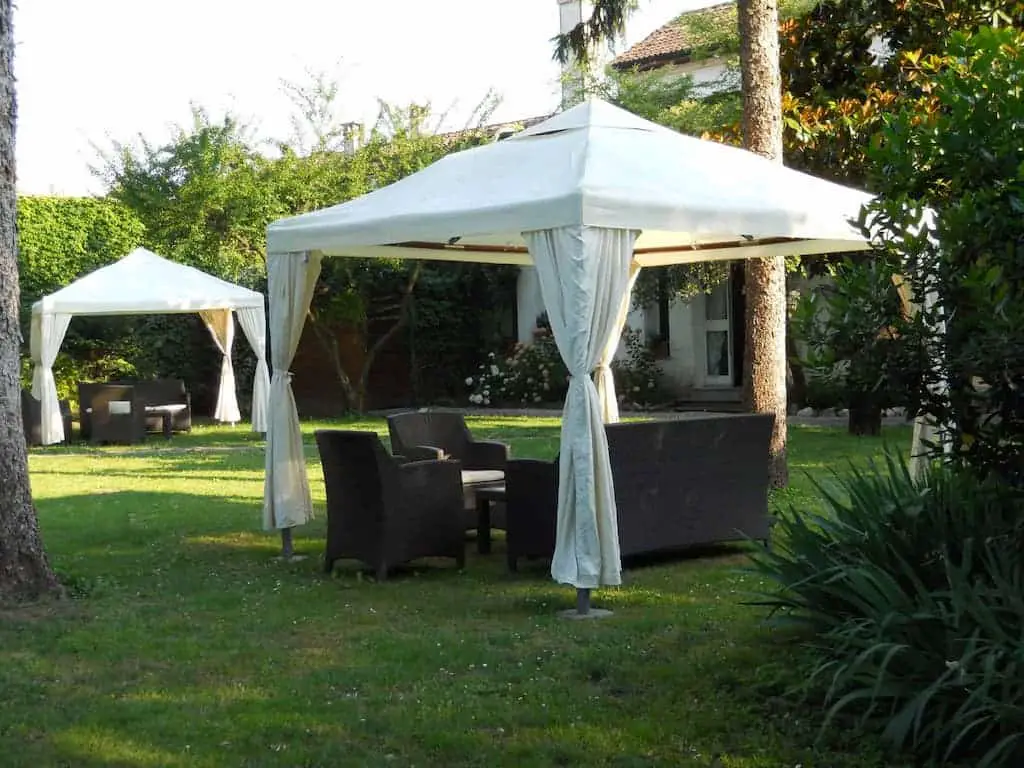 When I first put up my first gazebo, I never realized how much of a difference placing your gazebo can make—but that has changed. I've become a guru of all things gazebo, and that means that I often advise people on placing their gazebos in their yards.
Can you put a gazebo on grass? It is possible to put a gazebo on grass as long as the area isn't too bumpy. If you choose to place a gazebo on grass, make sure that you have a level foundation. Adding a wooden floor can also help secure it during inclement weather.
Knowing where to put a gazebo seems like a simple matter, but it really isn't. If you're looking to add a nice new gazebo to your backyard, this guide will help you make the most of your planning time. 
Can You Put A Gazebo On Grass?
The general answer to this is yes, but there are some caveats. In order to ensure that your gazebo is properly installed, you will need to put your gazebo on an even foundation. The ideal gazebo foundation will be one that has the following traits:
It won't be excessively muddy or sandy. This can make hooking a gazebo into the ground difficult.
It won't be bumpy. Flattening the terrain is often an advisable option.
It won't be anywhere near a bonfire. The bonfire issue is always a good thing to keep in mind, primarily because of the fire hazard it poses. However, it's particularly important to remember if you want to get a wooden gazebo.
The key thing you want to look for when finding a good installation point is to find a place where you can secure a gazebo with ease. Otherwise, your gazebo might blow away or otherwise come loose during inclement weather.
Can Gazebos Get Blown Away?
Though most people don't think of this possibility when they're shopping around, the truth is that gazebos are prone to getting blown away by heavy winds. This is especially risky if you have a "cloth top" gazebo, or if you have a gazebo that's made of lightweight material.
A good rule of thumb is that you should secure your gazebo by either:
Having a wood or concrete floor that is bolted to the gazebo. This is a great way to get that aesthetic and get an even surface.
Using wood or stone to make it. Wood and stone gazebos are far less likely to fly away during a storm due to their heavy weight.
Actively work to secure your gazebo to the ground or to the patio. If your gazebo isn't heavy enough to deal with high winds on its own, you will need to put in the effort to make your gazebo secure.
Read my article how we choose the 8 Best Gazebos For High Winds And Rain
When Do You Not Need To Secure Your Gazebo?
Generally speaking, if the weight of the gazebo and the build of the gazebo isn't amenable to wind, you're probably good to go. That being said, even temporary "gazebo tents" used at parties can do better with a little securing.
Even if you don't want to secure a gazebo, it's in your best interest to do so. Remember, securing a gazebo isn't just about protecting your property. Gazebos are massive structures. If they go flying, they can easily end up crashing into your home, your car, or other people.
What Kinds Of Gazebos Are More Prone To Flying?
Gazebos that are made with cloth tops or that have cloth bodies are more likely to get caught by wind than gazebos that are strictly metal or wood. The cloth acts like a sail, which makes it easier for the wind to catch into them.
In terms of actual gazebo material, structures that are made out of lightweight metal or plastic are more likely to "catch wind" than others.
How Do You Secure A Gazebo?
Now that you know that you need to secure a gazebo, you should expect to start doing it. How you secure a gazebo tends to vary based on what material the gazebo is made from as well as what you want to use as the terrain you're securing it to. Gazebos can be made from wood or metal when it comes to permanent fixtures.
How To Anchor A Plastic Gazebo To The Ground
Plastic gazebos are very rare, but they exist. Due to the tendency towards shattering that most plastic gazebos have, it's best not to try to secure them with a drill. Filling the gazebo's ends with sand or concrete tends to be a good solution.
That being said, most plastic gazebos come with instructions on how to properly secure them. Following those instructions will usually save you the most time and effort.
How To Anchor A Metal Gazebo To The Ground
If you are a fan of the stately look of a metal gazebo, you're not alone. These gazebos are incredibly popular among homeowners, but they still require a lot of work in order to adequately secure. To get your gazebo fastened, you will need concrete pillars for each corner of your gazebo.
Securing your metal gazebo is the only way to ensure it won't fly away during times of inclement weather. Want to know how to do it? Here's how…
Dig holes at each corner of the metal gazebo's future location. The holes should be rectangular, and be approximately 14 inches deep. You should make the gazebo footers slightly wider than your gazebo's feet.
Mix and pour concrete into the hole. This will act as the concrete "feet" into there.
Let the concrete dry, then put the gazebo over the footers. This should be a quick push in most cases.
Take a drill, and drill through the feet of the gazebo, into the concrete footer. Each "foot" should have at least four holes drilled in it.
Clean out the holes with a vacuum. You want to make sure that there's no debris stopping you from making the gazebo secure.
Grab concrete wedge anchors, and hammer them into the holes. Before you put the anchors into the holes, place the washers on them and screw the nut on, leaving them at the top.
Finish securing it by manually screwing in the nut and using a hand wrench for extra tightening. Ta da! You're done securing your gazebo.
The Best Way To Secure A Gazebo On A Paver Patio
If you're dealing with a paver patio gazebo, you have your work cut out for you. Though rare, this kind of gazebo foundation can still be seen on grass. Technically, it's not actually a grass-based gazebo. Even so, it's good to know how to secure your gazebo.
The problem that paver patio gazebos hold is the fact that they have a lot of bricks and stones. If you eventually choose to get rid of the gazebo, drilling down through them will prove to be a regretful move, since you'll be stuck with drilling holes.
To make matters worse, if you choose to go more traditional routes of having concrete footers sticking out of the ground, you might end up with an aesthetically jarring look. So, what's a person to do?
One of the better ways to secure a gazebo while keeping things hole-free and beautiful is to use planters—yes, just like the ones you use to hold your rose bushes or ficus plants! Check out this sleek method of securing a gazebo below:
Get planters that are slightly larger than each foot of your gazebo. The planters you choose should have no holes at the bottom and also match the aesthetic of your patio. (Hey, looks matter, don't they?)
Place a planter pot at each post. You will need the help of three other people to do this in most situations. Still, it's worth it.
Grab some concrete, mix it, and then pour the concrete into each planter. You should try to pour the concrete at least halfway up the planter. If you are not interested in actually planting gardens around each post, I suggest increasing the amount of concrete you pour for added stability.
If you are interested in having a garden as part of your gazebo's look, wait for the concrete to dry. Add soil, then plant the flowers that you want to enjoy. Many people find that climbing plants like morning glory or climbing roses tend to add an extra classy touch.
If you aren't interested in this, consider putting a tile mosaic down instead. Mosaic tiling is a great way to add some interesting color and style to the concrete. After all, no one wants to have to deal with a stark-looking setup, do they?
How To Secure A Gazebo Tent To The Ground
Temporary gazebos, such as those that come in "tent form," are easy to secure. Along with using the typical tent stakes that come with the kit, homeowners who are prepping for a party can also tie heavy items to the sides of the tent in order to add weight.
If you are going to be throwing a party with a gazebo tent, it's often smartest to tie gallon jugs or coolers to the ends of the tent. Since a single strong gust of wind is all it takes to upend a smaller tent, adding a little extra weight is a good way to ensure that your party venue doesn't tip over mid-fete.
Should You Hire A Professional?
Though it's possible (and less expensive) to secure a gazebo yourself, it's time-consuming, tedious, and can involve skills that you might not have. In many cases, people find it to be easier and safer to just call up a team of lawncare professionals or gazebo installers to do the work.
A good rule of thumb is that you should call a professional whenever you feel like it would be too much of a hassle or too far outside your zone of comfort to do the work. If this rings true for you with this project, call an installer up.
Related Questions
Want to know more about securing gazebos or just getting one installed? These questions below can help.
How much does it cost to get a gazebo professionally installed? The overall cost of a professional gazebo installation can vary greatly depending on the size of the gazebo, the terrain, and the gazebo's material. That being said, the average gazebo installation costs around $6,500, with a range between $3,000 and $9,000 for low and high end estimates.
Should you keep a gazebo open or closed during high wind? If you are dealing with windy situations, the best thing that you can do is keep your gazebo closed. The less wind that enters the gazebo, the less likely it is that you'll see your structure blown off the ground. If you are particularly worried about your gazebo, consider adding extra securing measures to protect it from the elements.
How do you secure a gazebo from high wind? Along with making sure that you have a gazebo that's been firmly secured in the ground, there are several other ways to prep a gazebo for a bad storm. These include tying gallon jugs of water to the poles of the gazebo to add extra weight, locking the gazebo's cloth panels shut, and using rope to tie the top of the gazebo down to tent stakes.
How long do gazebos last? Depending on the material and design, you can expect to have at least 1 to 15 years for a lightweight, portable gazebo you own. If you maintain it well and buy a gazebo that is made of durable material, you can expect it to last far longer—even decades.
 Can you fix a bent gazebo frame? It all depends on the gazebo type you have. However, the general consensus is that fixing a bent metal frame can be done with the proper tools and by applying the correct amount of pressure to the bent area.
Learn more!! see our article The Ultimate Guide To Choose And Install A Gazebo for more information