The Ultimate Guide To Choose And Install A Gazebo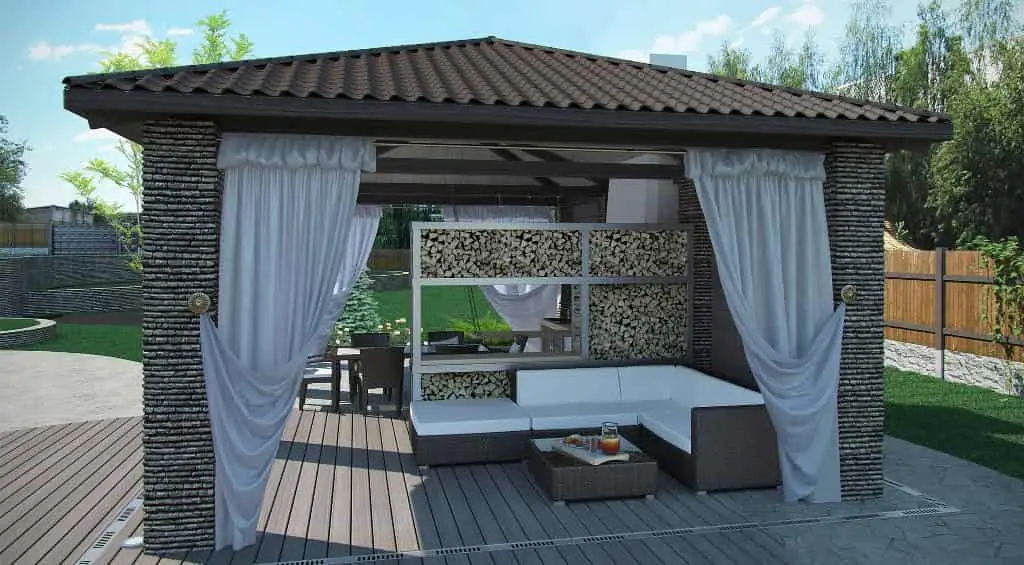 If you're looking for an easy and quick way to enhance your outdoor living space in a way where it becomes more functional and aesthetically pleasing, installing a gazebo is your best bet! Placing a gazebo in your garden or backyard will provide you with shelter and a peaceful place where you can rest and enjoy the beautiful days!
If you're looking for a few of the best gazebos to withstand those high winds and rain, we've got you covered! The best types of gazebos for weather hardiness are the permanent types. Let's talk you through each of these gazebos and why they might just be perfect for you!
Kozyard Alexander Hardtop Gazebo
Kozyard is one of the brands that have gained a good reputation over the years for making durable and high-quality gazebos. Therefore, it is no surprise that two gazebos are recommended for usage in high winds and rain areas.
The Kozyard Alexander Hardtop is a hardtop gazebo, and this means that no soft fabrics are used in manufacturing these gazebos. Soft fabrics cannot withstand high winds. Instead, this gazebo consists of a fully aluminum roof that comes with a 5-year warranty!
As far as the durability of this gazebo goes, this gazebo can handle up to 2500 pounds of snow capacity. If you look at how well this gazebo handles strong winds, the rating can be seen as ideal.
You can expect this gazebo to withstand winds with a range of up to 40 miles per hour without any additional assistance needed. However, if you decide to install extra reinforcements, you can expect this gazebo to withstand even stronger winds!
The second gazebo on your list is another Kozyard! Very similar to the Alexander Hardtop model featured above, the Odyssey hardtop is produced from only the highest quality, rustproof galvanized steel, with the frame consisting of aluminum.
In a nutshell, the Kozyard Odyssey Hardtop will provide you with the kind of durability you need! With the Odyssey hardtop's sleek sloping and built-in mosquito netting, it is meant to provide you with a home away from home.
Its build may look delicate to the naked eye, but it comes with a three-year warranty on its hardtop roof, which can handle a whopping 2500 pounds of snow.
Gazebo Penguin Florence Solarium
When it comes to rainproof and soundproof gazebos, it would be a smart idea if you had more coverage and more bulk, as it tends to be more durable for the job. This is the exact design that makes the Penguin Florence Solarium an excellent choice in locations with extreme weather conditions.
In a way, the Florence Solarium can be seen as more than a separate outdoor room than a gazebo, but it will still fit your needs. This gazebo is windproof, heatproof, and comes with excellent additional amenities that will keep you feeling snug and cozy, even on the coldest days.
You won't easily find another gazebo that is so well-ventilated and durable than this one! Many buyers have reviewed that this model can easily handle winds as high as fifty miles per hour.
It seems like we've got another Penquin product! The Penguin All-Season's Gazebo is exceptionally durable, and it's an all-season gazebo that is specially designed that you can use in both quiet summer days and rough winter days!
Different from the other gazebos in this list, the Penguin All-Season gazebo is mainly manufactured of heavy-duty aluminum with a baked enamel finish. When it comes to heavy rainfall, the three-ply vinyl and enamel will keep you sound and safe while remaining extremely tear-resistant that could occur from sharp sticks and rocks.
If you're worried about high-speed wind conditions, don't be! You can rely on the Penquin All-Season Gazebo to stay grounded in winds higher than 60 miles per hour! If you're looking for a sleek yet cost-friendly option, this gazebo is your best option!
Sunjoy Madison Pavilion
The Madison Pavilion Gazebo is made of powder-coated rustproof framing, and its overall build consists of steel and aluminum. On the roof, you get to enjoy a fully vented soft top that will offer you perfect protection from the rain, along with excellent stability on those windy days.
However, there isn't an official wind score on the Sunjoy Madison model, but buyers have reviewed that it can hold up exceptionally well against strong winds ranging as high as 65 miles per hour! Between this and the waterproofing, it's safe to say you will not be disappointed with this gazebo!
Read my article about How To Secure A Gazebo From Wind On Concrete
Hardtop gazebos will provide you with complete protection from sunlight exposure while producing the perfect atmosphere for outdoor grilling and barbeques.
You might be worried whether the hardtop types are safe. Hardtop gazebos are not top-heavy, despite having solid, durable tops. This is because the pillars that give them support are strong and thick enough to hold them efficiently. As a result, the weight distribution of the hardtop gazebo is even and proportionate.
However, it is advised that you secure and peg any hardtop gazebo for safety precautions.
Many people assume that hardtop gazebos are top-heavy because they already own a soft-top gazebo. When it comes to soft top gazebos, the fabric covering the gazebo is very similar to a tent but with a different structure.
If you were to replace a soft top gazebo with a hardtop, the form would undoubtedly become unstable, and it might even break. Fortunately, this is not at all how hardtop gazebos are built. Hardtop gazebos are manufactured with much more robust support pillars when compared to the fabric top (also known as soft top) gazebos.
It will help you to understand if you compare these two gazebos to a tent and a building. A tent's structure would indeed be top-heavy if somebody built a concrete roof over it. However, a building's roof is not top-heavy as it is not built with the foundation of a tent. It is thus made with much more substantial walls and pillars.
If you're worried about strong winds or environmental shifts compromising your gazebo, you can not only place your gazebo on your deck, but you can screw it into your deck as well!
However,it will be good if you keep in mind that it is a job that requires you to take caution, and you need to make sure that you attach the screws to the joists as well as the boards, as it will not be stable and could cause damage to your deck.
Let's look at some small and simple steps that go hand-in-hand with placing your gazebo on your deck!
Make sure each metal foot has a screw hole in it.
Using your drill, make small pilot holes in your decking, and you should have already made sure you're over the joists.
Use galvanized, durable screws that are several inches long.
Drill your screws into your deck with your gazebo attached.
You will successfully have your gazebo on your deck and mounted to precision within a few minutes. It is essential that you plan and know precisely where you want your screws to go.
If you are unsure, you can engage with a handyman or builder to help you correctly. It is worth doing it correctly, as you surely don't want the wind to scoop your gazebo, especially if you live in a windy area!
A metal gazebo should always be grounded, especially if you want to keep it safe from lightning strikes. You can ground your metal gazebo by mounting copper rods to the base. Drive the rods into the ground, making sure they're at least six inches deep in the ground. This placement should keep your gazebo safe from any lightning.
How To Ground Your Metal Gazebo
Now that you are aware that you should ground your metal gazebo, you might be wondering how to go about it. First, check and make sure that you have all the supplies you need, such as your drill, metal rods, screws, along with your screw glue.
Look belowfor a short but detailed guide on how to ground your metal gazebo correctly:
Purchase four copper rods that can be mounted to the legs of your gazebo.
Drill holes in the cement or the deck underneath your gazebo.
If your gazebo isn't placed on grass or dirt, you will need to drill through the surface which is below it if you want to ground it correctly.
You can use a saw to cut out a hole the size of the rod and push it through to make sure it reaches the surface beneath your gazebo.
Mount your rods to all four legs.
Usually, every set of grounding rods comes with a rod clamp. If your grounding rod set did not come with a rod clamp, you need to grab a few of those at your local hardware store.
Drill the clamp into the leg of your metal gazebo, and then slide the copper rod two inches through the clamp. You can then tighten the clamp and proceed with the following steps.
Drive the rod into the surface below your metal gazebo.
You will need to push the rod for at least 6 inches into the ground or surface below your gazebo, but anything more than 6 inches is also good.
Many experts advise that you push the foot about one foot (which is 12 inches) into the ground in order to get the most secure hold.
Secure the rod with cement.
If you're concerned about your gazebo wiggling in the loose soil, you can consider pouring some cement around the edges of the copper rods. The cement will hold your gazebo in perfect place, preventing it from breaking free during heavy rainfall or wind.
You can also use the screw glue on the copper rod clamp and let it dry for at least 24 hours.
You can put a gazebo on grass, as long as the area isn't too bumpy or unlevel. If you choose to place your gazebo on your grass, first make sure you have a level foundation. You can consider adding a wooden floor on top of your grass, which can also help to secure your gazebo during extreme weather.
The primary thing you need to look for when finding a good installation point for your gazebo would be in an area where you can secure it efficiently and correctly. If you do not secure your gazebo correctly, it might blow away or become unstable during heavy winds or rainfall.
What Is The Most Durable Gazebo?
It comes as no surprise that the first gazebo on our list has won the prize of being the most durable gazebo that will fit your every need. The Kozyard Alexander Hardtop Aluminum Permanent Gazebo is in the first place as being the most durable and high-quality gazebo on the market.
This gazebo from Kozyard has a study hardtop roof design for more permanent installation. The framework is made of dark brown 100% rustproof aluminum that can withstand windy and wet weather!
The galvanized steel roof has a vented double roof design which offers you protection from sun, rain, and even snow! The Kozyard Alexander Gazebo also has a gutter system to make sure that all water can run off properly on those rainy days.
This gazebo measures 10×12 feet, and its rectangular shape is perfect for covering any outdoor seating area all year round. This gazebo comes with double-layered curtains, along with a mosquito netting layer to protect it from the sun during sunny days and insects during the nights.
A pergola can support a swing, and it can even support a hammock if you prefer. Adding a swing or hammock is the perfect way to enjoy your outdoor area even more, and you can even add a hanging couch, bed, or table if you'd like!
There will, however, be a weight limit based on the size of the pergola's lumber, the size of the swing, and the weight of people planning to use it.
A shaky and wobbly pergola can be a safety hazard and can cause damage to the structure and accidents for the family. Here is my article about How Do You Stabilize A Wobbly Pergola?
More related articles
6 Reasons Why Your Deck Is Covered In Ants (With Fixes)
Upgrade Your Deck With DIY Cable Railing – Easy Installation
Best Options For Your DIY Pergola Kits Easy To Build In 2023
How To Make DIY Gazebo Metal Roof For Your Backyard