Do Deck Stairs Need Railings?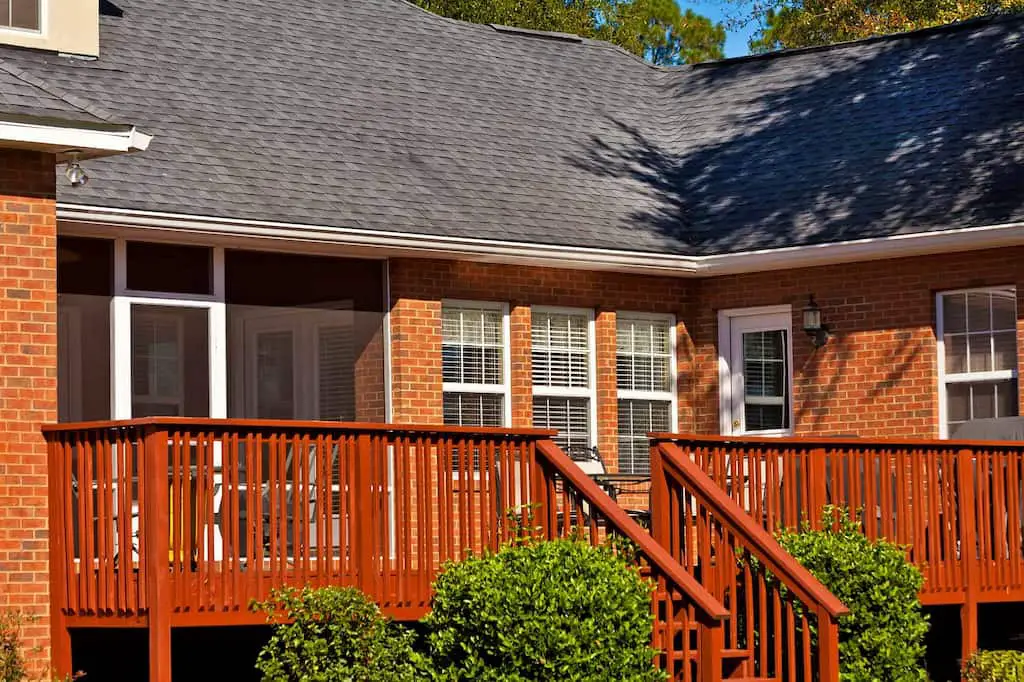 I built a deck a few years ago that had two sets of stairs on it and was approximately 4' above grade. It was a fun deck to buildbut came with the challenge of understanding whether (or not) I needed railings on one set of deck stairs that was against the house. The other set of stairs was not against the house but rather out in the middle of one side of the deck facing a different direction. 
Deck stairs need railings if the top of the deck is more than 24" above grade. Some regions allow a 30" deck height before stair railings are required. Whether you require railings on both sides of the stairs will be determined on how the stairs themselves are situated. Are the stairs free standing or are they against another structure such as a house or are they built inset into the deck?
These are the things we will discuss throughout this article using my own experience of building decks over the years and what I know to be true in the deck building railing installing side of things. I want to ensure when you have finished reading this article, you are completely confident in what you need to do for railings.
There is nothing worse than reading some instructional and/or informative content and still walking away scratching your head in confusion! I get that. So,if you want to learn all you need to know about railings on deck staircases, then please continue reading…
What You Need to Know When it Comes to Deck Railings?
I expect that you already have a permit (if required) to build your deck and once you have completed this project, you will contact your city or town office to have your beautiful new deck inspected. 
Do not discount the importance of getting a permit and having your deck inspected. I know that permit fees can be costly in some regions. However, I still feel that having someone with construction knowledge check your work to ensure it meets building codes will only benefit you in the long run.
If something is not done correctly, you want to fix it before someone gets hurt because at the end of the day, that is what it's all about – safety and being able to enjoy a deck without worry of injury.
Okay, here is what you need to know which explains whether you need stair railings on deck stairs or not. After reading this, you should be able to figure out what you need to do. I will go into further detail on all aspects of this topic throughout the rest of the article. 
All building codes are not equal, regardless of where you live. Yes, there is a general standard in some building codes.However, you must do your own due diligence and inquire with your local city or town office on how high a deck can be before railings are required on the stairs. 

Thankfully, with modern technology and internet access at your fingertips, you can check into these requirementsquite easily either on your computer or with your cell phone. I highly recommend you do this. 
Most decks can be 24" high before railings are needed on stairs. Face it, if you have a deck that is only 15" high off-grade,then installing railings seems pointless.

Once you get up to 24" to 30" however, you can see that stepping off that height by accident could be a real problem for some people. It is dangerous. 
If the stairs have one side against your home, you can probably get away with only having one railing on the other/open side of the stairs. This is something that you should also confirm with your local city or town office. Where I live, it is okay to do this however, I am sure there are some regions where at minimum a handrail might be required to be installed onto the house. 
Next up, I will answer some questions I hear that will help you further with this topic. 
Do Deck Stairs Need Railings on Both Sides?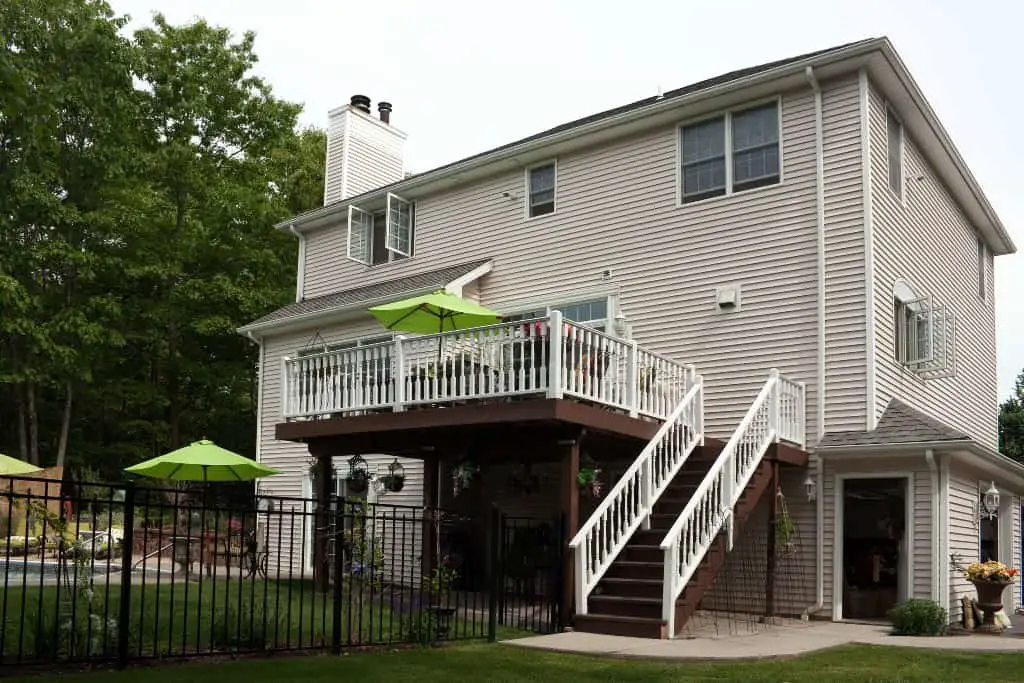 We just answered this question above, but not directly. So, let me explain in more detail. 
When stairs are open on both sides and the deck is at or above the regulation height for when railings are required then yes, you must install railings on both sides. 
If the stairs of the deck are installed up against a structure such as a home, then you might only need to install railings on the open side. Some building codes might require a simple handrail and some areas codes might allow you to not have anything there at all. 
Again, always check with your local town or city office to know for sure. 
What is the Difference Between a Handrail and a Stair Rail?
Of course, it is important to point out the difference between a handrail and stair rails. 
Stair rails are the full-blown railings that have posts and balusters (some call them spindles) and are free standing on the stairs – usually connecting to railing up on the top of the deck. 
A handrail is quite a bit simpler. For example, I would ask you to think about the stairs in your home. Most homes have some form of railing (handrail) installed on a wall going up the wall in a stairway. Handrails are screwed to the wall via brackets spread out over the length of the railing.  
How Many steps Until You Need a Railing?
The answer to how many steps before you need to install a railing will depend on two things: the height of the deck and the height of the steps. 
The height of the deck matters because if it is under the height pre-determined to require railings,then you do not have to worry about installing one. On the other hand, if it does meet or exceed that height,then you must measure from the top height of the deck to the ground.  
Take that measurement and divide by 7.5" (19 centimeters, if you live outside the USA) and that will give you how many stairs you need. 
I mentioned earlier that the height of the steps matters as well, even though the universal stair height is 7.5" (19 cm). This is because you might want to adjust a stairs height to make the calculation work. I will give you an example. 
If your deck height is 30" (76 centimeters), we know you will need railings so now we take that 30" and divide it by 7.5" (19 cm) – which gives us 4. Now, it be nice if everything we did worked out perfectly, but that is simply not the case. We know better but for this example, you would need exactly 4 stairs. 
If you have a deck that is 33" high and measured that by the 7.5" stair height, youget 4.4. This means you would need to install 4.4 stairs to make this work. Or would you? No, of course not – a stair that is only .4 inches just will not work, will it? That said, here is what you can do. 
You can either dig into the ground a bit (4") if that makes sensewhich it might not or you can adjust the height at which you attach the stair stringer to the deck. Many decks nowadays have premade metal (aluminum) or precut pressure-treated wood stringers. They are easy to adjust up and down on the face of the deck before attaching. 
By doing this, you will either end up with a top stair that is more or less than 7.5" from the top of the deck. If it is going to be a bit more than the 7.5" and you feel it is too much, you can place something like patio stones under the bottom of the stair stringers to prop them up to the desired height. 
Do You Need a Railing for Two Steps?
Two steps from a deck to the ground likely will not require a railing. Anything over 3 steps, however will, if it is higher than 1 meter in total. This will depend on both the height and depth (or diameter) of the steps.
Do You Need a Railing for One Step?
As stated above, you do not need a railing for just 1 step. Railings are generally required for 3 steps or more. You must take also account for the thickness of the steps, as anything that rises more than 1 meter from the ground must has a railing.
What are the OSHA Requirements for Handrails?
The OSHA requirements for handrails includes the following:
The top rail of a stairway must be a minimum of 42" high from the platform
The handrail must be between 30" and 38" high from the platform
Standard handrails should be applied to any open sides of stairways
Standard handrails should be applied to at least one side of a closed stairway
How High Can a Platform be Without a Railing?
In most cases, you must have a railing if the platform of your deck is higher than 30" above grade. For safety reasons, I recommend you attach a railing to anything more than 15" above grade. If your deck is less than 15" from the ground, you likely do not need a handrail.
How Do You Install Deck Railings on Stairs?
The steps to installing deck railings on stairs include the following:
Begin by laying out the position of your deck railings before you begin the installation process. Should the top rail post be placed at the rear of the thread, then be sure to align the bottom post in the same manner.
Install guard rails on all open sides of stairs that rise more than 30" above ground level. Secure the bottom stair post to the frame using 2 bolts that are ½" in diameter.
Bolt the rail post securely to the riser board or the stair stringer. Ensure the rail post is long enough to support a 34" railing at minimum. And do not forget to allow for extra space for cap mountings.
Check to make sure that both the top and bottom stair posts are aligned. Lay the bottom rail on top of the stairs and mark the intersection of the rail posts with the bottom rail to determine the correct angle.
Cut the top and bottom rails to equal length.
Use screws and attach the rail connector to the ends of both the top and bottom rails.
Install the bottom rail centered between the posts. Ensure your stair baluster connectors are placed less 4" apart from each other.
Align the top and bottom rail sections by using a level to mark the corresponding connector locations.
Measure and cut each baluster accordinglyso they fit your railing assembly.
Slide the balusters over the bottom stair rail connectors. Next, slide the top rail connectors into each baluster starting at the bottom and working your way up.
Use rail connector screws to attach the top rail to the 4×4 post.
Install the 2×4 rail cap over the top rail. Begin by predrilling and screwing the ends of the top caps into the rail posts. Next,secure the center with extra screws. Then, fasten the top cap to the end of the 2×4 and into the side of the bottom stair rail post.
Tighten the top cap to the bottom stair rail post.
Can a 2×4 be Used as a Deck Railing?
A 2×4 is the most common wood material used for top and bottom deck rails. It is durable and can support up to a 6' length, which is the maximum spacing for most rail posts. When balusters are attached, the railing becomes even stronger.
How Wide Can Steps be Without a Railing?
Typically, when stairs on a deck are wider, they are usually not that high. Therefore, they often do not require a railing. Lower decks will often have wider steps for both aesthetic and functional purposes. If the height of the platform is anything over 15", then you may want to install a railing, just to be safe.
Conclusion
To conclude, if the top of a deck is more than 24" above grade, then a railing is necessary. Although some areas allow a 30" deck height before stair railings are required, it is best to err on the side of caution. I recommend a railing for any staircase over and above a 15" height. How the staircase is situated will determine whether a railing on each side is needed or not.
I hope this article has provided you with information you seek. Thanks for reading and good luck with your deck railing installation.