Are Hardtop Gazebos Top-Heavy?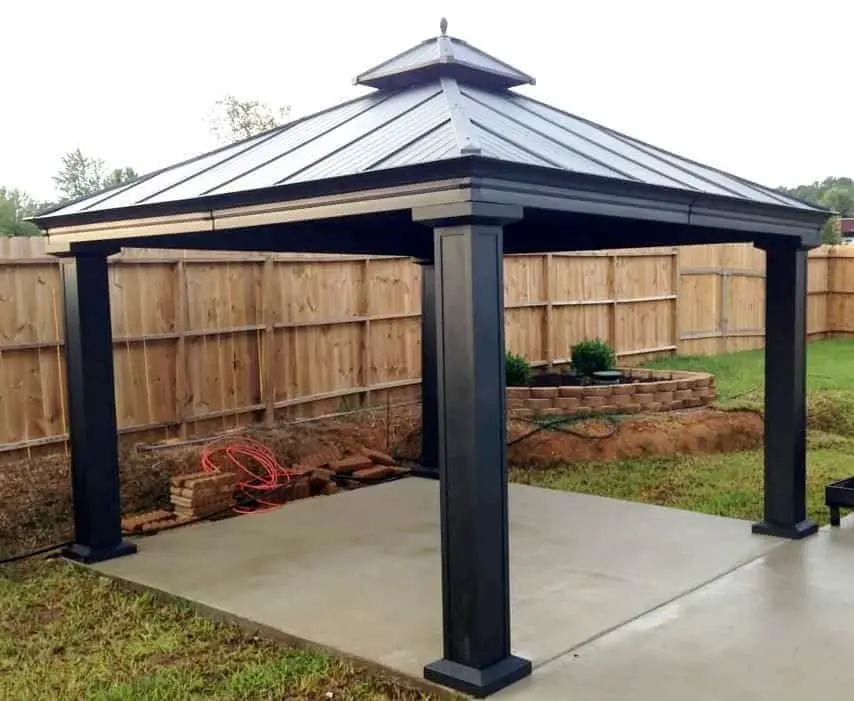 Hardtop gazebos provide proper protection from sunlight exposure and produce the right ambiance for outdoor barbeques and grilling. Regardless of the reasons you wish to purchase a gazebo, you might be wondering whether the hardtop varieties are safe.
Hardtop gazebos aren't top heavy despite having durable tops because the pillars supporting them are thick and strong enough. As a result, the hardtop gazebo's weight distribution is proportionate. However, you should peg and secure the gazebo for safety reasons.
In this article, you will learn more about gazebos and their stability, how you can find the safest options, and what metrics to judge a gazebo. More importantly, you will discover our picks for the best hardtop gazebos available online.
Gazebos and Stability: A Brief Overview
Gazebos used to be a common backyard contraption among middle-class American families before the economic crisis, and sudden urbanization led to the collective downsizing of houses. While middle America and rural areas still have plenty of space per home, coastal cities have come to associate space with luxury.
Around the same time, gazebos started appearing in films, and though used as backdrops and place markers, the structure became a symbol of status. Today, having a gazebo is like a lighter version of having a yacht. Many people signal class and wealth, while most DIY-enthusiasts enjoy building their gazebos for more practical reasons.
As a result, you're likely to find gazebos at a variety of price points. Brands positioning themselves as luxury buyers are doing their best to stand apart from the more humble options. This has led to the distinct market corners: hardtop gazebos and soft top gazebos. While soft top gazebos are great for moderate weather, hardtop gazebos have better element-protection.
Soft Top vs. Hardtop Gazebos: Which Is Safer?
The reason people may assume hardtop gazebos to be top-heavy because they already own (or have seen a soft-top gazebo). The fabric-covered gazebo is like a tent, albeit with a different structure. If one were to replace such a gazebo's top with a hardtop, the form would become unstable and crumble. But this isn't how hardtop gazebos are built.
Hardtop gazebos are built with stronger support pillars compared to the fabric top gazebos. Think about their difference as that between buildings and tents. A tent's structure would be top-heavy if someone installed a building roof over it. However, a building's roof is not top-heavy because it is not built with a tent's foundation; it is made with more substantial pillars and walls.
Now that we've established how hardtop gazebos feature sturdier support pillars let's discuss which one is safer. It goes without saying that a fabric top gazebo wouldn't do a lot of damage if it were to collapse. Ironically, it disincentivizes manufacturers against improving. 
On the other hand, hardtop gazebos can do severe damage if the roof falls over the people under it. That would make manufacturers exceptionally liable. As a result, quality manufacturers do their best to engineer even weight-distribution into their products.
Finally, it's worth noting that there is a low barrier to entry among soft-top gazebo makers. Anyone with access to steel rods and tent fabric can set up a gazebo-making operation. Since hardtop gazebos are mostly made by larger risk-averse businesses, they're generally safer with far fewer low-quality products than the average tent-style gazebo.
How To Find the Safest Gazebos
You're right to be concerned about safety when setting up a hardtop gazebo. While these products are generally of high quality, a misstep in purchasing the right one can leave you with a potentially risky structure in your garden. The best way to make sure you're buying a safe hardtop gazebo is to purchase from businesses that have been in the market for at least ten years.
Our rationale for this is the number of units businesses need to sell to stay afloat. In ten years, a gazebo maker has easily sold over a few thousand units. Provided the damage caused by a collapsing hardtop gazebo, a producer with a low-quality history would be out of business within a decade.
Another way to find a safe gazebo is to find the pillars' weight and compare it to the roof's weight. If the pillars don't have enough collective weight to carry the top, simply avoid purchasing the product.
Best Metrics To Judge a Gazebo
With the myths regarding hardtop gazebos out of the way, let's discuss what makes a good gazebo. It is essential that you consider these factors, so the product you purchase isn't just sturdy and safe but can also last you a long time.
Roof Material
The roof of a hardtop gazebo is not usually the same material as its pillars. That is because the posts are supposed to be denser, while the top should cover a wider area without becoming disproportionately heavy. Please ensure the gazebo you purchase has a steep top and avoid products that don't cite rust-resistance in their marketing copy.
Pillar Material
A hardtop gazebo's pillars are supposed to be made of wood. Opt for cedar wood if you can. It works well with steel tops and is the right mix of quality and price. If a gazebo has steep pillars supporting a steel top, you're dealing with a risky product.
Size and Space
Ideally, you would like the gazebo not to exceed 12x14ft if it has only four pillars. That is because regardless of how dense the pillars are, they can only hold so much weight before the top is too wide for their support. Generally, hardtop gazebos are 10×12 feet, so this issue is not very common. Still, it is something you should watch out for.
Best Hardtop Gazebos To Purchase
With the above metrics guiding you towards secure gazebo purchases, let's look at some of the best hardtop gazebos on amazon.
This cedar-wood framed gazebo is sturdy and has a steel top making it a reliable purchase. It also comes in the appropriate 10x12ft and even 12x14ft varieties. Aside from the safety aspect, the product also boasts features like a ceiling hook to suspend lighting. It also has rails to hang a privacy screen.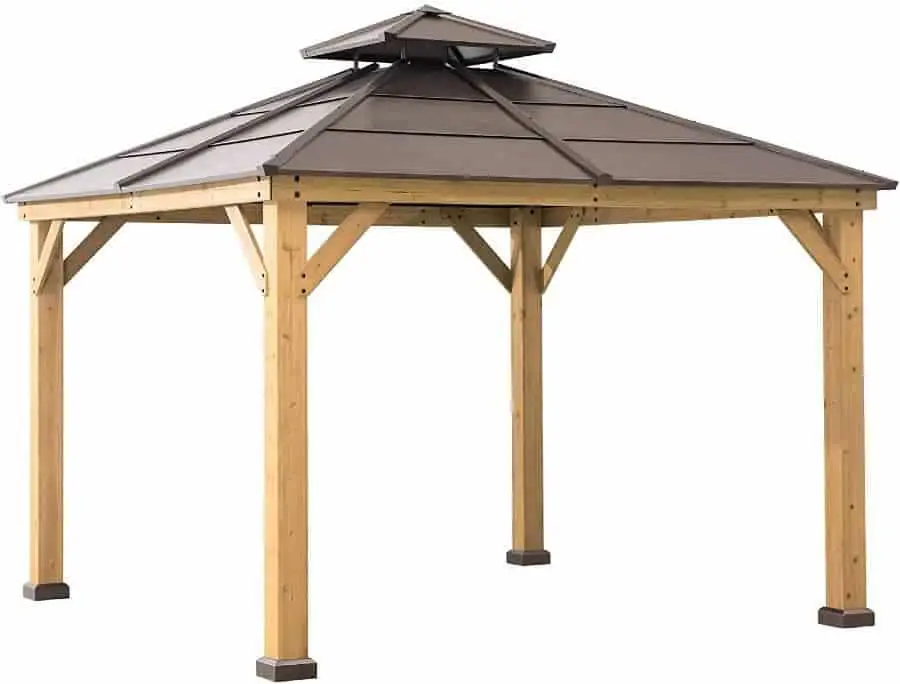 For those living in warmer regions, mosquito netting can be hung from the rails in addition to the privacy screen because the gazebo features two rails. However, the manufacturer sells the screens and netting separately.
You do not have to worry about the roof rusting as it is coated with rust-resistant powder. The top doesn't look like steel, as the producer has made sure to give it the color that is cohesive with the cedar frame. The product has 4.5 stars out of 5 on Amazon, with 4.6 stars for sturdiness and 4.2 for ease of assembly.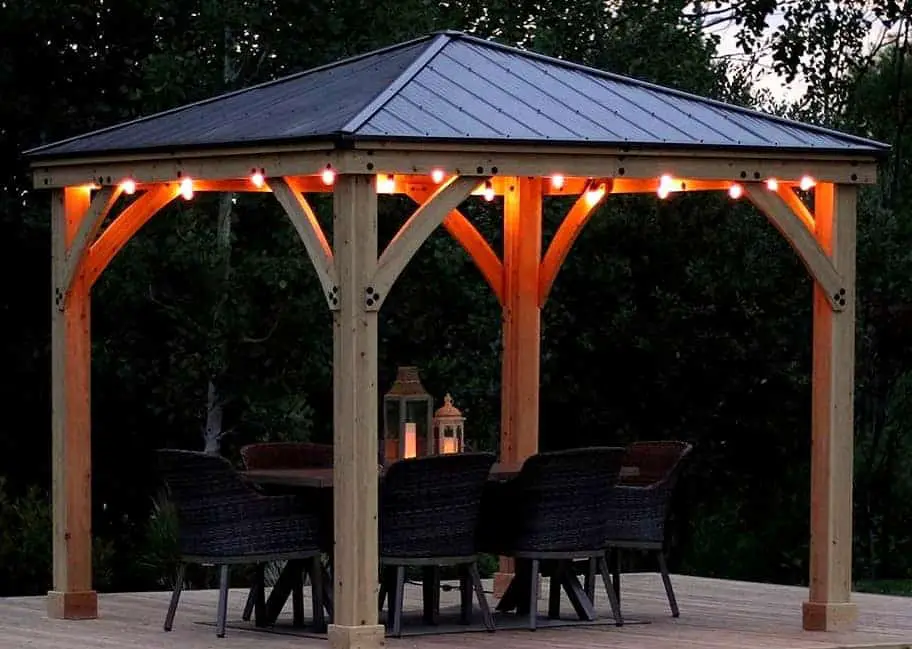 This 10x10ft gazebo is for those on a budget looking for a secure metal roof and wood frame combination. This product features a rust-resistant aluminum top with four wood pillars. The product is shipped as a kit you can assemble, making it perfect for the DIY enthusiast. It has a collective 4.6 stars rating with thickness rated at 5 out of 5 stars.
Final Thoughts
A hardtop gazebo is a great way to protect an outdoor sitting space from the sun and rain. With the right accessories, you can deck it out to feature privacy screens and keep out insects. However, there are some concerns regarding safety because a hardtop seems heavy. You can rest assured that a gazebo's top is rarely too heavy for its pillars. And to be safe, you should purchase gazebos with wood pillars and thin metal roofs.
Learn more!! see our article The Ultimate Guide To Choose And Install A Gazebo for more information