Schlage Locks vs. Kwikset: Which Works Better?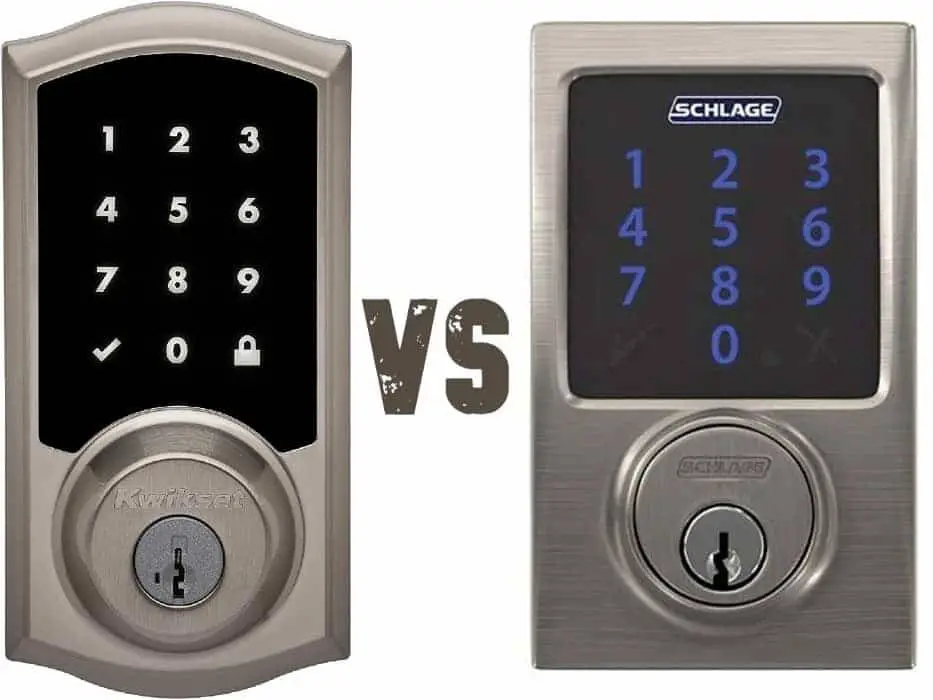 When it comes to choosing the best locks for your house, there are two leaders – Kwikset and Schlage. Both brands offer a long list of top products, and both have many years of experience in keeping properties secure.
Schlage has been in the business since the 1920s, and Kwikset entered this market in the 1940s. And now, when the smart locks became a must-have for any modern home, these two companies continue to provide customers with high-quality products.
If you have never had a smart lock, you may wonder, "What is it? How does it work?" Their primary purpose is the same as of any traditional lock – protection of your property. However, smart locks are more high-tech and electromechanical. Also, you do not always need a physical key to lock and unlock your doors. You will use your smartphone instead.
So, Schlage locks vs. Kwikset: Which works better?
Schlage Smart Locks
Based in Colorado Springs, Schlage was formerly a part of Ingersoll Tand. Now this company is a unit of Allegion. Its locks line is presented by Schlage Connect and Schlage Sense. Generally, you can buy both these marks in one of two trim types: Century and Camelot.
The Camelot trim looks more traditional and intricate. Those who like classing-looking locks will love Camelot for its elegant shape resembling the edges of a coat of arms. Moreover, there are many color options available, including bright chrome, aged bronze, bright brass, and satin nickel.
At the same time, the Century trim will be a better choice for those who like simplicity. It has modern smooth edges and a rectangular form. This trim is also available in different colors, including matte black, aged bronze, satin nickel, satin bronze, or bright chrome. However, color availability depends on the model you choose, as not all colors are available for all smart locks.
Schlage Connect
Schlage made their Sense series heavily dependent on Apple HomeKit. And you will not be able to enjoy all the advantages of your smart lock if you do not have Apple's product.
It was the principal reason why Schlage decided to start another smart locks line – Schlage Connect. Owners of most home automation systems now can install Schlage smart locks. The only requirement is the use of Z-wave technology. Furthermore, these products even work with Amazon Alexa.
These smart locks have a durable matte touchscreen, so you can be sure that any spots or fingerprints will not stay on it. And it will be impossible for intruders to guess the code using the smudges. Also, they have anti-pick protection that shields them from lock tampering. The motorized bolt automatically locks itself a few moments after you entered your code and unlocked the door.
Moreover, all Schlage Connect smart locks have an audible alarm. So if somebody tampers with your lock and tries to open it, you will hear a loud sound. Furthermore, its technology can detect any movement in front of your door, giving you three awareness levels.
You will know when somebody opened the door.
You will get a notification if somebody disturbs the knob or tampers with your lock.
This alert will sound in case anyone tries to open your door forcefully.
Schlage Sense Locks
Schlage Sense locks have the same security, durability, and finishes grades as the Connect ones. Nevertheless, they are only compatible with Apple HomeKit. However, you can also use Bluetooth Smart with these smart locks.
Now you can ask Siri to unlock or lock your door. Furthermore, Schlage Sense can also work with Apple TV, so you can use your iOS device to unlock your door from anywhere. But Apple TV must be within forty feet of your Schlage smart lock if you want to use this type of remote control.
The manufacturer made the setting up process as simple as possible, so the only thing you need to do is pairing your Sense lock with the mobile app. You can also pair the phones of your friends and family and assign them different passcodes.
Schlage Sense smart locks meet the highest standards and are the best when it comes to security and durability. Schlage Sense models can last for more than a hundred years and withstand a hammer attack. Also, installed sound alarm will warn you about any suspicious activity near your door.
Schlage Sense smart locks come with a lifetime warranty on their finish and a three-year warranty for the electronic elements. They use four AA alkaline batteries for power.
Kwikset
Based in Lake Forest, California, Kwikset is another well-known American lock manufacturer. It is a part of the Hardware and Home Improvement (HHI) Group, which belongs to Spectrum Brands.
Kwikset offers several models in the smart lock category. They include the SmartCode series, the Premis Touchscreen Smart Lock, and the Kevo. You can also buy one of Kwikset deadbolts fitted with Home Connect Technology.
Kwikset Kevo
This smart lock uses Bluetooth to connect to your smartphone. It automatically detects your smartphone when you are nearby, and you can unlock your door with one touch.
You do not need any physical keys anymore as your mobile app can replace them. Also, you can give out or cancel an electronic key using this app. You can set your keys to work only at a specific time or expire after twenty-four hours. You can also see the history of who and when opened the lock and keep track of all authorized users using your mobile app.
Kwikset Kevo is available in three colors, including Venetian bronze, polished brass, and satin nickel. Furthermore, you can connect your Kevo smart lock to many other devices, like Skybell Video Doorbell, Ring Video Doorbell, Honeywell Thermostats, and the Nest Thermostat.
You can also control your smart lock using Amazon Alexa since Kevo supports IFTTT recipes. If you need more connectivity options, it will be better to check out other models of the Kevo family, such as Kevo FOB, Kevo Plus, and Kevo Convert.
One of the Kevo's main advantages is its high level of security. This smart lock uses military-grade multi-level PKI encryption and dual authentication. Also, you can set it up to lock automatically.
You may wonder if somebody can open your door in case you lose your phone. However, you can revoke all eKeys by logging into your online account. It takes only a few seconds.
Kwikset Premis
Premis is another Kwikset smart lock that works with Apple HomeKit. Now you can use a mobile app on your iOS devices to control your locks and turn Siri into your butler. You can still use your access code to get in if you forgot to take your smartphone with you.
You can check if your lock is locked or unlocked in your mobile app. And you can connect your Kwikset Premis to your Apple TV to have an option of remote control. There are two color options for your smart lock: Venetian bronze and satin nickel.
This BHMA and ANSI certified lock uses end-to-end encryption. To prevent using your fingerprints for guessing the code, before keying in your code, you will be asked to press random buttons first. And if somebody keys in the wrong digit combination three times, Kwikset Premis sounds an alarm.
Other Kwikset Connected Locks
Several other Kwikset products, like SmartCode Deadbolt series, use either Zigbee or Z-wave and support Home Connect technology. All of them work with Amazon Alexa and can store one master code and thirty user passcodes.
They can have either a capacitive touchscreen deadbolt (for example, the 916 SmartCode) or 5- or 10-digit keypad. These smart locks come in three colors: satin nickel, polished brass, and Venetian bronze.
In addition to the above models, you can purchase the contemporary or traditional deadbolt fitted with Home Connect.
Schlage Smart Locks vs Kwikset Smart Locks: Which brand is better?
You will not find much difference between the Schlage and Kwikset products when it comes to specifications and functionality. Both brands offer their customers easy to install smart locks of the top quality. And all of them allow you to lock and unlock your door remotely. These locks can connect to different automation systems, like Wink, Apple HomeKit, and SmartThings.
If you use iPhone, Apple TV, and other iOS devices, both Schlage Sense and Kwikset Premis will be an excellent choice. However, those who prefer Android devices should stay away from them and choose Kwikset Kevo, Kwikset SmartCode, or Schlage Connect instead.
As you see, you should narrow your choices down according to your home automation system, your needs, and your mobile devices, when it comes to comparing features of those smart locks.
Schlage vs Kwikset Similarities
Both brands use high-end technology in their products to make your day better. They continually work on improving existing technology and providing customers with the best software and hardware available.
Besides, all their smart locks are very convenient to use. Both Kwikset Kevo and Schlage Sense allow you to control your lock, check its status, and share codes with family and friends using a mobile app. You can even track people entering or leaving your home.
You can also connect your phone to these smart locks using Bluetooth connectivity. Furthermore, it is quite easy to install them and pair them with your phone.
Schlage vs Kwikset Differences
Still, there are several differences between the best smart locks of both companies. Let's compare two of the best products of each brand: Schlage Camelot, Schlage Sense, Kwikset Kevo Contemporary, and the Kwikset Kevo Touch-To-Open.
The first difference lies in the fact that Schlage Sense locks use both Bluetooth and HomeKit technology, while in the case with Kwikset Kevo, only Bluetooth is available.
Also, Kwikset smart locks are less secure than Schlage ones. Kwikset uses a quite efficient grade 2 lock technology, but it is not as good as the most secure grade 1 premium locks used by Schlage.
Schlage uses alarm sensors in both its smart locks. It helps you control your door and be able to react on time. On the other hand, Kwikset products do not have built-in sensors in their alarms.
You can create a maximum of twenty-five eKeys with Kwikset smart locks. And you can share them with your friends, family, or visitors. Furthermore,
you can choose the type of eKeys, giving them one of five access options: admin, owner, anytime, scheduled, or guest.
In the case with Schlage locks, you can create up to thirty PIN codes, giving them scheduled or all-day access. Moreover, you can share access to your home by creating virtual keys.
While both Kwikset products seem to be traditional locks with an additional touch to open technology, the Schlage smart locks are something new. If you don't have your smartphone with you, it will not be a problem. You can use the built-in touch keypad to enter your PIN-code and unlock the door.
Which is Better, Schlage or Kwikset?
As you can see now, both Kwikset and Schlage are top manufacturers. Their products are of the highest quality and can protect your home from intruders.
Still, Schlage smart locks use Grade 1 locks which are much more secure, than those used by Kwikset. So it will be a better choice if you are looking for the most secure lock.
Also, Schlage locks feature alarm sensors, not present with Kwikset products. However, they are also more expensive than Kwikset locks. So, if you need the best lock, be ready to pay more.
Learn more!! see our article Everything You Must Know About Smart Locks for more information
Final Word
When it comes to buying a new lock, both Schlage and Kwikset are well-known leaders of the market. They always try to develop their products and use the latest technology to improve the existing locks.
Smart locks are our future. You can pair them with your smartphones and control everything that happens in front of your door. And when it comes to security, Schlage smart locks are better than Kwikset products.
However, be prepared to pay more for the smart locks of the best quality, as Schlage products are often more expensive.