Best Shed Foundation for Uneven Ground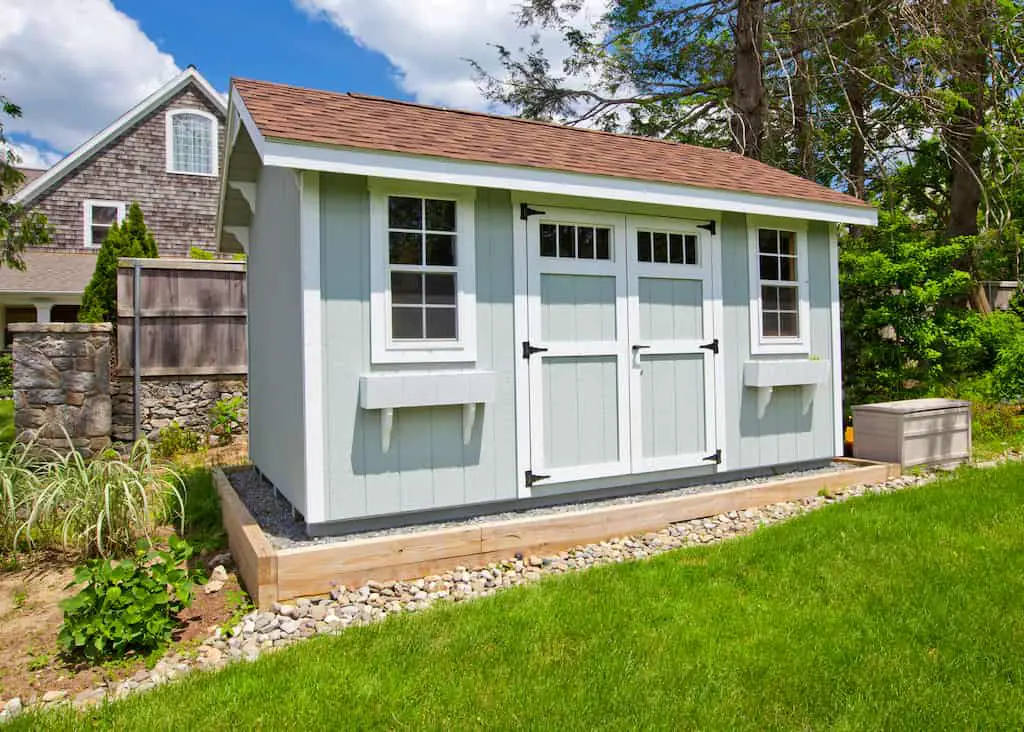 There are many things to consider when building a shed foundation. Uneven ground can be pretty challenging to overcome when deciding on your shed foundation, but there are ways to circumvent this, and choosing the correct foundation type is paramount. There are many foundation structures to choose from for uneven ground, including concrete pavers, wooden bases with treated timber, and plastic shed foundations. 
The best shed foundation to use for uneven ground is undoubtedly concrete foundation blocks. They can withstand all types of weather, they are relatively straightforward to install, and they make an excellent foundation for all kinds of sheds.
In the rest of this article, I will go through the steps to consider when choosing your shed foundation, the pros and cons of each choice, and how you can build a shed foundation yourself.
Things To Consider When Choosing a Shed Foundation
There are many things to consider when deciding which foundation is best for your shed, especially if you are working on sloped or uneven ground.
It is crucial to think about the following before beginning any construction work:
Where you want your shed door to be located. You need to be able to access the door and have the ground as level as possible so that your door opens easily.
Consider having a small area of easy access around the sides of your shed. If you want your shed to last a long time, maintaining the exterior is essential.
Take into consideration any local planning regulations. Some areas have specific rules that you must follow if you want to build any type of outhouse. Get in touch with your local authorities to ensure that you respect any outhouse regulations.
Consider how high you want your shed to sit above the floor. This is an essential step; you must consider this when deciding on any particular foundation.
Wooden Base Shed Foundation
If the location upon which you want to build your shed is very uneven and has a slope, then a wooden base built into the hill can give you a good foundation.
You will require the following equipment to install a wooden base for your shed foundation:
A Spade
Measuring tape
Pea Gravel
Brick or stone blocks
Gravel
Timber planks
Wooden posts (for marking)
String
Follow the below instructions to build a solid wooden base foundation successfully. Once again, bear in mind the local planning regulations before beginning any construction work:
Make sure you know how big your shed is or is going to be. Use marking posts to mark out the territory for the shed and use the string to keep this visible.
Using any garden spade, take off the top layer of soil. Try to even out the ground as much as you can. Any dirt that you've removed can be put to one side for now.
Using a tape measure, measure and cut the brick or stone blocks in four rows of three blocks. You need to ensure that the weight of the shed will be evenly distributed across the blocks.
Create a gap around each of the brick or stone blocks. You can fill this with gravel until the surface is even enough to support your shed foundation. The rock supports the frame more solidly and can help to protect your foundation in wet weather.
Lay the timber in a criss-cross pattern over the brick or stone blocks. Make sure this is entirely flat, and use extra gravel if you need more stability or leveling.
Now you can use this foundation to lay out the base of your shed. Use nails to twist into the floor of your shed foundation.
Plastic Shed Foundations
A plastic shed foundation is an appealing, modern option for many shed foundations. They are easy to install since they can be clipped together, and it is a long-lasting and reliable way to ensure a sustainable shed foundation.
Before building your plastic base, you must try to even out the ground as much as possible. If you are going to build your shed on a slope, you can dig out the top of the foundation area to make it more even. 
How To Level Uneven Ground To Prepare for a Plastic Shed Foundation
Using ground markers, figure out the area you want your foundation to sit. You can use a ribbon to create a square around the area.
Using a rake and a shovel, remove all shrubbery and vegetation. Rake out the topsoil, which could put the shed foundation at risk of moving.
Once you know which part of the ground is uneven, move the topsoil around to even it out. Do this using a flat surface (like a wooden plank) to measure out the leveling. 
Once the topsoil has been re-distributed, take away any lumps until the area is completely flat. Push down on the soil to maintain a level surface.
Use a Weed Blocking Membrane (available on Amazon.com) before you lay out your plastic shed foundation. This acts as a barrier for your plastic shed foundation.
Now you can install the plastic shed foundation in preparation for your shed to be installed.
Plastic shed foundations are a reasonable modern phenomenon, and they are renowned for being a very tough material that can withstand any temperatures for sustained periods.
Using Concrete Foundation Blocks as a Shed Foundation
As previously mentioned, concrete foundation blocks are the best solution for a shed foundation on uneven ground. If your shed will be built on a high-gradient slope, then this is the most suitable option for you.
They are relatively inexpensive, available in many different sizes and shapes, and you can easily stack them to deal with any uneven ground you encounter.
You will need the following tools to build a concrete foundation:
Concrete foundation blocks
Any sort of garden shovel
A measuring tape
Ribbon to mark out the area
A spirit level
Wooden planks
Hammer
Nails
I will explain the easiest way to install concrete blocks to make a smooth foundation for your shed on uneven ground:
Dig out any weeds or significant vegetation in the area. This will ensure that your shed is free from dampness and can withstand colder temperatures.
Figure out the exact area you want your shed to stand. The foundation base should be slightly larger than the area of the shed itself, ensuring that it is sustainable.
Using a rake and a shovel, remove topsoil and level out the soil as much as possible. You can use the wooden planks to give you an idea of where the ground is most uneven.
Install the weed membrane to create a sustainable base structure. It is recommended in this case to use two separate membranes; this will increase the lifespan of your shed foundation.
Place the concrete blocks evenly around the area of the foundation. At this stage, They should be locked into place using a hammer and nails, and wooden planks.
Using any type of medium-sized gravel, fill the empty spaces. Pea gravel is the best option for this task, although any gravel will do. This gives your foundation a sturdy finish and will ensure that the base is weatherproof. 
You can now proceed to build your shed base on top of the concrete block foundation.
Conclusion
In conclusion, building a sturdy foundation for your shed can be a relatively simple procedure. If you are using the right tools, the process is generally inexpensive and will last for a very long time.
Your shed needs a foundation because it will pick up moisture from the ground if you do not install one, leaving the shed and its contents unnecessarily damp.