Best Options For Your DIY Pergola Kits Easy To Build In 2023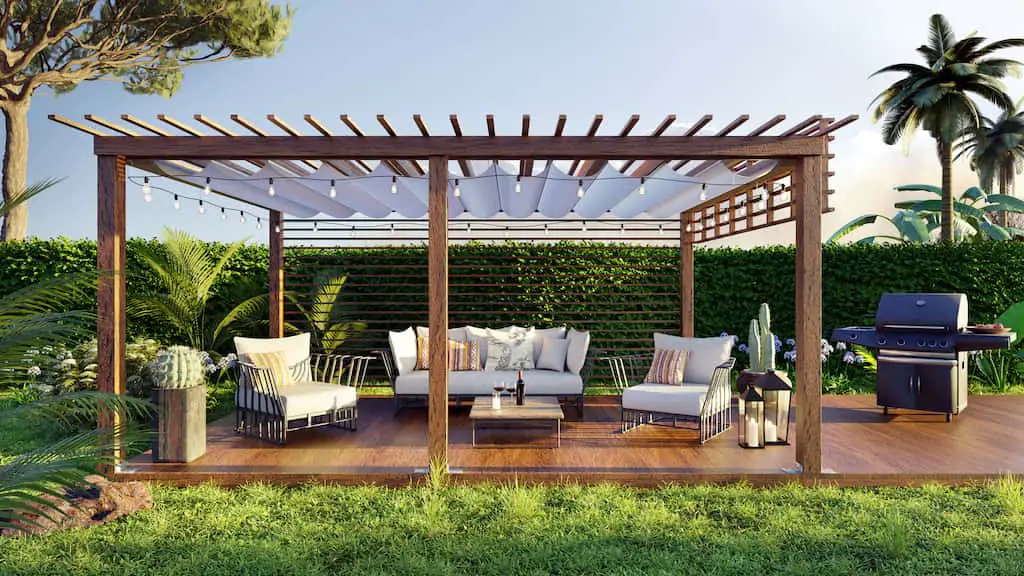 If you have ample open space in your backyard, it is the perfect place to build a pergola or any other type of patio. They can enhance your outdoor space, and you can also entertain your friends and family at any time of the year. You can choose from many easy-to-build pergola kits that fit your desired style.
The best current options for easy-to-build DIY Pergola kits include the following:
Leisure Time Products Cedar pergola kit
Backyard Discovery Cedar Solid Wood pergola kit
Purple Leaf Outdoor Retractable pergola kit
Bjorn Woodworks pergola kit
Brazoria Solid Wood pergola kit
Coolaroo Aurora pergola kit
Purple leaf Pergola
Pergola kits are great options for DIY projects you can enjoy with your family. Assembling a pergola can be a fun pass time you can enjoy alone or with help. Most pergola kits are easy to assemble, and you can build them in less than a day.
Leisure Time Has The Most Popular Pergola Kits
The Leisure Time Products Cedar pergola kit is one of the most popular DIY options. Since this pergola consists of cedar wood, it is resistant to insects and rotting due to weather. This pergola kit is about 14 x 10 feet, so you will require ample space to build and assemble it. You can also grow vines on this pergola since it will fit well with the cedar wood.
However, this pergola kit is more complex than most to assemble and will take longer. You might need some help building it as well. This pergola also features a 100 mph wind-resistant structure and an electrical outlet with a USB port. You can also make assembly more manageable with the interactive BILT app of Leisure Time Products.
Backyard Discovery Cedar Is The Best Overall Pergola Kit
The Backyard Discovery Cedar Solid Wood pergola kit is roughly 10 x 14 feet and is the perfect overall choice for a DIY pergola kit. It is elegant and will give you plenty of outdoor lounging space. The resin feet and concrete anchors you need won't be in the kit when you buy them. The anchors and feet will provide a stable structure during harsh weather, including high winds and rain. You can also decorate with plenty of vines and plants around the frame.
This pergola kit consists mainly of wood and gives a natural feeling to your backyard. You can also quickly assemble the pergola since the wood is pre-cut and pre-stained. The cedar wood they use for this pergola is resistant to decay, and the small and tight knot system will ensure your structure is less likely to develop cracks.
The Purple Leaf Retractable Pergola Kit Has The Best Value
The Purple Leaf Outdoor Retractable pergola will give you the best value for your money while still giving you a great DIY pergola kit. Since the canopy is retractable, you can choose between full sun or shade. The canopy is UV-resistant and water-repellent. In addition, there is also a locking system on the canopy to keep it in place safely.
The pergola is about 10 x 12 feet, so you will need ample space to assemble and place it. The frame is sturdy, and you don't have to worry about harsh weather or winds. You don't have to worry about rust since it is an aluminum pergola kit. It is rust-resistant and powder coated. However, you might need a concrete surface for affixing.
The pergola cover comes in various colors, which you can choose from, and it can make a great addition if you have a hot tub. This pergola is also the perfect choice for any style your house has. The box includes four corner posts, outside beams, rafters, and sunshades.
The Bjorn Woodworks Pergola Kit Is The Most Convenient
The Bjorn Woodworks pergola kit is convenient since it has few pieces to assemble. The set is sturdy, with four pergola bracket shoulders and four boots in the box. In addition, they also included all the lag bolts you need in the kit. You only need to cut the wood to the desired lengths and assemble the pergola.
This pergola kit also includes steel braces that will stabilize your structure. The black powder-coated hardware will complement any wood beams you choose. You can assemble this pergola kit in less than a day and do it for a fraction of the cost of other products. The Bjorn Woodworks pergola kit will enhance your outdoor space and give off a homey feel.
The Brazoria Solid Wood Is The Cheapest Pergola Kit
When you are looking for a cheap pergola kit, look no further than the Brazoria Solid Wood pergola. It is the simplest option for a DIY pergola kit. It has minimal features as well. However, you can enhance the pergola with lanterns, vines, or plants. It measures roughly 6 x 6 feet and is perfect for tight spaces.
This pergola is not rust, water, or UV resistant, so you must treat the wood or replace the pergola after a while. It is crafted from natural bamboo and will give your backyard a tropical and natural look. The mounting and foundation material aren't part of the kit, so you must acquire them separately.
The Coolaroo Aurora Is The Best Midrange Pergola Kit
The Coolaroo Aurora, 9 x 9 aluminum pergola, is affordable and provides excellent shade. This pergola can protect against the sun and winds so that you can use it on bright, sunny, and windy days. The cover is fully retractable and perfect for stargazing with friends and family. However, the cover's knitted fabric means you can not use it in the rain. However, you can easily clean the material of the cover.
Since the pergola isn't that big, you won't need that much space to assemble it. However, the anchor and mouthing materials are not in the kit when you receive them, so you must acquire the foundation materials from another store or online site.
The Purple leaf Pergola Offers The Best Luxury.
The Purple Leaf DIY pergola is rust and UV-resistant so you can enjoy it in any weather. It has an adjustable louver system, allowing you to choose when you want sun or shade. The vinyl is water-resistant and maintenance-free, so you don't spend extra cash for upkeep.
This pergola will give your yard an elegant and luxurious feeling.  All essential hardware comes included. There's no need for specific rivets, extra materials, or any welding for the assembly process. The overall space you will need is roughly 10 x 12 feet. You can also easily install this structure without help. You only need the basic tools like a power drill to assemble this pergola kit.
Learn more!! See our article The Ultimate Guide To Choose And Install A Gazebo for more information.
Conclusion
Pergola kits come in many different prices and styles. When you shop for a pergola kit, remember the style and effect you want it to give off in your yard. For example, the Wallsend Vinyl pergola will give your yard a luxury feeling and might be more expensive, while the Cedar Wood pergolas will be more natural and tend to be more inexpensive.
Related articles